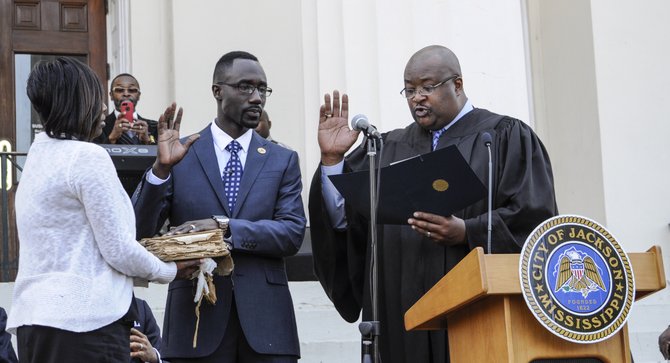 Tony Yarber is Jackson's second mayor in less than one year.
At 10 a.m. today, in Josh Halbert Gardens on the west side of City Hall, Hinds County Justice Court Judge Frank Sutton administered the oath to Yarber after remarks from Charles Tillman, the Ward 5 councilman who filled in as mayor after Lumumba's death, and a prayer from Rev. C. J. Rhodes.
Yarber, who previously held the Ward 6 City Council seat, thanked his family and supporters for bearing with him throughout the election season. He addressed members of the City Council, promising that he will continue to foster a working relationship with them and relay information they will need to make decisions.
"The beauty of government is that you don't always have to agree, but you have to always know that people are fighting for the people who sent them there," Yarber said. "So, while we may not always agree, I respect you, and I appreciate you, and you'll see that from that mayor's seat. You'll never be out of the loop."
Yarber also took a moment to celebrate the life of the late mayor, whom he has called a father figure, and to commend Lumumba's son for being a formidable opponent during the election.
"We are here today because of a great man by the name of Chokwe Lumumba, and in a lot of ways Chokwe Lumumba taught me some things about being a man and about being a father. We saw that in the courage that his son, Chokwe Antar Lumumba, showed in this race," Yarber said.
Yarber spoke about his plans to honor city workers, ensuring them the best working conditions. He addressed the citizens of Jackson, promising to run an administration that is fair, firm, and consistent and to do his best to take care of the local business owners of Jackson. He also promised that his top priority is the improvement of the City of Jackson's Planning Department.
"In the next two weeks, we will be formulating plans and working together on Council to determine how we will best situate our city to be well on its way to becoming the greatest city in the United States of America," he said.
That transition could be rocky, however. Wednesday morning, several mayor's office employees could not gain access to parts of city hall.
Kali Williams, whom Lumumba appointed as a grant writer and external funding officer, said he received a phone call at around 9 a.m. from fellow staffers who said their Jackson Police Department-issued security badges did not work.
When he arrived at city hall just before 10 a.m., Williams found that his security badge didn't work at the employee entrance on the west side of city hall or at the mayor's office on the third floor.
Williams, who started working for Lumumba shortly after he won election last summer, said it was common for City Hall employees to have access to the building long after they had been terminated.
"Ours being deactivated within 24 hours, and without the election being certified, somebody did that intentionally," Williams said this morning.
A call and email to JPD public-information officer Colendula Green was not returned by press time. Dr. Safiya Omari, Lumumba's chief of staff, told WJTV's Ross Adams, who broke the story Wednesday, that three to four employees were affected. 

"I'd like to think it was just a bureaucratic snafu, but until people get back, you can't say for sure," Omari told Adams, who reported that Yarber did not know why the badges were shut off and that Synarus Green, the city's chief administrative officer, helped Yarber gain access to the mayor's office.
In the meantime, Williams, who is also one of the organizers of the Jackson Rising New Economies Conference, said Yarber seems to have a good relationship with Omari, but that the level of city support the May 2 conference will receive from Yarber's administration remains unclear.
Because Lumumba had sanctioned the conference, much of the planning took place in City Hall, but Williams said organizers are looking to relocate, possibly to a local church.
For his part, Yarber has vowed to continue Lumumba's work to unite the city and do away with the stigmas pertaining to crime, infrastructure, and health that Jackson and the state have accumulated over the years.
"We are Jackson, Mississippi," Yarber said. "We are the capital city of Mississippi. Failure is not our option. We shall rise above degradation. Crime will not be our staple, but we shall be a city that loves on each other."
Additional reporting by R.L. Nave.
Support our reporting -- Follow the MFP.