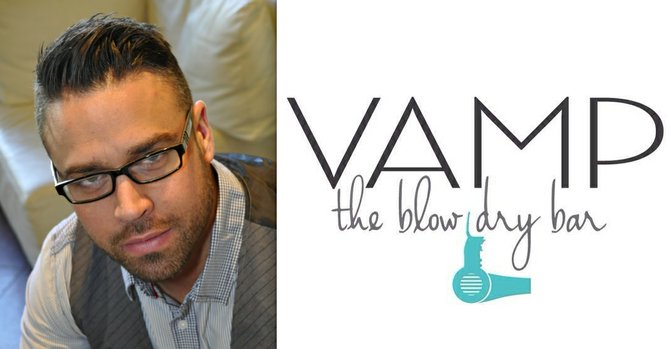 New Blow Dry Bar Coming to Fondren
Nathan Coughlin, owner of Nathan's Salon (101 W. Washington St., Ridgeland) and Nathan's at Great Scott (4400 Old Canton Road), will bring a new hairstyling option to Jackson with the opening of Vamp the Blow Dry Bar in Fondren Plaza at the end of May.
The blow-dry bar concept began in New York City as the brainchild of siblings Ali Webb and Michael Landau. Their Drybar salon offers the sole service of washing and blow-drying hair into straight, wavy, "beachy" or other hair styles for about $40. The trend caught on, including among celebrities such as Jennifer Love Hewitt and Cindy Crawford. Similar salons are now appearing across the country.
Vamp will offer shampoos, blowouts, styles, waxing, conditioning scalp treatments and makeup.
The blow-dry bar will be inside the former Clapton Realty building at 2671 Old Canton Road, between Cups and Zoubir Tabout Antiques and Interieurs. For information, call 601-707-7015.
Sal & Mookie's Opening Biloxi Location
Jackson restaurateurs Jeff Good and Dan Blumenthal, owners of the Mangia Bene restaurant group—which includes Broad Street Baking Company (4465 N. Interstate 55, Suite 101), BRAVO! Italian Restaurant and Bar (4500 Interstate 55 Frontage Road, Suite 244) and Sal & Mookie's New York Pizza and Ice Cream Joint (565 Taylor St.)—are expanding to the coast with the opening of a new Sal & Mookie's in Biloxi.
Good and Blumenthal have teamed up with Biloxi's RKBM Restaurant Group for their new endeavor. RKBM belongs to husband-and-wife team Bruce and Rebecca Lacey and their business partners Matt and Kandi Helms. Good and Blumenthal have arranged to give RKBM all the intellectual property, recipes, branding elements and trade secrets needed to run the run the new Sal & Mookie's just like its Jackson counterpart.
"We are taking all of the unique and wonderful elements of the Sal & Mookie's in Jackson—the painted wooden exterior, the wrap around deck, the big exhibition kitchen, the kid-friendly viewing area of the pizza ovens, the ice cream scoop shop in the dining room, and all the classic New York images and touch points—and are bringing them into a newly constructed building built to post-Katrina code and designed to enhance the business corridor where we will be located," Bruce Lacey said in a release.
The Biloxi Sal & Mookie's will be located at 110 Lameuse St. The area has been the site of a great deal of new post-Katrina construction, with a Hard Rock Casino, Half Shell Oyster House and a new minor league baseball stadium all being built nearby.
For information, call Mangia Bene at 601-982-4443.
Local Dishes Receive National Recognition
Two local Jackson restaurants recently received national honors for unique and atypical items on their menus.
Travel website Travel+Leisure named The Big Apple Inn's (509 N. Farish St.) pig ear sandwich to it's list of America's Strangest Sandwiches. On the menu since the 1930s, the sandwich features ears that are pulled from a pressure cooker when extra tender and topped with slaw and mustard, then sandwiched between thin, slider-style buttered buns. Originally priced at a dime apiece, the sandwiches today are still a bargain at $1.05 with tax and are still served in the same wax-paper wrappers they were served in when The Big Apple Inn opened.
Food Network Magazine's May issue features a story titled "50 States of Tacos," which spotlights one unique taco from a chosen restaurant in each state. The Carne El Cerdo Taco from Babalu Tacos and Tapas (622 Duling Ave.) is the chosen entry for Mississippi. Consisting of pork belly with citrus-chipotle barbeque sauce and peanut slaw, Carne El Cerdo is priced at $8.50 for 3. Jackson residents also voted Babalu's food "Most Innovative" in the most recent Best of Jackson Awards.
Support our reporting -- Follow the MFP.