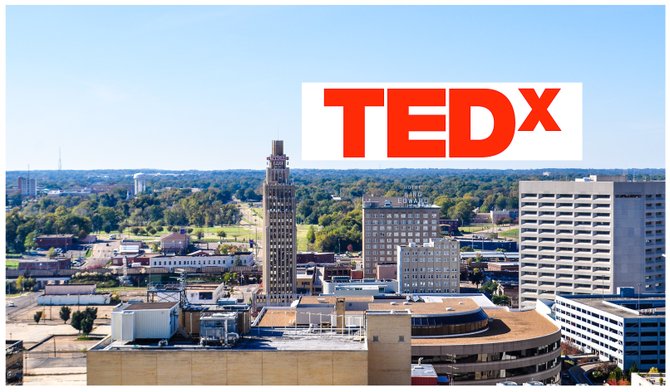 An earlier version of this story identified TED curator Chris Anderson as CEO of drone manufacturing company 3DRobotics, mistaking him with another man with the same name. We apologize for the error. Other organizers for the event have also been specifically named and credited.
TEDx Conference Coming to Jackson
On Nov. 6, Jackson attorney, developer and Jackson Chamber of Commerce board member David Pharr will host TEDx Jackson, the first TED conference in Mississippi. Pharr and other organizers for the event, including Maris, West & Baker, C Spire Wireless, Innovate Mississippi, Mississippi Development Authority, and the Mississippi Institutions of Higher Learning, have timed it to coincide with Mississippi Innovation Month and the Year of the Creative Economy.
TED stands for Technology, Entertainment and Design. The TED conference began as a think tank that architect Richard Saul Wurman started in 1984. Wurman often held dinner parties in which he and technology experts such as MIT Media Lab founder Nicholas Negroponte and Microsoft founder Bill Gates gathered to exchange ideas they felt were worth spreading. "Ideas Worth Spreading" later became the official slogan for TED events.
The conference became an officially organized annual event in 1990. In 2001, Wurman turned control of TED over to British former computer journalist and magazine publisher Chris Anderson—founder of future publishing and non-profit organization The Sapling Foundation.
TED conferences address a wide range of topics concerning the research and practice of science and culture, often through storytelling. Speakers are given a maximum of 18 minutes to present their ideas in the most innovative and engaging ways they can.
The TED main conference is held annually in Vancouver, British Columbia. TEDx events like Pharr's are independent TED-like events, which anyone who obtains a free license from the TED organization and agrees to follow certain principles can organize. TEDx events are non-profit, but may use an admission fee or commercial sponsorship to cover costs.
"My TEDx conference is going to be a half-day event with eight or nine speakers," Pharr said. "I scheduled it during Innovation Month in the hopes that it will serve to build a community around creative endeavors and stimulate more innovative thinking."
Pharr has been practicing law for 15 years. His independent law firm represents small- and medium-sized businesses on matters such as commercial litigation, business counseling and intellectual property.
The attorney also puts his business and litigation experience to use as a civic volunteer. He has served several terms on the Boards of Directors of the Central Mississippi Planning and Development District and the Central Mississippi Development Corporation, as well as the Jackson Chamber of Commerce, where he also served a one-year term as chairman.
Planning for TEDx Jackson is still in the early stages, and some details are to be determined, but Pharr is currently looking to host the event inside the former Capri Theater building (3023 N. State St.) that also houses Pharr's law firm. Tickets for the event will cost no more than $100, and seating will be limited. Pharr plans to have a website up within the next few days for submitting applications for both speakers and spectators, which will be called tedxjackson.com. For information follow the TEDx Jackson Twitter feed @TEDxJackson or follow the event's Facebook page.
UMMC and MCHS Start The Children's Collaborative
Last week, the University of Mississippi Medical Center and Mississippi Children's Home Services announced the formation of The Children's Collaborative, a partnership that aims to create a statewide integrated behavioral and mental health-care system that will ultimately reduce costs and improve care quality.
The Center for Medicare and Medicaid Services and the Mississippi Division of Medicaid gave UMMC and MCHS a $5 million grant to support the partnership, which is the first public/private partnership of its kind in the nation.
Dr. Susan Buttross, UMMC professor of pediatrics and chief of the Division of Child Development and Behavioral Pediatrics, said in a statement that one in five children suffer from a mental or behavioral health problem, and less than 20 percent receive treatment. The low number indicates a fragmented system, which frustrates and overwhelms families.
"Our medical and behavioral health professionals recognize the frustration felt by parents and other caregivers when navigating our too-often fragmented and backlogged health-care system when their only goal is to get much-needed help for their children," Buttross said.
Recognizing that a child's pediatrician is often the first point of contact for families when seeking behavioral health services, The Children's Collaborative will serve in a consultative role to help doctors make informed decisions about children's behavioral health needs.
UMMC's Center for the Advancement of Youth will serve as a gateway for families to enter The Children's Collaborative's system of coordinated care. Following a comprehensive assessment at CAY, children served through The Children's Collaborative will be seamlessly directed to various UMMC pediatric specialists and/or to community-based MCHS behavioral health services.
MCHS will offer behavioral health care in children's homes and communities in 11 outpatient offices located within a 75-mile radius around the state, which will spare families the burden of traveling to Jackson to get the help they need, and shorten long waits for appointments.
The Children's Collaborative also plans to develop a telehealth network within the 11 offices to help children and families access other UMMC pediatric sub-specialty services, such as endocrinology and pulmonology.
More stories by this author