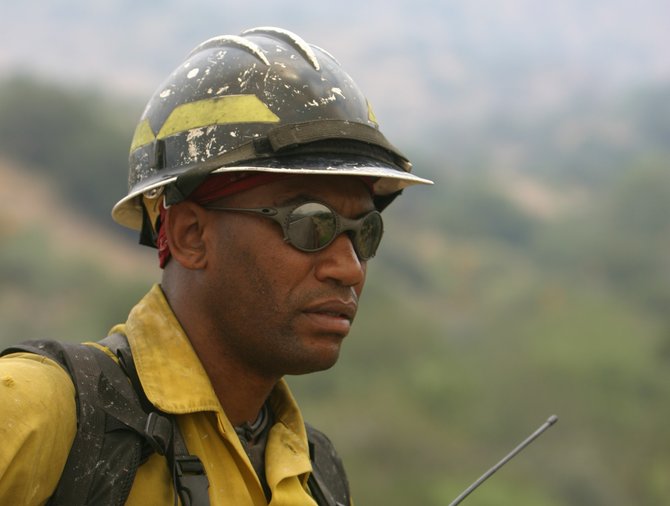 On Thursday, April 10, Thrivent Financial Services for Lutherans partnered with Habitat for Humanity Mississippi Capital Area to sponsor Thrivent Builds. The first project for Thrivent Builds—to construct a house for Rosalyn McGowan and her three children at 2819 Bishop St. in the Virden Addition neighborhood of Jackson—featured a special work crew in the form of Jackson Hotshots Superintendent Lamar Liddell and his firefighting crew.
The Jackson Hotshots are an interagency hotshot handcrew—a crew of 20 firefighters specially trained in wildfire suppression tactics. Hotshot crews are considered an elite group among wildland firefighters due to their extensive training, high physical fitness standards, and ability to undertake difficult, dangerous and stressful assignments. They often respond to large, high-priority fires, and are trained and equipped to work in remote areas for extended periods of time with little logistical support.
The Jackson Hotshots formed in 1997. The crew is based out of Pearl with a primary office in Jackson at 411 Briarwood St. The Jackson Hotshots have fought disastrous wildland fires from Alaska to Florida, and have assisted with several national emergencies such as search-and-recovery operations from the Space Shuttle Columbia and recovery efforts after Hurricane Katrina.
Liddell, 50, was born and raised in Greenwood and has worked for the Bureau of Land Management in Jackson for 17 years out of his 29-year firefighting career. A lifelong lover of the outdoors, Liddell grew up fishing, working in his family's garden, mowing lawns, and running track at school, all of which would eventually lend itself well to his outdoor-focused and physically demanding career.
After graduating from Greenwood High School, Liddell attended Alcorn State University and Mississippi Valley University, where he majored in biology. After college, Liddell found work with the United States Forest Service.
Liddell said he "accidentally" got into firefighting while working as a forest ranger in Ashton, Idaho. The Ashton Ranger District had a firefighting program, and the local fire manager offered Liddell an engine operator position. Though he "didn't know what he was getting into" at the time, firefighting work appealed to Liddell for a number of reasons and has kept him on for the last 29 years.
"I liked the outdoors portion of it, the excitement and adrenaline, and the camaraderie of the crew I worked with," Liddell said. "There's a cohesive atmosphere, filled with people who are all driven to do the same thing, a common goal and purpose. I also love the thought of being able to help someone in need. Our program has helped out in 9/11 and on many of the hurricanes in the South, like Sandy, and we're constantly working on national-level wildfires in the summer and fall."
The Jackson Hotshots also work with the U.S. Forest Service on controlled burn work in the winter. The practice involves starting controlled fires to reduce the amount of potential fuel available that can lead to huge wildfires like those that are common during the summer in the western part of the United States. Controlled fires also make for overall healthier forests and give firefighting teams additional experience in managing wildfires.
"It's a hard, tough and high-risk job, but it's rewarding," Liddell said. "We work 16-hour days from sunup to sundown, working out of a tent in the summer, but at the end of the day, we've worked to control something they say is uncontrollable. This job forces you to always better yourself and know how to keep yourself safe. You have to physically and mentally be as fit as you can be."
During their free time, the Jackson Hotshots dedicate themselves to doing as many community projects as possible. For Thursday's Habitat for Humanity project, 10 Hotshots members assisted with flooring and foundation work for the new home under construction.
"Everyone there worked together well, and we got a lot of work done," Liddell said. "It's been a joy to be able to go over and help Habitat, and I'll be glad to do more. I'll be looking forward to the rest of the year."
For information about the Jackson Hotshots, call Shayne Banks, public affairs officer for the Department of the Interior, Bureau of Land Management, at 601-966-7000. For information about Habitat for Humanity Mississippi Capital Area, call 601-353-6060.
More like this story
More stories by this author
Like independent media outlets around the world, the Jackson Free Press works hard to produce important content on a limited budget. We'd love your help! Become a JFP VIP member today and/or donate to our journalism fund. Thanks for considering a JFP VIP membership or one-time support.