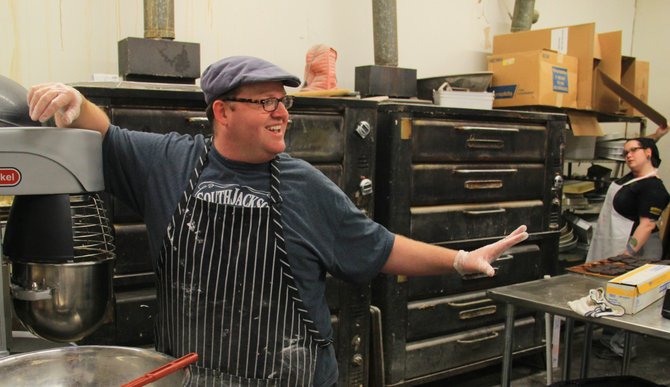 Campbell's Bakery Launches Non-Discrimination Campaign
After the Mississippi House and Senate passed SB 2681—the controversial "Religious Freedom Restoration Act" that many see as opening the door for legalized discrimination—Campbell's Bakery (3013 N. State St.) owner Mitchell Moore wanted to do something about what he viewed as a horrible situation.
"The examples people always use (when talking about how businesses could discriminate) always involve weddings and a florist or a baker (refusing service to a gay or lesbian couple), since those are the ones that have probably happened somewhere," Moore said. "I thought it was ridiculous, and I wanted to get the message out that we are not discriminatory, and that I want to sell my product to as many people as will buy it."
To get the word out, Moore started the "If You're Buying, We're Selling" campaign. He created a Facebook page where business owners can sign up and make a public stance that they are not going to discriminate by posting their support on the page.
Moore also designed a logo and arranged to have stickers printed, which should be ready to distribute in a few days. Supporting businesses can put the sticker in their windows for passersby to see at a glance that the business does not discriminate.
While the movement may seem like a political gesture against SB 2681, Moore said it is actually a matter of good business.
"I'm not doing this because of politics, but because it's my stance as a business owner," Moore said. "I doubt legislators called any businesses to ask their opinions and see if this was something they needed protection from. I think many would probably have said 'no' if they did. I consider it a waste of time and resources to make a bill and pass a law if maybe only two business owners somewhere made complaints."
"If You're Buying, We're Selling" currently has more than 900 businesses that have signed on so far. Moore is also inviting people to ask businesses if they want to join. The movement has grown large enough that LGBT rights group Equality Mississippi has expressed interest in running the project since Moore is unable to manage it full time.
"This is not only for the LGBT community, however," Moore said. "They are not a protected class, but there are also others that need protection."
Jackson Zoo Hosts Zoo Brew
This Friday, April 11, the Jackson Zoo (2918 W. Capitol St.) hosts the 7th annual Zoo Brew event. Event organizers have prepared 50 brews for this year's event, including the specialty ZooBrew 2014, an American IPA made for the event by Yalobusha Brewing Company. Other local brewing companies participating in the event include Oxford Brewing, New Belgium Brewing, Lucky Town Brewing and Lazy Magnolia Brewing.
Wing Stop and Jaco's Tacos are providing food for the event, and visitors will also be able to sign up on site for the Tyson's Hot Wing Eating Contest.
Jarekus Singleton, Jason Turner, Jesse Robinson and DJ George Chuck will perform live music.
Zoo Brew is from 6 p.m. to 9 p.m. VIP ticket purchases get early admission at 5 p.m., as well as specialty VIP brews, firkin tapping at 5:30 p.m. and private food tastings.
Tickets can be purchased online, at the Jackson Zoo or at Hops and Habanas (123 Grandview Blvd., Suite N, Madison). General admission is $30, VIP tickets are $60 and designated driver tickets are $15. Zoo Brew is for adults ages 21 and up only. General admission and VIP tickets include a beer-sampling cup.
The Bulldog Brings a Classic Arcade to Jackson
Last month, Alec Wilder, owner of The Bulldog bar (6111 Ridgewood Rd.) started a project to bring something to Jackson that hadn't been available before: a classic video arcade. While still awaiting some further additions, the Bulldog Barkade is currently open for business.
The Barkade features a wide assortment of vintage quarter-powered arcade machines. Titles include classics such as Pacman, Space Invaders, Galaga, Centipede, Gauntlet Legends, the Simpson's Arcade Game, Teenage Mutant Ninja Turtles: Turtles in Time and more. The 1,500-square-foot space also features pinball machines, air hockey, foosball and soon-to-be-installed basketball machines. Newer games such as golf game Golden Tee Live 2014 are also available.
"In Jackson, everything seems to be the same old same old, but we wanted to be different," Wilder said." We wanted to bring something to the city that would let adults relive their childhood a bit and have a place to go after work and have fun. An arcade is a social experience as well with all the group and competitive games available. We're going to be opening the space for private parties as well."
The Bulldog is planning a grand opening event for the arcade in early May. While details are scarce at the moment, Wilder said that many local breweries around Jackson will be involved in the event.
Support our reporting -- Follow the MFP.