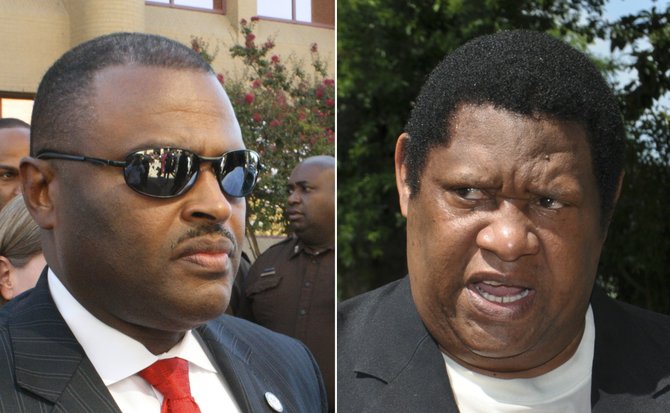 Markuieze Bennett, 21, should have been in court April 8, standing trial for strong armed robbery. The odds a jury would have found him innocent were good.
Arrested in spring 2012, Bennett claimed his innocence from the beginning. Witnesses submitted affidavits to the Hinds County District Attorney's office saying that Bennett was playing basketball in Lake Hico Park when the robbery took place; his co-defendant, Sepedah Vance, also made statements exonerating Bennett even though he later attempted to retract them.
The Hinds County Public Defender's office, which represents Bennett and hundreds of others people who cannot afford to hire a private lawyer, say their office made "numerous attempts" with the Hinds County district attorney's office to settle the case.
Over the next two years, Bennett's trial date was bumped twice, and his motions to dismiss the charges were repeatedly denied despite the evidence of his innocence, his lawyers say. Then, in July 2013, Vance, the co-defendant who told authorities of Bennett's innocence, was murdered.
But before Bennett could have his day in court, he too was killed in a riot—the second in two years—at the Raymond Detention Center on March 31. On April 2, a no-prosecution order was filed in his case posthumously. Besides Bennett's death, another seven people were injured, and prisoners had be transferred out of the housing pod where the incident occurred and moved to nearby facilities, including the Jackson municipal jail.
Jail officials have said the riot erupted between rival gangs, but complete information about the events leading up the melee is known. The Mississippi Bureau of Investigation has taken over the investigation, and a Hinds County supervisor is calling for a vote of no confidence against Sheriff Tyrone Lewis, who has purview over a jail that has been besieged with high-profile mishaps, including a number of attempted and successful escape and a summer 2012 riot that destroyed one of the three housing pods and cost the county millions of dollars to repair.
More so than even the financial bottom line for county taxpayers, several county officials are characterizing the conditions at the jail as an affront to basic human rights.
Michele Purvis Harris, the county public defender, wrote a letter to media outlets in which she criticized The Clarion-Ledger's reporting on the incident, which she said "serves to promote the callous and insensitive attitudes that seem to run rampant in this city and state."
"These are mothers, fathers, sons and daughters—someone's loved one. These are human beings," Harris wrote.
Hinds County District 5 Supervisor Kenneth Stokes agreed. "In the neighborhood they stay in, because they're young and black, people don't care," Stokes said in criticizing the management of the facility at the April 7 Hinds County Board of Supervisors meeting.
Stokes called for a no-confidence vote against county Sheriff Tyrone Lewis and jail administrator Dianne Gatson-Riley for last week's riot that resulted in the death of a prisoner. Stokes, who has locked horns with the sheriff on a number of key issues, praised Lewis' handling of his office, but said repeated problems with at the detention are a public safety nightmare.
"We've seen the sheriff do some wonderful things. ...(but) you cannot continue to have riots and killings in the jail," Stokes said at this morning's supervisors meeting.
Stokes said the jail conditions could be tantamount to federal civil rights violations that could draw in the involvement of the U.S. Justice Department or costly civil lawsuits. 
Lewis has said the problems at the jail precede his administration and that county bureaucracy has sometimes hamstrung his ability to make fixes in a timely manner. Lewis's office has declined to speak about the recent riot, citing MBI's ongoing investigation.
Board President Darrel McQuirter relayed to his sympathies to Crawford and other families who expressed similar frustrations, but said that the jail is operating under a state of emergency.
"This is not the time to fan the rhetoric or make an explosive situation worse," McQuirter said.
Stokes said his aim in asking for a no-confidence vote was not remove Lewis, but to call attention to problems with the sheriff's management of the facility.
"These are citizens. They might be poor and black, but they're citizens," Stokes said.
More stories by this author
Support our reporting -- Become a JFP VIP.
The news business has changed dramatically in the past year, and we need your help more than ever to keep bringing you important stories about Jackson and the Metro. Become a JFP VIP with an annual membership or you can Sign up as a monthly supporter. Thanks for anything you can do to empower our journalism!