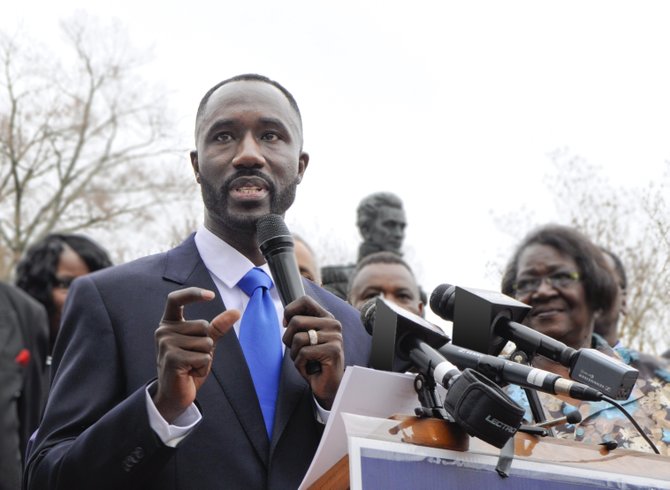 The JFP sent all 2014 mayoral candidates the same questionnaire. Here are Tony Yarber's responses.
A councilman representing south Jackson since 2009, Yarber gave high praise to late Mayor Chokwe Lumumba, whom Yarber said helped citizens have a place and voice in city government. "We listen to those things and push out the best possible product for folks in the city," Yarber said.
Lumumba's leadership in pushing for water and sewer rate increases presents Jackson with a "golden opportunity to fix roads, repair infrastructure (and) to bring wealth into the city," and to help small and minority-owned businesses, he said.
In his five years as a councilman in a mostly residential ward, Yarber said he has worked with neighborhood associations to expand community watch efforts and generate more interest in community-oriented police (COPS) meetings. Because of increased vigilance and cooperation among neighbors, Yarber pointed to a dramatic decrease in the number of house burglaries in the ward.
Yarber also linked unemployment to crime, saying that if elected mayor, he would be careful to award contracts to firms who hire Jacksonians and accept community engagement clauses in their agreements with the city. He also wants to ensure that the jobs that come to Jackson are quality.
"Everybody jumps up and gets gung-ho about hotels," he said. "A hotel says it's going to produce 70 jobs, but what you're not telling me is that, of those 70 jobs, 45 of them are for housekeepers, you've got a few cooks, but there is no training program to ensure that housekeeper can one day become the front-desk manager."
With approximately $1 billion going into city projects over the next several decades, Yarber recognizes that contractors could be interested in currying favor with the next administration.
"Contractors are donating," he said of his campaign war chest. "Everybody who believes the adage 'You've got to pay to play' applies (is making contributions), and I guess your question is, how do I deal with those allegiances. ... I don't make promises to people other than to provide good government."
Asked whether he is the preferred candidate of the Jackson business community and Greater Jackson Chamber Partnership, Yarber replied: "I've coached their children. I've taught their children. I've spoken to them at church camps, all of that. I'm upset if white folks, if business folks, if whoever, don't support me. I'm offended by that."
"I'm offended if black folks don't support me, because I've represented this city well. I've sat on that council, I've not embarrassed this city. I've represented this city and this council all over the country."
Yarber opened up about having been unfaithful to his wife of 12 years, Rosalind, which he wrote about the experience in a book titled "Man Tips: What She Wants You to Know," published in 2012.
"My wife is an amazing lady. She has shown me a level of grace I ain't know somebody could give to somebody else," Yarber said. "We are a team now."
Yarber acknowledged that crime results from poverty, but added that poverty is the result of bad education. Yarber is playing on his background as a former educator and founding member of Alignment Jackson, which he said represents a "marriage" between JPS and the city, as the central component of his candidacy.
More stories by this author
Support our reporting -- Follow the MFP.