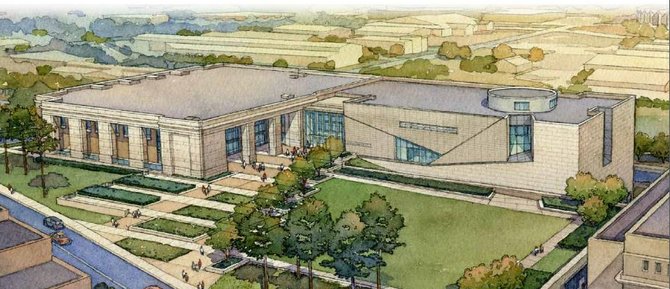 Mad Genius Collaboration
Advertising companies Deane, Smith and Partners of Nashville and Mad Genius of Ridgeland announced Friday, Sept. 13 a partnership to grow the two companies' public relations, marketing, advertising and branding efforts. The companies plan to open four new offices nationwide staffed by more than 30 employees.
"Public relations is an area we have not been active in," Rick Moore, CEO of Mad Genius, told the Jackson Free Press. "We established a strategic alliance to shore up those lines. We are now able to offer all our clients every service imaginable for all their advertising needs. The new offices will give us a longer reach and let us reach out for opportunities to grow our current and future clients by having a very diverse look. This is a great partnership that gives our clients the best of all worlds."
Mad Genius, which focuses on print and digital and video production, opened in Ridgeland in 2005. The firm's clients include insurance companies, banks, restaurants, hospitals and more. It's top accounts include Southern Farm Bureau Life Insurance Co. and Bruce Foods.
DS&P, which recently opened an office in Jackson, creates branding campaigns for Jackson groups such as the Butler Snow law firm and Waggoner Engineering. The company began in 1999.
For information contact Mad Genius at 601-605-6234 or Deane, Smith and Partners at 615-618-8277.
Deadline Set for HMA/Blue Cross Resolution
Mississippi House Insurance Committee Chairman Gary Chism on Monday told representatives of Health Management Associates and Blue Cross & Blue Shield of Mississippi that if the two companies don't resolve a dispute between them by January, legislators might consider a bill that would essentially eliminate insurance networks for hospitals in the state.
HMA, a Florida-based company that owns 10 Mississippi hospitals, sued Blue Cross in June on charges that Blue Cross broke contract terms by underpaying for procedures. Blue Cross countered by accusing HMA of overcharging.
HMA hospitals have been out-of-network for Blue Cross since Sept. 1, which could result in patients facing higher out-of-pocket expenses; however, HMA has said it will not charge BC/BS clients higher fees for the moment.
Museum Preparations Underway
Mississippi is set to choose a general contractor for the Mississippi Museum of History and the accompanying Mississippi Civil Rights Museum by Sept. 26. The contract award could go as high as $40 million.
Groundbreaking for the two museums is scheduled for Oct. 24. The total construction cost for the museums is estimated at close to $80 million.
The first phase of construction will involve building the shell for the structures and completing exterior landscaping; however, Kevin Upchurch, executive director of the Mississippi Department of Finance & Administration, told legislators that the next phase will require additional money. The DFA is asking legislators to put $30 million for the build-out phase in the 2014 general bond bill.
The museums need about $20 million to cover the cost of exhibits, $10 million of which will come from the state. Museum officials plan to get the rest through private fundraising and corporate sponsorships of exhibits.
When completed, the museums and their common space will cover 319,000 square feet on four floors. Shared space includes the lobby, meeting rooms, a 200-space below-ground garage and an auditorium that will seat 300.
The two museums are located next to the William F. Winter Archives and History Building (200 N. St.).
Women of Vision
The Women's Fund of Mississippi is honoring 10 "Women of Vision" at an Oct. 24 luncheon at the Jackson Convention Complex (105 E. Pascagoula St.). The Women's Fund selected the honorees for the differences they have made in the lives of women and girls.
The honorees have made "genuine changes in health care, education, racial reconciliation, the environment, economic independence, journalism, civil and human rights, and the arts throughout Mississippi and the nation," Carol Penick, Women's Fund executive director, said in a statement.
The 10 honorees are: Dr. Helen Barnes, former professor of obstetrics and gynecology at University of Mississippi Medical Center and one of the first African American women physicians to practice in Mississippi; Martha Bergmark, founding president and CEO of the Mississippi Center for Justice; L.C. Dorsey, former director of social services for Mid-Delta Head Start, associate director of the Southern Coalition on Jails and Prisons, assistant professor of Social Work at Jackson State University and Mississippi Valley State Universities; Winifred Green, president and founder of the Southern Coalition for Educational Equity; Seetha Srinivasan, director emerita of the University Press of Mississippi; Natasha Trethewey, poet laureate of Mississippi, poet laureate of the United States, and a Pulitzer Prize winner; Kathryn L. Wiener, philanthropist and founding member of the Women's Fund; Myrlie Evers-Williams, founder and chair of The Medgar and Myrlie Evers Institute and distinguished scholar-in-residence at Alcorn State University; Elise Winter, former first lady of Mississippi, philanthropist and advocate for public education and racial reconciliation, and founding member of Habitat for Humanity Metro Jackson; and Leila Clark Wynn, philanthropist and supporter of education, the environment and cultural institutions.
Tickets are $100 for the Oct. 24 luncheon, which runs from 11:30 a.m. to 1 p.m. Admission includes a commemorative tribute book. To order tickets, contact Kathy Purser at 601-326-3001.
More stories by this author