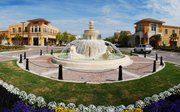 JSU Hair Studio Opens
Rashandra Booker is the owner of the newly opened JSU Hair Studio, located inside the Jackson State University Student Center (1400 Lynch St.). The salon has an upscale atmosphere and provides clients with quality hair care and healthy hair-care products. The studio also features the exclusive "Design Essentials" product line.
JSU Hair Studio offers free consultations, natural hair care services, weaving, treatments, manicures and pedicures, and custom jewelry.
The studio is open Monday from 9 a.m. to 3 p.m., Tuesday from 9 a.m. to 6 p.m. and Friday from 7 a.m. to 1 p.m.
For more information call Booker at 601-979-7004.
Ridgeland is a 2013 eCity
Google recently named Ridgeland the 2013 eCity for Mississippi. The eCity awards recognize the strongest online business community in each state, in which businesses make good use of the Internet to find new customers, connect with existing clients and fuel the local economy.
Google partners with independent research firm Ipsos to analyze the online strength of local small businesses across all 50 states in deciding winners for the eCity awards. The companies weigh a variety of factors including the likelihood of small businesses to have a website, use a blog, promote themselves on a social network, sell goods directly from their web pages and have a mobile-friendly website. Winning cities exhibit strong engagement and potential for growth within the digital economy.
"Ridgeland's growth and innovation in e-commerce is an example that other cities across the state can strive to replicate," Scott Levitan, director of small business engagement at Google, said in a statement. "Google is proud to recognize this growing entrepreneurial spirit and the role it plays in creating jobs and sustaining local economies."
Ridgeland Mayor Gene McGee also weighed in: "Given the critical role that technology plays in driving growth and creating jobs, we want to encourage every business in Ridgeland to embrace the web. Technology has been a powerful part of our economy, and we expect that trend to continue. I am so proud of Ridgeland's small businesses for leading the charge in Mississippi."
For more information visit the eCities website.
Nissan Awards Grants to Teachers
Nissan and BankPlus awarded $65,000 in grants to teachers in the Madison County and Canton Public School districts last week, enabling these teachers to fund creative and groundbreaking learning projects for their students.
The program awards up to $1,500 to teachers and school administrators to fund projects that their schools' budgets can't afford. Nissan's grants will support 51 different educational initiatives, including a 3D printer for technology students learning how to design products, Spanish-language children's books to give students deeper insight into vocabulary and culture, and touch-screen tablet computers to help special-needs students learn how to write.
The Community Foundation of Greater Jackson administers Nissan's grant program. Nissan has awarded more than $400,000 to the Canton and Madison County Public School districts since the company started the program in 2007.
"Over the last seven years, this initiative has had a significant impact on the lives of thousands of Mississippi students, and enables teachers to think big about bringing learning to life," Jane Alexander, president and CEO of the Community Foundation of Greater Jackson, said in a release. "With Nissan's continued and generous support of education, the possibilities for learning are endless."
Nissan has awarded more than $8 million in grants, academic scholarships and other charitable contributions in central Mississippi since 2003. Nissan employees also do volunteer work for community organizations, including working with students in the classroom and as one-on-one mentors.
Support our reporting -- Follow the MFP.