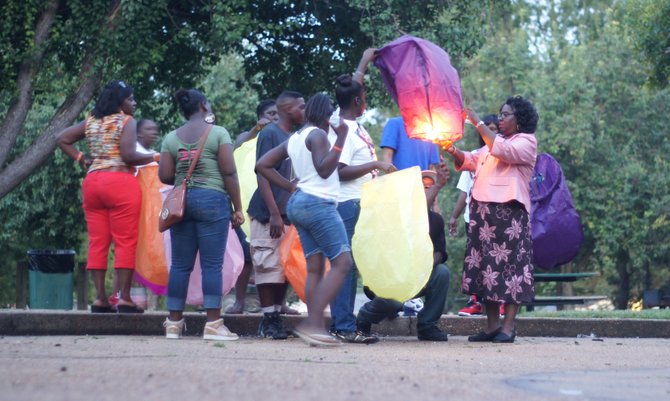 Almost three months have passed since Quardious Thomas was shot and killed in northwest Jackson's Lakeover subdivision for allegedly trying to steal a car.
"It feels like yesterday," said his mother, Tonya Greenwood.
At a vigil held Oct. 4, friends and family members shared remembrances of the young man they refer to as "Q."
Family friend Nancy Gaynor described Thomas as both brilliant and stubborn. Once arrested for house burglary in 2012, Thomas seemed to have straightened up enough to complete his high-school equivalency and he planned to start taking classes at Hinds Community College in the fall.
"Q was a unique person; there was nobody like Q," Gaynor said of 20-year-old Thomas, whom she knew for a decade.
Greenwood called the vigil a much-needed outlet for her grief as well as that of her family, but she stopped short of saying the vigil represents closure—she still wants justice for her son.
Reports from local TV news stations that covered the July 12 shooting suggest that sometime before dawn, a homeowner in the Lakeover subdivision of northwest Jackson crept out onto his front porch and fired several shots at an individual he said he believed was trying to steal his SUV.
Jackson police officials declined to charge the homeowner with a crime, citing Mississippi's Castle Doctrine, which outlines circumstances under which individuals may be justified in using deadly force to protect their home, automobile or body. After questions arose about the doctrine's applicability to Thomas' shooting in Lakeover, in which the vehicle was unoccupied, police said the homeowner feared Thomas was making a move for a gun of his own.
Thomas' family is dubious about the details of the reports. Media reports initially stated that Thomas was shot five times, but a report emergency physicians at University of Mississippi Medical Center completed observed six gunshot wounds. Family members who observed Thomas' body after the shooting, however, report seeing numbers written next to bullet holes; the numbers went up to eight, family members told the Jackson Free Press.
Jackson police say the Hinds County District Attorney's office has the case. Hinds County District Attorney Robert Shuler Smith did not respond to phone calls and emails.
Matt Steffey, a professor of constitutional law at Mississippi College School of Law, says the state's Castle Doctrine legislation did not have the intended effect of clarifying when deadly force is justified.
"I think the main thing the Castle Doctrine accomplished is (it) made more citizens confused about what their rights were. I'm not sure that it really expanded anybody's self-defense rights, but it sure made the issue more complicated," Steffey said.
Tonya Greenwood is hopeful that law-enforcement will provide more answers about how her son died.
"I miss him. I love him and all that, but that won't bring him back," Greenwood said. She described the pain of losing Quardious: "It's like a hole that I can't fill with nothing."
More like this story
More stories by this author