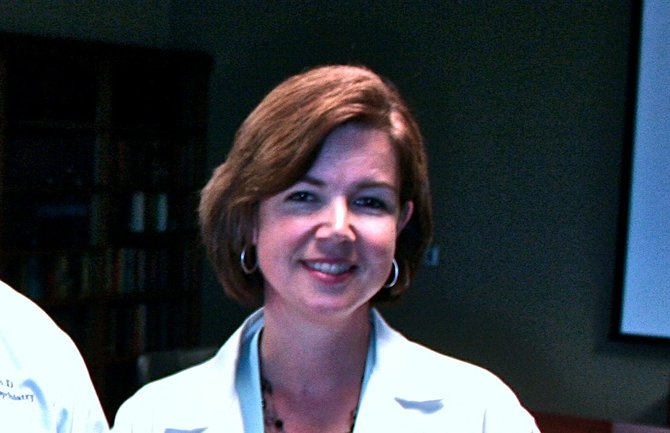 In teaching, Kimberly Simpson prioritizes student engagement, as well as hands-on and non-traditional learning methods.
Earlier this month, the University of Mississippi Medical Center rewarded Simpson, a neuroscientist and associate professor of neurobiology and anatomical sciences, with its inaugural Toward Educational Advancement in Care and Health Prize, sponsored by Regions Bank. The TEACH Prize, which comes with a $10,000 check, recognizes a UMMC faculty member who engages students, challenges them intellectually and demonstrates dedication to the craft of education.
"I am tremendously honored to be the first recipient of this reward," Simpson said. "I feel we all need to have the mindset of teachers and understand that we have a responsibility to provide the next generation with the information we learned from our teachers."
As director of the school's medical neurobiology course for first-year medical students, Simpson added clinicians to a roster of clinical and patient-volunteer speakers to bring hospital experiences into the classroom. Second- and third-year doctoral students in the neuroscience program participate as teaching assistants, giving medical students valuable experiences that they can use in their careers.
"At UMMC, we utilize different teaching programs for different learners," Simpson said. "There are typical lectures, which we consider our 'tour guide' program, to give students an idea of what to expect in a particular subject. In the afternoon, we have interactive activities, such as looking at tissue specimens and showing students what the structures of the brain and spinal cord look like. We also have group learning experiences with the lab divided into different stations, with one teaching assistant and one senior faculty member supervising each station. We have activities like looking at diagrams, drawing and understanding the relations between various parts of the brain, and asking students questions in 'brain games.' The students are free to go to whatever station uses the concepts they like best. That lets the students utilize their favorite learning style. The setup also encourages students to work together to develop professionalism."
Simpson, who grew up in Philadelphia, Pa., attended Ursinus College in Collegeville, Pa., for her undergraduate degree, majoring in biology. She went on to Drexel University in Philadelphia for graduate and doctoral studies. She credits one of her professors for sparking her interest in neuroscience.
"Professor James Sidie, a biology professor at Ursinus College, told me that it was 'the decade of the brain' and that good researchers were needed to further our understanding of it," Simpson said. "I had done research related to neuroscience before graduate school, and I've always been interested in areas of the brain controlling attention, mood and sensory perception."
One of her recent projects at UMMC involves studying how certain anti-depressants often prescribed for young children affect developing nervous systems and brain development.
Simpson, her husband and two children live in Brandon.
More like this story