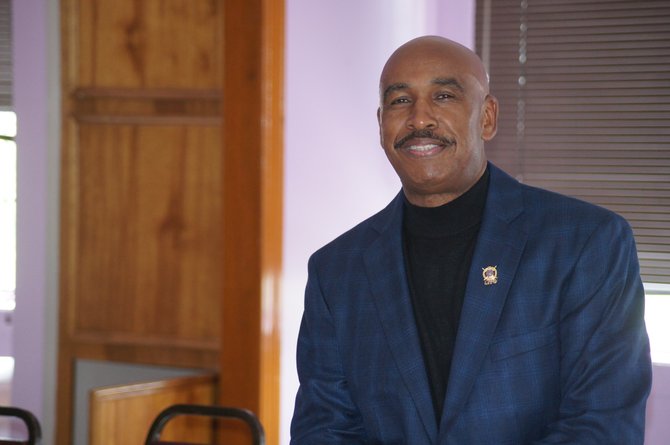 Document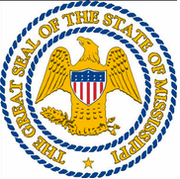 James Paige, 60, remembers the Jackson of his youth as a roller-skating town.
"We used to skate in the streets, from neighborhood to neighborhood," said Paige, who is seeking the Ward 2 seat on the city council. "I've been campaigning six months, and I have not found one street that's smooth enough where I can put my skates on and skate."
For Paige, a husband and father of three daughters, the condition of Jackson's roads along with crime and business development are of paramount concern. If elected to the council, he wants to re-examine Jackson's long-ago decision to outsource garbage collection.
Paige, a contract law-enforcement officer with a federal agency he declined to name, said privatization of city services was a bad deal because the city can procure materials less expensively than large investor-owned trash haulers under pressure to turn a profit every financial quarter.
He talked to Jackson Free Press about his plans for his northwest Jackson ward.
What separates you from the rest of the Ward 2 field of candidates?
I've lived in Jackson all my life, and I've lived in Ward 2 since there's been a Ward 2. But what really sets me apart is that I have 20 years of law enforcement experience ... 10 with the Jackson police department and 10 with a private security company where we do contract work for the federal government. I have 20 years as a business owner and operator, so I know what the small-business people have to go through on a day-to-day basis. I know what they have to go through to make a payroll. I'm a past homeowner association president. I've been on the organization side of organizing neighborhoods and know what you have to go through to maintain a nice neighborhood.
So business issues take precedence with your campaign?
Business and crime go hand-in-hand with me. I have relationships with all the top-tier people that have anything to do with crime. ... If I'm a councilman, and we're having a spike in a certain type of crime, and the people call me and say, we have this problem and nothing is being done about it, as an experienced law-enforcement officer, someone who has worked a beat, has supervised who's trained those types of people, I can go in there and see what is being done and if its not being done right. ... I won't have to build up a relationship--I already have those relationships in place.
So what are the problems you're hearing about as you campaign?
Break-ins and drugs. ... For example, take my street: We had some storage-room break-ins. So the neighbors come to me, and two and three of us got together and they said, "As an experienced law-enforcement officer, what do you think is happening?" So I looked into it. 30 days (passed). I got back to them and said, we have too many lawn-cutting crews coming on our street. These guys get up real close and personal to whatever you have. They look at your locks, (and) they know your vulnerabilities.
These are small-business owners. You think they're casing their customers?
Not the guys that own (the businesses); it's the guys working on the crews. ... They have some guys on these trucks I'm just not comfortable with. So I gave them a list of the ones I thought were good crews and the ones that have the day workers on them.
Did you ever have a conversation with the owners of the crews?
To be honest with you, no. There's not a large pool to pull from of people doing that type of work. So a lot of them get what they can because its seasonal work.
So as a member of the Jackson City Council, what can you do to help those kinds of people who may not have a lot of job opportunities because of felonies on their records, etc.?
You have to approach businesses where you can have them in a controlled environment. I had no problem hiring a person that had fallen and was trying to get back up. And also, in my business, I set aside positions for college kids where I'd let two college kids hold down one full-time slot. So there are innovative ways that we can work with small businesses to get them to hire some of these people and also provide some part time work for our college kids.
What are the top economic-development issues or projects you'd like to see come to fruition?
One project I'd like to see something done on is Farish Street. I remember Farish Street from (when I was) a little boy, and to see it sitting there like it is now for all these years and so much money being put into it, and we really have nothing to show for it. I think that's a project that really needs some work done on it.
What needs to happen with it?
If they're not going to be able to get it going, they need to scrap it. Whatever they say is supposed to be coming there, they need to get it there. They been promising BB King's for five years. And I believe once they get one place open, that's going to get it started.
What if you had a business owner that wants to relocate to your ward; would you steer them to Farish Street instead?
If it's better for Farish Street than Ward 2, I would recommend it for Farish Street. But my thing is, Jacksonians are going to have to start controlling which way we're going. We're going to have to start spending our money back here in Jackson. We have to stop going to Renaissance because every time we cross those city limit lines, we're taking away from Jackson. In order for Jackson to start doing the things we need to do, we're going to have to increase our revenue intake. I think we're going to have to start doing a "Buy Jackson First" type of campaign and point out some of the things that would happen if you started spending your money within your neighborhood. My thing is that the closer you spend your money to you, the more likely you get some return on your money.
Is there a model you can point to in your ward as a business that's doing it right?
For example, you've got Family Dollar and Save-a-Lot. My thing is, let's wrap our arms around them and embrace them because the more we do business with them, they're upgrading their products, their facilities so the people that are investing in our neighborhood, let's embrace them so they can do better.
More like this story
More stories by this author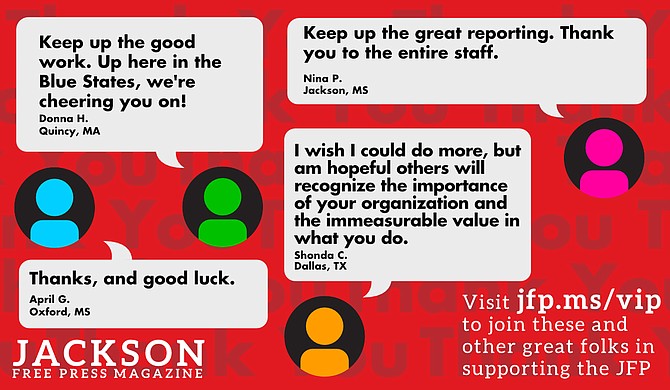 Thanks to all our new JFP VIPs!
COVID-19 has closed down the main sources of the JFP's revenue -- concerts, festivals, fundraisers, restaurants and bars. If everyone reading this article gives $5 or more, we should be able to continue publishing through the crisis. Please pay what you can to keep us reporting and publishing.