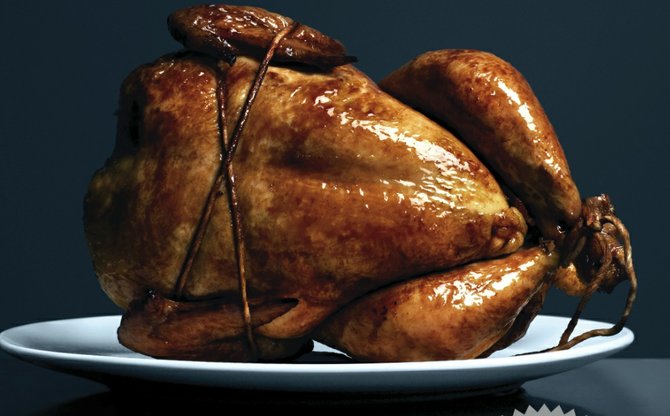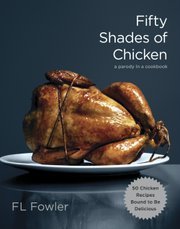 A seductive play on words is one way to describe their torrid love affair--maybe even poultry erotica? She is a simple and slightly underweight free-range organic chicken with a yet-to-be-met sell-by date. He, a self-proclaimed "hard cooker" and foodie who has to complicate things with ingredients other than her, has a 50-piece knife set that sends her liver quivering (which, by the way, will be turned into a delightful chicken liver crostini dish later on in the book). Inspired by Julia Child, he has a knack for multi-ingredient dishes, something that will rub her body cavity raw with jealousy.
Miss Hen finds herself plucked from the obscurity of the Sub-Zero double-wide refrigerator into the strong and capable hands of a man she only knows at Mr. Blades. She will be marinated, stripped, steamed, butterflied, baked and seasoned to perfection, his hands stuffing her cavity with Spanish sausage stuffing and, though she never had a taste for things that were too spicy, she will find herself hooked on his hands and the way he pats her dry with multiple paper towels to leave her skin crispy after baking.
"Fifty Shades of Chicken: a Parody in a Cookbook," by F.L. Fowler (Clarkson Potter, 2012, $19.99) is a fiery and flirtatious (and hilarious) read that follows the edible love affair of a man and his chicken in a tone that makes this cookbook one you'll actually enjoy reading from start to finish (that is, if the photographs throughout of shirtless men cooking haven't hooked you first). Written in the steamy style of another certain "Fifty Shades" tale, the cookbook marauds as a novel interspersed with recipes (such as vanilla chicken and chicken chili) and useful tips for cooking, seasoning and even trussing your own chicken.
The basics of this cookbook slowly evolve to more advanced recipes, all while continuing the steamy saga of Mr. Blades and Miss Hen. Follow as they explore common kitchen techniques from how to correctly stuff your chicken (to Miss Hen's delight by the way) to the correct way to butterfly a breast, to how to make beer-can chicken, to cooking tender chicken pot pie and all the side dishes to go with it.
You follow the emotional turmoil Miss Hen experiences when she learns that Mr. Blades has worked with other ingredients before and has a penchant for thinking the more the merrier. She is green with jealousy as he coats her with a marinade of garlic, scallions, chives, parsley lemon, horseradish and salt, leaving her to sit overnight and be paired with a radish salad. (What does that radish have that she doesn't? Why must he mess with that ruby-colored hussy?)
No vegetable or fruit could make her angrier though than that insufferable Julia Child. It was she who made Mr. Blades into a foodie, she who inspired him to make truffle butter, and it was she who taught him how to spatchcock a chicken like no one ever has before.
I particularly enjoyed the chicken fricassee with prosciutto, tomatoes and sweet peppers; and stuffed chicken with chorizo stuffing. Even the more complicated recipes are extremely easy to follow with illustrations (shirtless illustrations, as aforementioned) scattered throughout. The book gradually progresses in technique and difficulty of dish, focusing on each part of Miss Hen from her breasts and thighs all the way down to her liver and giblets.
The great thing about this book is that the author uses pretty much the same ingredients throughout the book, and most of the spices are common to people's cupboards, with only a few that the average home cook would have to shop for. So go and make poultry art--the chicken may thank you afterward.
More stories by this author
Support our reporting -- Follow the MFP.