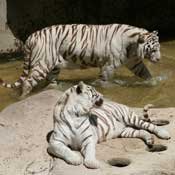 If you decide to hit the road for Father's Day this year, head south to the Crescent City. It's not all bars and French Quarter. New Orleans is one of the most diverse cities in the world, especially when it comes to family-oriented activities with a few extras thrown in—in case you have a babysitter. Here are some suggestions based on specific interests.
• Historian. Located in the central business district, the National World War II Museum (945 Magazine St., 504-528-1944, nationalww2museum.org) is a massive and amazing museum that has everything you would ever want to know about that period of America's history. It also has a 4-D movie theater with a 120-foot wide screen that uses water and other elements as well as life-sized props to tell the story of the war starting with Pearl Harbor. Admission to the museum and movie is $23 for adults, $12 for children and college students with ID.
• Nature-Wildlife Expert. The Audubon Nature Institute (6500 Magazine St., 504-581-4629, auduboninstitute.org) includes a zoo, aquarium, insectarium and IMAX theater. This is probably one of the best deals in the city. $40 for adults and $25 for children will get you passes to every attraction, and you can spread your visit out over five days. Also, if you park in one of the JAX Brewery parking lots right next to the aquarium, you get $5 off parking.
• The Golfer. The Audubon Golf Course is in uptown New Orleans in Audubon Park (6500 Magazine St., 504-212-5290, http://www.auduboninstitute.org/visit/golf). If the kids are old enough, let them spend the day at the zoo while you play the 18-hole golf course. Make reservations online or by phone.
• The Thrifty Drinker. If you want to start your night out early but are working on a budget and have some self-control, kill a few hours and head to Harrah's Casino (228 Poydras St., 1-800-847-5299, http://www.harrahsneworleans.org) for free drinks. Located in downtown, Harrah's has a new drink system for gamblers. Gone are the days when you had to wait for a server and wait forever for your drink to arrive. You can now order direct from the machine, deciding from a list of cocktails, wines and beers, as well as straight shots. Two or three minutes later it arrives, tip the server a dollar and repeat. In the meantime, play the penny and nickel slots, get a Rewards cards and get your parking validated. $20 can get you enough drinks to make up for how weak they are, and you may even win something.
• The Chef. The New Orleans School of Cooking (524 St. Louis St., 504-525-2665, http://www.neworleansschoolofcooking.com) is a great family or couples' activity for dads passionate about food. In a city where food is one of the main attractions, why not learn how to cook a signature Cajun dish? For $30 a person, you can learn how to make red beans and rice (only on Monday, of course), jambalaya and bread pudding. Taught by local chefs, you're sure to come home with cooking tricks up your sleeve.
• The Foodie. For an exceptional food journey, stop by The Green Goddess (307 Exchange Place, 501-301-3347, http://www.greengoddessnola.com) in the French Quarter. This restaurant has been making waves since 2009, pairing southern and Creole traditional with exotic and sometimes downright genius ingredients. Some favorites include the Beet "ravioli" filled with truffled Chèvre, finished with pomegranate molasses; Sardinian saba (a grape juice reduction) and avocado oil cheese with truffle juice; "Da Meatloaf" sandwich made with bison and bacon, served hot with cheese; and the crawfish cakes, made from fresh seafood plucked straight from Louisiana waters. Try a mixed-green salad with fresh crabmeat, shrimp, coconut dressing and goat cheese balls rolled in bacon. Get a side of sweet potato biscuits and homemade pepper jelly. Check the website for hours (they are a bit odd), and don't let a line scare you away.
• The Musician. Drive a little past the French Market to Esplanade, park your car and take a walk down Frenchman Street to satisfy every musical taste imaginable. From rock 'n' roll to quiet acoustic, Latin dance clubs to Japanese business bars, Frenchman Street is the place where the locals party. You will find every ethnic background, language and way of life walking up and down Frenchman, and late at night a collective of musicians (local Frenchmen residents) bring out a massive music machine, with tambourines, noise makers, xylophone parts and guitar strings, and drums pieces, all for playing at once. Anyone can just walk up and join in. You will regularly see street musicians perform just like in the French Quarter, but for a more authentic taste of the city and a real mecca for music, Frenchman Street is the late-night place to be.
More like this story
More stories by this author