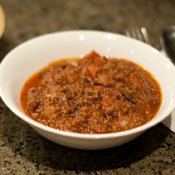 I have tried a few diets in my lifetime, and I find that I always struggle with the same roadblocks. It's not candy and other sweets or carbonated drinks. I don't really enjoy a lot of butter or cream. For me, nothing is better than jambalaya with, of course, garlic bread on the side. I have lived off crockpot mac 'n' cheese and, dear Lord, don't put a can of Pringles in front of me if you want any of them yourself.
I can drink milk with anything, so I often find myself pairing bread with milk, which happens to be a disaster for my waistline.
I don't claim to be a guru, certified nutritionist or personal trainer. I'm just a normal person who's struggled too long with food and was desperate to find a modification for my normal eating habits.
It's no wonder that I turned to carbohydrates so easily. They are cheap and easy to eat, and some studies suggest that carbohydrates can be as addictive as cigarettes. You can buy a loaf of bread or bag of rice for under $5. And who has time to cook around the holidays? It was just too easy to skip the veggies and go for the potatoes. I had a carbohydrate addiction, and I needed to get it under control.
I realized in my late 20s that my problem was that I was dieting instead of gradually changing my eating habits for the better. Living a balanced lifestyle required working around my particular roadblocks of too much dairy and bread. Most times I forgot that pairing the two nearly doubled my sugar and carb intake.
I spent a large amount of my free time figuring out unique and easy recipes to aid in my continuing quest for health, keying in on the need to not pair those two things if at all possible. If I ate carbs and milk, it would have to be a healthy amount in moderation.
Here are two of my favorite recipes.
Low-Carb Chili
4 large tomatoes
1 large onion
1 green bell pepper
1 pound of 95 percent lean ground beef
1/2 cup of minced garlic
Sea salt, to taste
Pepper, to taste
Dash of cinnamon or nutmeg
1 tablespoon of shredded cheese per serving
Melba toast
Chop tomatoes and dice onions and bell pepper. Cook beef, bell pepper, onions and minced garlic over medium heat in a pan until brown. Season with sea salt, pepper and a dash of cinnamon or nutmeg.
Cook chopped tomatoes (in a pan with lid) on low-to-medium heat. Add the ground beef mixture and let everything simmer on low heat for two hours.
Sprinkle one tablespoon of cheese on top of the chili and serve with two pieces of Melba toast.
Serves three to four.
Cauliflower Bread and Sauce
1 cup cauliflower, grated (about one head)
1 egg or 1/2 cup egg substitute
1 cup cheese or cheese substitute, grated
Italian seasoning, to taste
Garlic seasoning, to taste
1/2 cup Italian tomatoes, diced
Preheat oven to 350 degrees. Boil cauliflower until halfway cooked or until the flower part is a little soft, about 20 to 25 minutes. Grate and mix with egg and cheese in bowl.
Spray cooking spray in a 1 to 1-1/2-inch thin cookie sheet and spread an even half-inch layer of the mixture on the cookie sheet. Cook mixture for 30 minutes. Take bread out of oven and, with spatula, loosen from pan, and flip over. Cook at 450 degrees for an additional 10 to 15 minutes.
You can add more cheese after flipping to make the bread extra crispy. Put tomatoes in food processor or blender and blend until it is liquid to use as a dipping sauce.
Serves four to six.
Legacy Comments
Carbs taste great! No doubt about it. Several years ago I started buying WASA bread (high fiber whole grain crackers) and using that as a substitute for chips and bread. (I totally understand about the Pringles. That was a tough one.) They don't have a whole lot of flavor but are very crunchy and hard--the thicker varieties can stand up to any thick liquid you care to use as a topping. Whole grain is definitely the way to go if you really love carbs--you won't eat as much and will fill up much sooner. I also quit drinking any kind of soda (not a big deal for me; I've always loved ice water over anything else), including diet varieties. Doing without cake and cookies isn't a hardship either--but don't take my cheese away. Since dropping refined white flour from my diet/meal plan, I find that if I 'splurge' on the one pure form I still miss--the buttered biscuit--I'd best stay away from people until my next meal rolls around because I become totally irritable and intolerant of interruptions, questions and even the tiniest of mistakes. This has happened often enough now that when someone shows up with sausage biscuits at the office, I have to close my door until all have been consumed. Some foods affect mood more than we realize until we do without them for an extended period of time. Carbs are notorious for that--but whole grains have the 'calming' effect without the blood sugar spike and crash (and irritability) that refined white flour and sugar can produce. It's a great excuse to go check out the bakery at Rainbow Whole Foods. Their whole grain breads--"real bread"--is the only kind I can eat that doesn't produce blood sugar issues when I eat it. (Did I mention that I'm diabetic?)
2012-01-24T21:16:32-06:00
More like this story
More stories by this author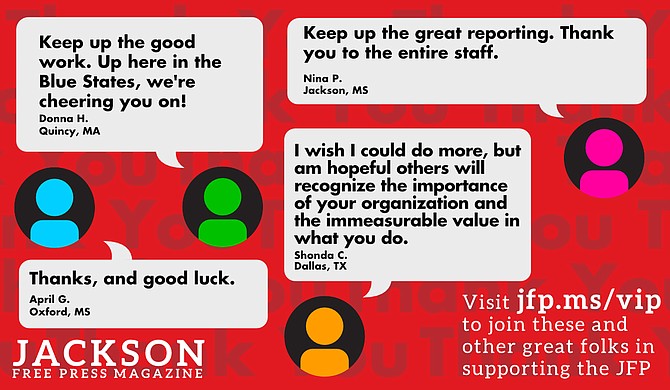 Thanks to all our new JFP VIPs!
COVID-19 has closed down the main sources of the JFP's revenue -- concerts, festivals, fundraisers, restaurants and bars. If everyone reading this article gives $5 or more, we should be able to continue publishing through the crisis. Please pay what you can to keep us reporting and publishing.