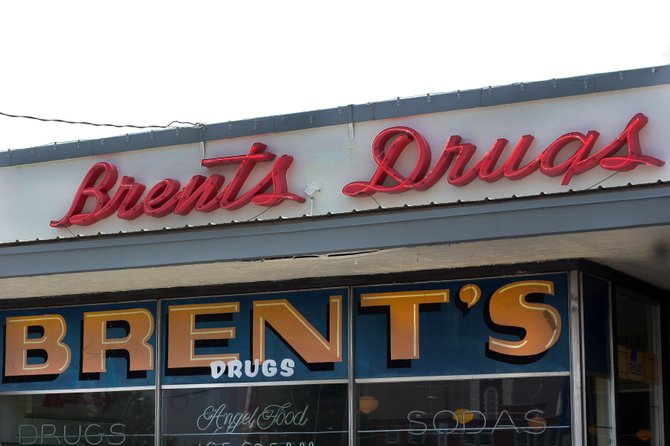 The Apothecary Opens In Brent's Drugs
This past weekend, Brad Reeves, owner of Brent's Drugs (655 Duling Ave., 601-366-3427), opened The Apothecary, a 1,000-square-foot "speakeasy" lounge inside the circa—1946 soda fountain.
The Apothecary draws inspiration from the pre-Prohibition craft cocktail movement and also pays tribute to the original purpose of soda fountains in the '50s, when pharmacists used carbonated water sweetened with syrups to conceal the taste of bitter drugs. Soda fountain drinks of the time used tonic water, phosphates or lactarts, a healthy, natural acid with an odd sourness.
The Apothecary will feature drinks such as the Campari Martino (campari, manzanilla sherry and lemon), the Hoodoo Flip (Cathead Hoodoo chickory vodka, demerara sugar, whole egg, lemon and Angostura bitters), the Pink Phosphorescent (gin, grapefruit oleo, phosphate, lemon and creme de muir) and the Chen + Tonic (gin, house made tonic and lime). The Apothecary will make its own tonic water, which was used initially for the treatment of malaria, with cinchona bark. The fountain has soda draft pumps installed at the bar, and it hand-squeezes its fruit juices.
The Apothecary is open Tuesday through Thursday from 5 p.m. to 10 p.m., and Friday and Saturday until midnight. In addition to the cocktails, the menu features non-alcoholic temperance drinks, wines by the glass, selected bottled beers, sliders, a grilled cheese sampler and more.
Information from Find It In Fondren.
Mississippi Set to Receive $692K in Workforce Grants
The U.S. Department of Labor, in collaboration with the U.S. Department of Education, recently announced that Mississippi is one of 15 states eligible to receive Workforce Investment Act incentive grant awards.
Mississippi is slated to receive $692,377, which the Mississippi Department of Employment Security will use to develop innovative workforce programs.
Mississippi's achievements to qualify for the grant awards include:
59 percent of unemployed adults who entered the WIA program were able to find employment within three months of completing the program.
80 percent of laid-off workers who found employment within three months after completing the program were still employed nine months later.
80 percent of youth participants attained a credential or diploma within six months of program completion.
MDES will be responsible for the distribution and oversight of the incentive grant award funds.
AARP and SBA Share Start-Up Advice for Boomers
The Association for the Advancement of Retired Persons and the U.S. Small Business Administration are teaming up during National Small Business Week to honor the contributions of the nation's small businesses, and to provide business startup advice for "encore entrepreneurs"—those older than the age of 50.
SBA and AARP joined forces last year to reach out to baby boomers and provide training and mentoring services for older entrepreneurs to start or grow businesses and create jobs, and in April, the two organizations held National Encore Entrepreneur Mentor Month to provide training to those over age 50.
Boomers can obtain a free toolkit from the SBA, which includes a self-assessment and online courses. The training courses include profiles of successful entrepreneurs, recommended action steps and information on licensing and financing. Find resources from AARP on the organization's website.
In one of four National Small Business Week events held throughout the United States June 17-21, in the Dallas area, SBA Administrator Karen Mills and AARP President Robert Romasco will share tips on the resources available to those older than age 50 who want to start or grow a small business. Participants can register online here.
Support our reporting -- Follow the MFP.