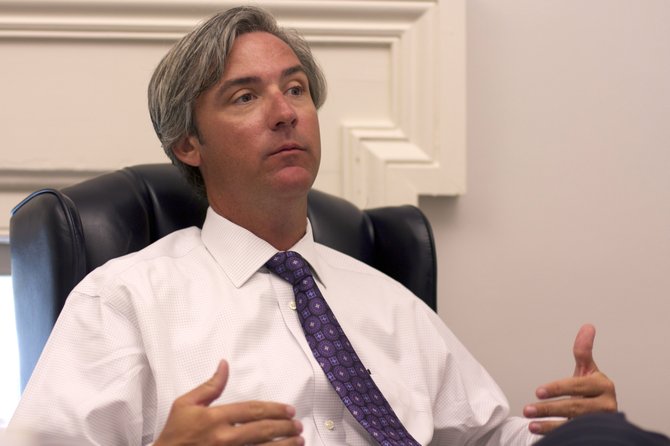 (Clarification Appended)
Over the weekend, New York Times columnist Frank Bruni wrote about politicians' new "controlled and controlling approach" for talking to voters.
Bruni used recent examples in which prominent members of Congress have skipped traditional modes of communicating with constituents, such as press conferences and public events, in favor of carefully scripted, campaign-funded videos to run on the Web for distribution through social media. Bruni writes: "And that kind of extreme control feeds a vicious cycle. A suspicious, scandal-primed press corps yields wary politicians, whose reticence and guardedness foster greater suspicion still."
We saw evidence of that cycle during the recent Jackson municipal elections. In the early days of the campaign, incumbent Mayor Harvey Johnson Jr. skipped several candidate-jammed forums and decided to hold a series of telephone town halls designed to let Johnson answer voters' questions directly. We again saw a campaign's hypersensitivity to the control of its own narrative when this newspaper first published details of the mounting legal troubles facing businessman Jonathan Lee's company. After the story ran, Lee repeatedly refused JFP reporters' requests for interviews--or even comments.
Likewise, the friends and supporters of Ward 1 Councilman Quentin Whitwell, who initiated an underground albeit not-well-thought-out campaign to elect Whitwell mayor via write-in ballots, took the controlled approach to whole new level. An email that several sources said originated with the business partner of Whitwell's wife, Ginger, stated: "We believe that the turn out for Chuckwe [sic] will not be huge, due to the fact he thinks he already has won. We have to keep this off Facebook, and on the low until the actual day June 4th! That day we need as many volunteers, to help get out the vote for Quentin. We need each of you to tell your neighborhood associations to send out an email, go door to door Monday and Tuesday."
Elections officials quickly put the kibosh on those plans by explaining state law, but by then, a campaign was already underway to discredit the Jackson Free Press for daring to pursue a story involving a sitting councilman during a city election. In fact, in subsequent communications, Whitwell-for-mayor organizers specifically instructed people to deflect questions if contacted by the paper.
"If the Jackson press [sic] calls you just say no comment y'all are crazy and this is blown out of proportion!" the business partner, Lea Easley, said in social media. (She also added: "We can get this done." She did not return calls to explain what "this" was.) The councilman himself chose not to return phone calls, using Twitter to try to discredit the JFP.
Legalities aside, the Whitwell election effort was likely unsuccessful. Lee and Johnson both eventually lost the Democratic Party's nomination to Ward 2 Councilman Chokwe Lumumba, who, by the time this goes to press, is most likely Jackson's mayor-elect.
Conversely, throughout his campaign, Lumumba was extra careful to create--or re-create--his own controversial narrative. His ads play up his diverse-looking family, intended to counteract widely held notions that he dislikes white people. But he was always willing to address reporters' questions, even at inconvenient times and even when his supporters grumbled about some of his portrayals in the press.
As our politicians ignore the media more and more, fewer people are paying attention to traditional reporting-based news sources. The Pew Research Center's Project for Excellence in Journalism 2013's State of the Media report points out that local television news broadcasts have been losing viewership for the past decade, with a more than 14 percent drop in the past five years.
With sensational, albeit inaccurate, reports such as WAPT-TV's recent false claim that Lumumba wanted to "remove" Christopher Columbus from school textbooks, it's no wonder that people have developed a distaste for local TV news.
Newspapers are not faring much better. Frequency of newspaper readership, although it increases with educational attainment, is also declining. Frank Bruni, in his column, defended the need for reporters to "poke and meddle."
"It may not be a pretty sight, and we journalists may not be doing it in a pretty way, but eliminate that, and you wind up with something even less pretty," he wrote.
Our public officials are pretty much just going to have suck it up--and return our calls.
Editor's clarification: Because neither Councilman or his wife or Ms. Easley returned calls about the email effort, we do not know if Ms. Easley wrote the email or passed it on from someone else as others did. And because we did not speak with her, we should not have said above that she posted the message about not talking to the JFP because "involving media would derail their plans." We do not know whose plan it was originally because no one has, so far, been willing to tell us they wrote the email. Councilman Whitwell said on Facebook that he had no knowledge of it.
More stories by this author
Support our reporting -- Follow the MFP.