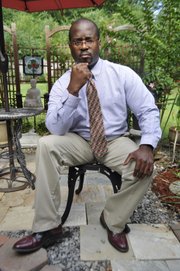 Child custody cases are messy affairs. Take the case of Windell Blount, a May 2013 graduate of Tougaloo College, who has been embroiled in a he-said-she-said tug-of-war with his ex-wife over visitation of their 9-year-old son for about four years. Blount's ex-wife reported Blount to state officials for alleged sexual abuse of the boy when he was about 5; Blount says his son told him that someone in Blount's ex-wife's home was abusing him.
In the meantime, as a result of the allegations against Blount, the Mississippi Department of Human Services stripped him of joint custody and visitation privileges and ordered Blount to pay $588 a month in child support.
"I'm amazed," he said of the state's handling of his case. Blount contends in a federal class-action lawsuit against DHS filed April 30 that he should not have to pay the support and accuses DHS employees of conspiracy to take away his parental and constitutional rights.
Cathy Sykes, director of field operations for DHS, said she could not comment on the lawsuit. However, Sykes said the state has 360,000 child-support cases representing about $1.1 billion in child support. On average, each child-support enforcement officer handles about 1,500 cases at a given time. Sykes added that DHS' job is to collect child support, not to sort out disputes over custody or how the parent who receives the payments uses the money.
"Some absent parents want to look at it like every penny is going to the child. It is hard to convince people (that the custodial parent has) to use it to support the child," by paying rent, mortgages and utilities, Sykes said.
In early 2012, DHS' child-support enforcement division sent Blount letters saying that he owed more than $1,400 in back support. The agency's letter told him that if he failed to pay up within 15 days, DHS would report him to credit bureaus and would have his drivers' license suspended.
In December 2012, Blount reported what he called DHS' intimidation and harassment to the Federal Bureau of Investigations. Also, in 2013, a man from Albuquerque reported that Mississippi, a state where he has never lived, attempted to collect back support for a child he never fathered.
Sykes explained that the New Mexico man previously had his identity stolen by someone who lived in Mississippi. DHS eventually fixed the mistake, but somehow the New Mexico man ended up back in DHS collections system.
"I hate to say it, but it was a computer issue," Sykes, the field operations director, told the Jackson Free Press.
During this year's legislative session, lawmakers passed a bill that they believed would lower the caseload. Under the law, which was effective July 1, DHS can contract all or part of its child-support collections to private firms. That plan drew criticism from parent groups and state-worker advocates who believed that privatizing collections would make things worse, not better.
Plaintiff Christopher E. Kelly Patton believes the culture of the child-support division needs to change. He said that he began paying child support in 1998 and had never missed or been late with a payment until fall 2012. Patton said he had been sending the checks directly to his ex-wife, but when she applied for state public assistance, state law requires child-support checks to be processed through the DHS system. Patton said his wife didn't tell him she started receiving state benefits, so he continued to pay her directly.
Kelly produced a copy of a $200 check he wrote to his ex-wife in November 2012, which is included as evidence in the lawsuit. In almost 15 years of paying child support on time, the one time a question arose about his promptness, he said child-support collectors met him with "grave disrespect."
"Everyone has an adversarial attitude--as if I'm a deadbeat dad," he said.
Scarier, he said, is the thought of what would happen if, after so many years of prompt payment, he lost his job and was unable to pay. In that sense, he sympathizes with people who simply cannot afford to pay child support. Although it is possible to renegotiate child support when someone falls on hard luck, doing so requires hiring an attorney.
"If a person could pay, a person would pay," he said.
The lawsuit described in this story represents only one side of a legal dispute.
More stories by this author
Support our reporting -- Follow the MFP.