WILMINGTON, Del. (AP) — A 68-year-old man whose son was engaged in a bitter custody battle was identified Tuesday as the gunman who opened fire in a Delaware courthouse lobby, killing his former daughter-in-law and another woman. The gunman also died after exchanging fire with officers.
Delaware State Police said Thomas Matusiewicz (muh-TOO'-suh-wits) of Edcouch, Texas, shot 39-year-old Christine Belford and her 47-year-old friend Laura Mulford on Monday. Two police hit by gunfire were protected by their armored vests.
Investigators were awaiting autopsy results Tuesday to determine whether Matusiewicz was killed by police or shot himself with his .45-caliber semiautomatic handgun.
State police homicide detectives continued interviewing witnesses, viewing surveillance videos and collecting evidence at the New Castle County Courthouse, which remained closed.
Authorities said Belford and Mulford, both from Newark, were at the courthouse to attend a child support arrears hearing for Belford's ex-husband, David Matusiewicz.
State police spokesman Sgt. Paul Shavack said David Matusiewicz, 45, was being questioned and was in custody on a federal probation issue.
David Matusiewicz appeared in court Tuesday afternoon for an initial appearance on the government's request to revoke his probation following his 2009 guilty plea to federal fraud and kidnapping charges. Matusiewicz was led into court wearing an orange prison jumpsuit with his hands cuffed behind his back.
Federal prosecutors say Matusiewicz sought permission on Jan. 8 to travel from Texas to Delaware and told officials he would be staying with an uncle in Bayville, N.J., but that he spent Sunday night, the night before the shooting, at a home in Elkton, Md.,
Prosecutors also say Matusiewicz is behind on child support payments of $2,200 a month and that he has yet to pay $9,674 in restitution and a $200 court assessment from his 2009 criminal case. Another hearing on the probation matter is scheduled for Friday.
Matusiewicz's mother, Lenore, was in the courtroom with another family member for her son's hearing, but they declined to comment after the hearing.
David Matusiewicz, a former optometrist, pleaded guilty to federal fraud and kidnapping charges after fleeing to Nicaragua in a motor home with his mother and three young daughters. Investigators said Matusiewicz, who was released from prison last year, kidnapped the girls after forging his ex-wife's name on a loan document.
According to court records, Matusiewicz took the girls to Central America in 2007 after telling Belford they were going to Disney World for two weeks. The couple was sharing custody at the time. Before their divorce, they'd lived in Middletown together.
Lenore Matusiewicz pleaded guilty to endangering the girls' welfare and was sentenced to 18 months in prison in the kidnapping plot.
Barbara Dixon, who lived next to David Matusiewicz and Belford in Middletown before their divorce, recalled both the parents and grandparents as good neighbors.
"They might have been a little strange," she said. But the parents and grandparents doted on the children and invited her to bring her grandchildren over to use their pool.
Dixon said Thomas Matusiewicz was outgoing and "very nice" and that she often saw him working on the house or yard.
Dixon said she last spoke with Belford about a month ago. She said Belford was not worried about her safety despite her husband's release from prison last fall, perhaps because she had stayed in touch with detectives.
"She said, 'Oh, I think everything will be all right,'" Dixon recalled.
In a Chapter 13 bankruptcy filing in Texas last year, Thomas Matusiewicz noted that he, his wife, son and daughter, Amy Gonzalez, were named as defendants in Delaware Superior Court lawsuit filed by Belford. Matusiewicz also noted in a list of property transfers that he had sold several guns at yard sales in 2010. He listed a single-shot rifle, a 12-gauge shotgun, a Glock 9mm pistol and Glock .45-caliber pistol, with a total value received of $650.
Shavack, the police spokesman, said Matusiewicz used a .45-caliber semiautomatic pistol in Monday's shooting, but that he did not know the make and model or whether it could have been the same gun listed in Matusiewicz's bankruptcy filing.
Bill Heriot, a plaintiff in a business dispute that was scheduled for trial Monday, said he was waiting to enter the courthouse when he saw the gunman pull out a pistol and fire a single shot at each of the two women. After the shooting stopped, Heriot said he knelt down beside the first woman who was shot.
"I turned her over and unbuttoned her coat. I saw a single bullet hole in the center of her chest," Heriot said. "I held her hand, told her it was going to be all right. Her pupils dilated. She turned pale and passed away."
Copyright Associated Press. All rights reserved. This material may not be published, broadcast, rewritten, or redistributed.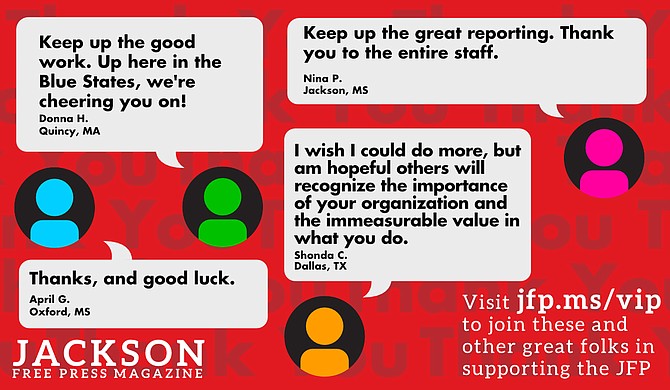 Thanks to all our new JFP VIPs!
COVID-19 has closed down the main sources of the JFP's revenue -- concerts, festivals, fundraisers, restaurants and bars. If everyone reading this article gives $5 or more, we should be able to continue publishing through the crisis. Please pay what you can to keep us reporting and publishing.