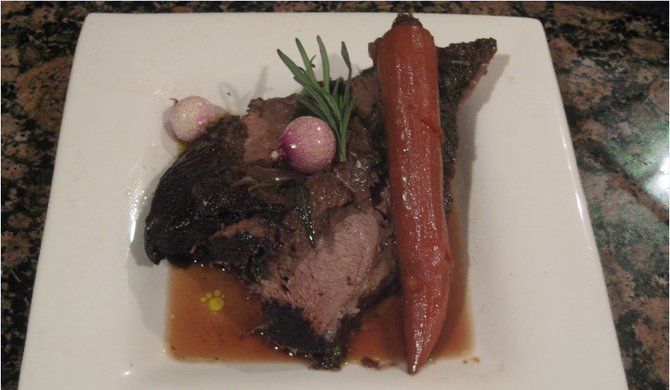 Cooking for the family can be a stressful endeavor for many different reasons, but for me it is simply about impressing those I love most. I want to honor my Jewish traditions while putting my own original spin on family recipes, but not completely dismantling them. My goal is simple: Make sure each dish has a strong point of reference for my family while lending part of myself to it. Each dish in this meal represents different memories for me and times in my life, all of which have shaped my culinary point of view.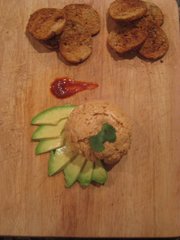 Spiced Salmon Paté
1 pound fresh salmon, without the skin
1/4 cup cream cheese, whipped
1/8 cup sour cream
1 lemon
3/4 teaspoon fennel seed
1/2 teaspoon coriander seed
1/2 teaspoon chili powder
1 teaspoon Dijon mustard
½ cup dry white wine
Smoked salmon, cream cheese and bagels are not unfamiliar to my family. When I visit my grandparents, the classic Jewish mainstay is my breakfast every morning. This salmon paté will bring some familiar flavors but in a different form. It also needs to be refrigerated at least a few hours before you serve it, preferably overnight to build the flavor. The classic way to do salmon is with mustard, dill and lemon—and it's fine if you want to stick with those flavors for this dish, but my recipe branches out of that for a warmer, more seasonal approach.
Start the dish by putting the white wine and slicing half a lemon into a saucepan. Salt and pepper the salmon. Wait till the wine has come to a boil, and put the salmon in the pan. Cover it and reduce the heat. Let it poach for about five minutes, or until medium rare.
While the salmon cools down, lightly toast the coriander and fennel seeds in a pan until they are fragrant, then blend them in a spice grinder or mortal and pestle them. Once the salmon has cooled down, put it in a food processor along with the cream cheese, sour cream, mustard and spices. Squeeze half a lemon in, and use the "pulse" setting to lightly blend it. Do not let it blend repeatedly; just get it to a smooth consistency and cut it off. Salt and pepper it to taste, and refrigerate. Serve cold with crostini and a few slices of avocado underneath.
Rosemary Latkes with Garlic and Chive Sour Cream
For Latkes
Canola or vegetable oil
1-1/2 pounds Yukon gold potatoes
1-2 medium-sized shallots
2 teaspoon fresh rosemary
1/4 cup fresh parsley
2 large eggs
2/3 tablespoon flour or matzo meal
For Sour Cream
1 cup sour cream
2 cloves garlic
1/4 cup chives
1 lemon
A classic Hanukkah tradition, latkes are eaten all throughout the holidays and typically always served with sour cream (sometimes even applesauce). The perfect latke is somewhere between a tater tot and potato chip. My recipe calls for a few, simple, hearty ingredients that bring a little winter flare to the latke.
Make the sour cream first so you don't make the latkes wait. Simply mince the garlic, almost into a paste, chop the chives and mix with the sour cream. Zest or juice a little bit of the lemon into it for a little extra brightness. Remember that the longer you let the sour cream sit in the fridge, the more the garlic flavor will build.
Fill up a large bowl about halfway with water and squeeze half a lemon in it—this will prevent the potatoes from turning brown. Grate the potatoes into the water and then take the potatoes out of the water and put them into a few heavy-duty paper towels or a thin kitchen towel and squeeze out the excess moisture. Let the potatoes continue to drain for about 10 minutes in the bowl.
While the potatoes drain, mince the shallots (or grate them), chop the herbs and beat the eggs. Then pour out most of the liquid, but leave a bit of that white starch at the bottom. Add the flour, eggs, shallot, herbs, and salt and pepper. Heat up about a quarter inch of oil in a frying pan—once the temperature reaches about 350 you can start frying. Be sure to mold the latkes relatively thin. Fry them for a few minutes on each side, until golden brown, and then drain the excess oil on some paper towels.
Grandson's Brisket with Caramelized Shallots and Carrots
Brisket is a mainstay for Jewish holidays and feasts. It's the ultimate comfort food for me, and the smell of it takes me straight to memories of my family at the dinner table for the High Holidays. As traditional as brisket is, my family's recipe is ever changing. My grandmother's recipe is drastically different from my mother's, and mine has bits and pieces of each of theirs, along with a few additions of my own.
San's Sour Cream Coffee Cake
For Cake
1 stick butter
1 cup sugar
2 eggs
1/2 pint sour cream
1 teaspoon vanilla extract
2 cups flour
1 teaspoon baking soda
1 teaspoon baking powder
1 teaspoon salt
For Streusel
1/2 cup brown sugar
2 tablespoon butter
2 tablespoon flour
1 teaspoon cinnamon
1/2 cup nuts, chopped
My grandmother Sandy's coffee cake is the perfect way to end any meal. It makes sense for this particular meal as the preceding dishes are not very light, so the sour-cream coffee cake works well as the finale. Sandy is the best baker I know, and I always treasure her recipes—this one is straight from her collection!
Start by creaming the butter and sugar together in a standing mixer. Add eggs, one by one, then the sour cream and vanilla. Sift the dry ingredients together and add them little by little at a time to the batter. Make sure the ingredients for the streusel are all blended together properly—use a blender if necessary.
You can use a Bundt cake pan or a regular bread pan. Grease it with butter and pour about half to three quarters of the batter in the pan, then add half the streusel on top. Take a knife and swirl it through to spread the streusel a bit more throughout the cake. Then add the rest of the batter and then the remaining streusel on top of that. Bake for 40-45 minutes on 350 degrees. Let it cool before you take it out of the pan and serve with vanilla ice cream and a nice cup of coffee.
Support our reporting -- Follow the MFP.