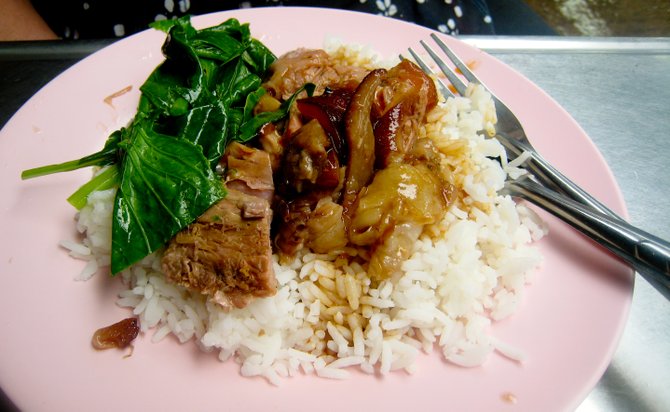 Cooking for friends and family on St. Paddy's weekend may seem daunting, but it doesn't have to be a total schlep. When I cook for events where I don't want to be stuck in the kitchen missing the party, I cook things that can be made a day in advance or that take a long time in the oven so I don't miss the fun.
Hummus is an easy, cheap and versatile little appetizer to make. Dips and spreads are standards for feeding groups of people, but they become increasingly less appetizing when they sit out too long. This problem can usually be fixed with a good squeeze of lemon or lime juice on top of whatever it is you're serving. Adding more lemon to the hummus will help sustain its life on the party table longer. Lemon and parsley This particular hummus also benefits from sitting overnight as the lemon and parsley flavors will become much more pronounced after 24 hours. Both flavors lend themselves well to a spring dish. A proper hummus incorporates tahini, a sesame paste or sauce; however, tahini is not in the arsenal of the average home chef, so we'll leave it out for this recipe.
A succulent pork butt is perfect for a party because it doesn't require much attention once it's in the oven, and your boozed-up friends will flock to the smell. For this recipe, I recommend serving the pork over warm polenta or mashed potatoes, or in a warm tortilla with black beans. You want something that will be able to soak up all of the jous at the bottom of the pan.
For dessert, go with a base that can be made the night before. The density of pound cake allows it to sit overnight without drying out. Paired with the fresh and bright flavors from macerated berries, it's a fairly light dessert and a great way to top off any springtime party.
Lemon-Parsley Hummus
2 cans chickpeas
2 lemons--both juiced, one zested
3 cloves garlic, minced
1 cup of parsley (I use flat leaf.)
1/4 cup olive oil
1 tablespoon water
pinch of chili flakes or Sriracha
Salt and pepper to taste
Drain, rinse and dry the chickpeas. Put all the ingredients except the olive oil in a blender or food processor. Blend while drizzling in the olive oil. If you want a creamier texture, add a little more olive oil or even sour cream. Garnish with a parsley leaf and a slice of lemon and serve with warm pita.
Simple Braised Butt
4 pounds pork butt (shoulder, bone-in)
5 garlic cloves, mashed
2 onions, quartered
1 cup fresh oregano
4 tablespoons olive oil
3 tablespoons Worcestershire sauce
2 tablespoons Dijon mustard
1 dark beer
2 cups chicken or beef stock
Take the pork out of the wrapping and let it come to room temperature (for safe consumption, cook meat immediately after it has thawed). Make small incisions in the pork and stuff the cloves of garlic. Make sure they are in there tight, but don't tear the meat apart. Chop the oregano and rub the meat down with olive oil and oregano. Salt and pepper generously--this is a four-pound piece of meat so don't be afraid to load it on.
Brown the meat on all sides (a Dutch oven is best if you have one, but if not, use your biggest roasting pan with a lid.) Deglaze the pan with the beer, Worcestershire, stock and Dijon. Then throw the meat back in (fat side up) with the onions, making sure they are in contact with the braising liquid. Cover with a lid or tin foil and place in the oven at 325 degrees for 3-1/2 hours. Uncover the meat and crank up the heat for the last 30 minutes to 425. This will help develop a crisp crust on the outside of the meat. When you take the meat out of the oven, let it rest for about 10 minutes before shredding it or cutting into it.
Buttermilk Pound Cake with Macerated Berries
For Cake
3 cups flour (sifted twice)
5 eggs, separated
2 sticks butter
3 cups sugar
1 cup buttermilk
1 teaspoon vanilla extract
1 tablespoon hot water
1/2 teaspoon baking soda
Make sure your butter is at room temperature, then cream it with the sugar in a standing mixer. Dissolve the baking soda into the hot water and add it to the butter and sugar. Add one egg yolk at a time while the mixer is going, making sure each egg yolk is fully mixed before adding the next. Slowly add the flour, then the vanilla. In a separate bowl, beat the egg whites until they have stiff peaks. Carefully fold the whites into the batter. Bake it in a 10-inch tube pan, making sure the pan is properly greased before adding the batter. Bake at 325 degrees for 1 hour and 15 minutes. Let the cake sit in the pan for at least a half hour before taking it out.
For Berries
3 cups fresh berries (I use strawberries, blackberries and blueberries. Just use what looks good.)
1 orange, juiced and zested
3 tablespoons orange liqueur (Cointreau or Grand Marnier--or go cheap and use triple sec)
1/4 cup sugar
2 tablespoons honey
You can prepare the berries a few hours in advance, but I would advise not letting them sit overnight as you want them a bit fresher. If you are using strawberries, make sure to slice them into smaller bits. Put the berries in a shallow dish and spread them out. Add the orange juice, zest, liquor, sugar and honey. Use a fork to gently mash everything. You want the berries to maintain a little form, so don't mash them too much. You can even add a little fresh mint or basil to perk it up. Wrap the berries in plastic wrap and let them sit in the fridge until you are ready to serve them on top of the pound cake.
Support our reporting -- Follow the MFP.