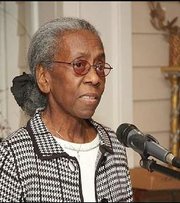 L.C. Dorsey, an inductee to the Southern Rural Black Women's Initiatives' Black Women's Hall of Fame, died Wednesday, Aug. 21. She was 74.
Dorsey was born in Tribbett, Miss., one of seven children. Dorsey's mother, Mary Francis, read black success stories from The Pittsburgh Courier and The Chicago Defender to her, inspiring Dorsey to dedicate herself to working for economic independence for black communities in the Mississippi Delta. She worked to bring reform to the state's prison system and wrote a number of articles on Mississippi's social conditions for The Jackson Advocate. Dorsey self-published a book titled "Cold Steel," about life in Parchman penitentiary in 1983.
In 1964, Dorsey began working as a community development specialist for Operation Head Start. Her role was going into the community to promote awareness of available social services. Dorsey's work eventually led to the founding of Mississippi's Office of Economic Opportunity.
In 1966, Dorsey started work for Operation Help, an organization that helps obtain jobs and assistance for the needy. During this time, Dorsey also organized boycotts and demonstrations with the Democratic Freedom Party.
Dorsey completed her GED through Tufts University's Systematic Training and Redevelopment Program in 1968. She received a master's degree in social work from Stony Brook University in 1973. She went on to complete her doctorate in the subject, one of the first social workers in Mississippi to do so, at Howard University.
After graduating, Dorsey moved back to Mississippi and started working for Mid-Delta Head Start Program as director of social services. In 1974 she became associate director of the Southern Coalition on Jails and Prisons, a position she held until the organization disbanded in 1983. In 1978, then-President Jimmy Carter appointed Dorsey to the National Council for Economic Opportunity.
From 1988 to 1995, Dorsey worked as the executive director for the Delta Health Center in Mound Bayou. Afterward, she took a job as a clinical associate professor in the Family Medicine Department at the University of Mississippi Medical Center.
"She was truly an inspiration to me and a great supporter of our work with children and families over many years," Oleta Garrett Fitzgerald, director of the Children's Defense Fund's Southern Regional Office and a friend of Dorsey, said in a press release. "We will miss her candidness and wisdom, though what she has left us will live on as the good always do."
"I have known L.C. since the early 70's when I was working in Atlanta, Georgia," Fitzgerald told the Jackson Free Press. "L.C. at that time was well known in Atlanta civil rights circles for her work with the Mississippi Democratic Freedom Party. Doctor Dorsey was someone I could always lean on, call on. She was always willing to stand and speak out on behalf of struggling families. She has influenced thousands of people through her different areas of work. She was one of those people who will truly live on through the influence she has had on other people."
Jerry W. Ward, Jr., Professor of English at Dillard University in New Orleans, wrote in a tribute to Dorsey titled "A Woman Brave and Brilliant.": "Dr. Dorsey's accomplishments, her gifts to humanity, have been partially documented. There is more to be remembered, especially the standards she set for those who would speak truth in the United States of America. Future generations can document her achievements more fully. They and we can give honor and respect by trying to be as brave, brilliant, and strong as she was."
Dorsey is survived by her six children, Cynthia Dorsey Smith, Norma J. Dorsey, Anita Dorsey Word, Michael A. Dorsey, Adriane Dorsey Kidd, and Hildery Dorsey, Jr.; seven grandchildren, Ahmad R Smith, Aisha Smith Nyandoro, Terrence Trigg, Michelle D. Russell, Hilary M. Word, Jamal Kidd, and Jacob Kidd; and one great-grandson, Tendekai J. Nyandoro.
Support our reporting -- Follow the MFP.