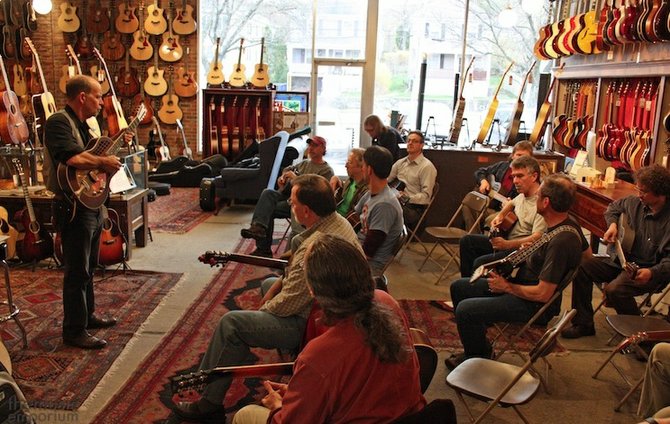 A previous version of this story listed Andy Cook as the owner of the Pig and Pint BBQ. The address for Musician's Emporium was also incorrect. We apologize for the error.
Musician's Emporium
Musician's Emporium Bar & Grill, located at 642 Tombigbee St., in Jackson, celebrated its grand opening April 19. Musician's Emporium is a restaurant and bar featuring live music. The space seats about 100 people. The restaurant serves a variety of po-boys, Philly cheese-steak sandwiches and Musician's Emporium's signature dish: the Baha chicken sandwich. The restaurant features a full bar and welcomes musicians for open mic night every Wednesday. Musician's Emporium is open daily from 11 a.m. to 9 p.m.
Pig and Pint BBQ
This summer, the Pig and Pint BBQ is opening inside the former Mimi's location at 3139 N. State St., in Fondren. For more information, visit the Pig and Pint Facebook page or call 601-259-8347.
$125 Million in New Markets Tax Credits For Mississippi CDOs
The U.S. Department of the Treasury's Community Development Financial Institutions recently announced New Markets Tax Credit authority for investments totaling $125 million to Mississippi-based community development entities.
"The New Markets Tax Credit addresses one of the most significant obstacles to economic development that low-income communities face: a lack of access to patient, private investment capital," Treasury Assistant Secretary for Financial Institutions Cyrus Amir-Mokri said in a release. "The $31 billion worth of tax credit investments nationwide in past years have gone toward preserving jobs and bringing community facilities and new businesses into neighborhoods that desperately needed them. I expect today's awardees will continue that trend."
The NMTC permits individual and corporate taxpayers to receive a credit against federal income taxes for making equity investments in vehicles known as Community Development Entities. The credit accounts for 39 percent of the cost of the investment and awardees claim it over a seven-year period. For every dollar invested by the Federal government, the NMTC Program generates more than $8 in private investment. This strong record of spurring economic growth is one of the reasons why President Obama's FY14 budget included an expansion and permanent extension of the New Markets Tax Credit.
The complete award list and other highlights of the 2012 NMTC Program Awards can be found on the CDFI Fund's website at www.cdfifund.gov/2012nmtc.
Three Mississippi Firms Named Semifinalists for 2013 Employer Support Freedom Award
Employer Support of the Guard and Reserve, a U.S. Department of Defense operational committee, announced that three Mississippi employers have been selected as semifinalists for the 2013 Secretary of Defense Employer Support Freedom Award. The Freedom Award is the DOD's highest honor for employers that provide extraordinary support to their Guard and Reserve employees.
The Mississippi employers selected are: the Jackson County Sheriff's Department in Pascagoula; Nissan North America in Canton; and USA Pawn in Pearl. Employers selected as semifinalists have assisted National Guard and Reserve employees through formal and informal initiatives, including setting veteran hiring goals, establishing military employee liaisons, providing child care for deployed employees, arranging care package drives, and granting additional leave for military employees and family members before and after deployments.
ESGR will announce the 2013 Freedom Award finalists next month after a review board comprised of military and civilian leaders selects the 30 most supportive employers.
A complete list of Freedom Award semifinalists from each state is available at www.FreedomAward.mil under the Media Tab in the Press Releases section. For questions regarding the award, contact Beth Sherman, ESGR public affairs, at 571-372-0705 or by email at [email protected].
Support our reporting -- Follow the MFP.