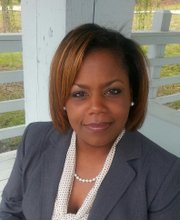 The American Civil Liberties Union of Mississippi, a non-profit organization that defends the constitutional rights and liberties of Americans, recently named Clinton native Jennifer A. Riley-Collins its new executive director.
Riley-Collins is deeply committed to social justice and equality. She has 14 years of legal experience, and 25 years of leadership experience in management and as a military officer.
"As ACLU-MS executive director, the most important part of my job is ensuring equal justice to all Mississippians," Riley-Collins said. "I am leading great staff members who are passionate about the work in promoting youth justice, equal constitutional rights, social justice reforms, and extended liberties for all."
After graduating from Meridian High School, Riley-Collins, 47, went on to receive a bachelor of arts degree from Alcorn State University in 1987, a master's in criminal justice administration from Central Texas College in 1993 and her law degree from Mississippi College School of Law in 1999. Riley-Collins served as a mobilized U.S. Army Reserve lieutenant colonel for five years. She has three sons: Joseph, Jonathan and Joshua, and a grandson, Travis.
For several years, Riley-Collins served as a public defender in Hinds County Youth Court, which gave her many opportunities to challenge a system that channels children into the schoolhouse-to-jailhouse pipeline. In 2008, Riley-Collins co-authored "An Assessment of Access to Council and Quality Representation" in partnership with the National Juvenile Defenders Center. That report led to legislative reforms in Mississippi ensuring that attorneys in youth court undergo annual continuing legal education training specific to juvenile-justice issues. Keeping Mississippi children out of the pipeline will continue to be a cornerstone of her work at the ACLU.
"We want to ensure that schools implement strategies to cut out exclusionary practices that send children into the pipeline for child behavior issues," Riley-Collins said. "We want to ensure that children with disabilities are not punished for actions relating to their disability."
Riley-Collins is committed to making her organization into an example for others.
"I would like, under my leadership, for this affiliate to be an ACLU for others to follow," she said. "With my staff, we will work to bring about good things in Mississippi. I believe that all problems have a solution, and it is my intent to work even with people whose opinions differ from mine to insure that all in Mississippians are treated with respect and dignity and are treated equally."
Support our reporting -- Follow the MFP.