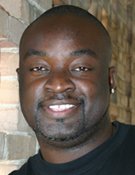 In the past month we've been through one hurricane, two national conventions and three weeks of preseason football. Here are a few of my casual observations:
The Democrats know how to put on a better production than the Republicans do. But speeches don't win elections. And the American Dream is either reality or fallacy depending on which side of the aisle you're on.
After listening to both sides talk about that "dream," now is the time to ask ourselves: Is it tangible? And, can either party get us closer to it?
Most of us are raised to believe that if we just work hard enough we can be successful. We're told that instead of coveting another's wealth, we should just "work," and we too can have the house or car of our dreams. What's more, if you haven't gotten those things, it's merely because you've been too lazy, right?
Well, I know about work. I know folks who work their behinds off daily but are barely able to string two checks together. They pay their bills; they buy food; they are always only one missed paycheck away from the streets.
They can't buy their dream home or car, and they can't take that family vacation. It's not because they've splurged or taken on a mortgage they couldn't pay. No. They're stagnant simply because these days, their paychecks just don't stretch far enough.
Sure, the free-market system—that thing called capitalism—is set up to make winners and losers. But do we want a country where the best you can look forward to is "just getting by"?
You see, this isn't a Democratic or Republican thing. This isn't a black or white thing. This is a quality-of-life thing. This isn't the time to let emotions, biases or prejudices cloud our judgment.
The Republicans, at best, have questionable undertones to their message. The "taking back our heritage" shtick is scary. It sounds like the dominant culture having a tantrum because someone dares level the playing field.
The Democrats put on a powerful production in Charlotte. But tear-jerking oratory to a supportive crowd doesn't count in my book, either. It's great, but don't let emotion be your only guide.
The presidential campaigns have been throwing a lot of information at you over the past months. Some you liked. Some you didn't. Personally, at the end of the day, I'm just tired of seeing good people struggle. And in November, we need to be putting the guy in the White House that can help us regular folks enjoy a little play with our work. We don't need a $750,000 show horse, but we'd like to go a month without having to make the choice between buying gas to get to work or buying groceries.
And that's the truth ... sho-nuff.
More stories by this author
Support our reporting -- Become a JFP VIP.
The news business has changed dramatically in the past year, and we need your help more than ever to keep bringing you important stories about Jackson and the Metro. Become a JFP VIP with an annual membership or you can Sign up as a monthly supporter. Thanks for anything you can do to empower our journalism!