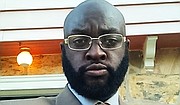 I didn't know his name. He never gave it. I don't know whom he came with or what compelled him to speak. But what I do know is that he spoke directly to me. His words have since gone viral. More than 8,000 people have commented on the video of the South Carolina man speaking passionately about the incident at Spring Valley High School, where a young, black girl was tossed around like a rag doll by what I would label an overzealous law enforcement officer. She was previously non-compliant to both a teacher and the principal before the officer was called in. What happened next has been the subject of great controversy. Some say the force was warranted. Others are furious that a much larger, stronger adult manhandled her.
Either way, the father had had enough. When he spoke, it sent chills up my spine. Not for the courage that it took to say it but for the sheer conviction in his voice. He was angry. And for all intents and purposes, he wasn't going to stand for it anymore. He voiced a sentiment that I and many others have had for a while now. Black men are tired. We're tired of watching rogue cops harass, profile and slaughter our sons in the streets. But more importantly, we're tired of watching our wives and mothers being disrespected. We're tired of waiting for our daughters to meet the same fate.
As I replayed that video over and over again, I thought about my own father—a man who toiled as a child in cotton fields in Crystal Springs, a retired Army sergeant who gives no quarter and takes none. I thought about my uncles who worked on a farm in Neshoba County, their hands calloused from construction work. You didn't put your hands on their wives or sisters. Period. And everyone in Stallo knew it.
We've got to send the message loud and clear that we are going to protect our women. By whatever means. No more accosting them at abortion clinics; no more victim-shaming them when they've been raped; no more Sandra Blands; and no more instances like the one in that classroom in South Carolina.
Societies are measured by how they treat their women, and as a black man, I can say we've done a piss-poor job. But it stops here.
You don't put your hands on our babies like that. And they are our babies. Each one is a part of our village. And yes, had that officer put his hands on either of my daughters like that, you would have either had to get my bail money together or write my obituary. See, when the oppressed finally stand up like the black father in that clip did, we're told we're making "threats."
When we decide we won't be mistreated anymore, they call us crazy. We're not "supposed" to want to be treated fairly. But it's not that. We're just fed up. And America, this is just the beginning. We will honor and protect our queens and princesses. Hands off! And that's the truth ... sho-nuff.
More stories by this author
Support our reporting -- Become a JFP VIP.
The news business has changed dramatically in the past year, and we need your help more than ever to keep bringing you important stories about Jackson and the Metro. Become a JFP VIP with an annual membership or you can Sign up as a monthly supporter. Thanks for anything you can do to empower our journalism!