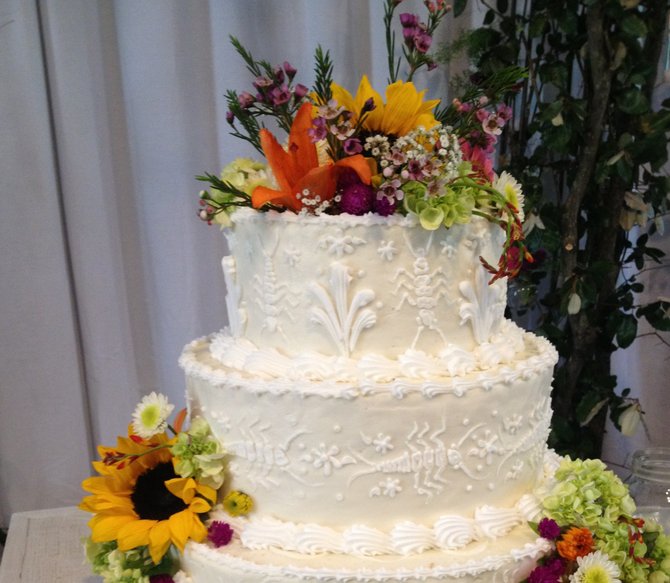 Like many other aspects of the wedding world, wedding cakes have really taken the spotlight in the past few years in a way they didn't in the past. For several years the trend was for bigger, more elaborate (read: expensive) cakes—think nine tiers of fondant with sugar-spun flowers—but in the past couple years the wedding world has seen a turn toward a more low-key beauty. More brides are choosing buttercream over the fancier but generally less tasty fondant, and using the cake to incorporate something the bride and groom share or love.
Of the weddings I've been to in the last several years, the cake that really stands out to me was a beautiful three-tier confection from That Special Touch Cakes and Flowers (2769 Old Brandon Road, Pearl, 601-932-5223). The cake was decorated with beautiful piped frosting and adorned with fresh wildflowers to match the bouquet. Only when you got close did you realize the frosting was piped on in the shape of stonefly insects—the perfect subtle touch for the wedding of an entomologist and an outdoorsman.
Wedding Cake Basics
Shapes
Round: Circular cakes are the most the traditional wedding cake shape.
Square: The square, with its clean, geometric lines, is a more modern shape than the circle. Each tier can be stacked up in line, or rotated for a quirkier look.
Hexagon: Six-sided shapes are gaining in popularity, as a happy medium between circle and square.
Scalloped: Usually seen in a scalloped circle, scallops are curved edges that resemble flower petals—a favorite for garden and brunch weddings.
Molded: These cakes are shaped to resemble a object, animal or sentimental shape and are usually used for the groom's cake—armadillo, anyone?
Frosting and Icing
Buttercream Smooth, creamy icing that remains soft. It can be colored, flavored and used to create decoration.
Dragees Round, edible sugar balls coated with silver or gold.
Fondant Elastic icing made of sugar, corn syrup, and gelatin that creates a smooth, firm base for coloration, decoration or carving.
Ganache A sweet, rich chocolate, between mousse and fudge in denseness, can be used as icing or filling.
Gum paste This paste of sugar, cornstarch, and gelatin is used to mold realistic-looking fruits or flowers. Gum paste decorations harden but remain edible.
Marzipan A paste made of ground almonds, sugar and egg whites, used to mold edible decorations. Marzipan can also be rolled in sheets, like fondant, and used as icing. Many find marzipan tastier than both gum paste and fondant.
Royal icing Made of egg whites and confectionery sugar, this icing is typically piped from a pastry bag to create latticework, beads, bows or flowers.
Decorating Techniques
Basketweave A piping technique that features interwoven vertical and horizontal strips (like a wicker basket).
Cornelli A piping technique that creates a lace-like pattern.
Dotted swiss A piping technique that forms tiny dots that resemble a fine dot swiss fabric.
Pulled or spun sugar A technique in which boiled sugar is manipulated and pulled to produce swirls, flowers or other shapes.
Support our reporting -- Follow the MFP.