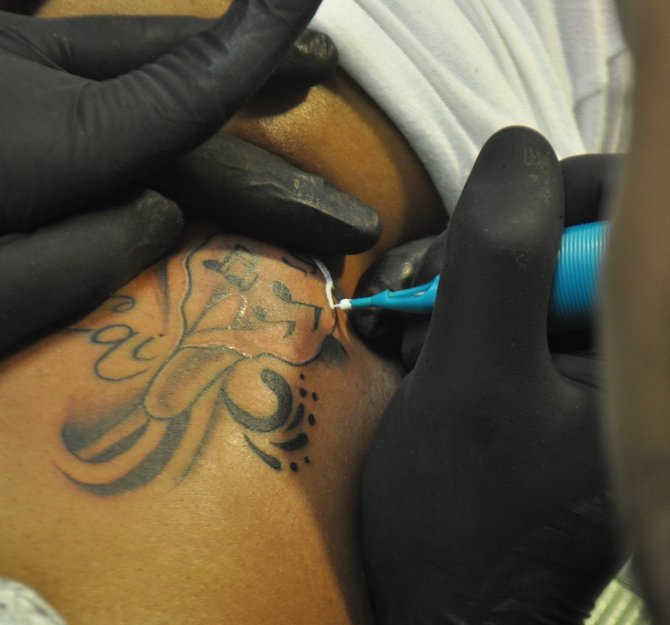 I've always been fascinated by tattoos and the bold people who use their body as a canvas in order to showcase their life or passions in art. This summer, I finally had my first tattoo done by Madison Nevels at Pristine Ink. It is of a quill pen in which the feathers transform into birds and the flying birds into books. Beneath, it reads "Free Spirit." After being "inked," I felt liberated. And yes, the rumor is true—once you received one, you definitely want to get more.
Walking into any tattoo shop can be intimidating, especially if you have no clue what you want as your first tattoo. I shopped around and felt most comfortable at Pristine Ink. (I'm not sure if it was the Marilyn Monroe artwork on the wall or the humorous list of rules and regulations.) I witnessed the staff at Pristine Ink showing patience as well as enthusiasm about creating a new work of art.
Jimmy Bogan, the owner of Pristine Ink Tattoo, started tattooing at age 19. "I was completely clueless of what I was doing at the time," he says. "I ordered a cheap tattoo kit online and starting tattooing my friends out of my house." (Bogan does not recommend anyone to start tattooing this way.)
He eventually landed an apprenticeship at Ink Injection in Richland. When the owners parted ways, Bogan continued to build his clientele and reputation at House of Pain in Byram. With his rapidly growing customer base and a thirst for owning his own business, Bogan decided to step out on his own.
"I never gave up hope, I was deeply intrigued by the industry and knew it was something I wanted to do as long as I could. I worked as hard as I could every day and saved every single dollar I made and in September of 2009 I opened the doors to Pristine Ink Tattoo," he says.
"I now have two other amazing artists that work with me who are just as passionate about tattooing as I am, and we are striving every day to become one of the best shops in town."
John W. Craig Jr., 28, was born in West Memphis, Ark. He has been tattooing for nearly three years now. He got his start in this business as an apprentice for Dark Dimensionz back in 2008, after working as a professional tattoo artist for about a year.
"I saw great potential in John's artwork and needed someone with his talents to help make Pristine Ink a successful shop," Bogan says. "I asked him would he like to join the team and the rest is history."
Madison Nevels, 21, of Jackson, started out the same way Bogan did—she ordered a kit and started tattooing on her own. After meeting Nevels during an interview process for an apprenticeship position at Pristine Ink, Bogan felt she had a lot of raw talent and with a little guidance she could one day become a great young artist. "The only problem at the time (was that) she was attending the University of Southern Mississippi. The distance was just too far for it to work out," Bogan says. So in the fall of 2010, Nevels transferred to Jackson State University for a closer commute. While continuing her studies majoring in biology/pre-dental she worked hard as an apprentice and in June 2011 she began tattooing professionally at Pristine Ink Tattoo.
Bogan smiles as he speaks about his business and partners. "Together we became Jackson's first licensed, African American-operated tattoo shop," he says.
"We work together as a unit. We are more than just tattoo artists at a shop, we are a family. We work to make each other better, all while trying to make a name for the shop and break any negative stereotypes the tattooing industry may have."
"We love what we do and hope to continue to grow as people and artists all while continuing to meet and make friends with the great residents of Jackson, Mississippi, and its surrounding cities—one tattoo at a time."
More like this story
More stories by this author