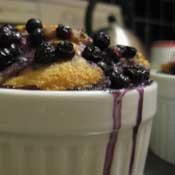 Having a healthy immune system through proper nutrition is a key to combating illnesses. Supplementing your diets with foods high in nutrients like antioxidants, phytochemicals and enzymes will have a direct effect on your health.
These foods are often called "power foods" or "healing foods." Some, like cranberries, cinnamon, garlic, carrots and apples, are beneficial to our health.
• Blueberries: I often bake these into my meatloaf and used them to add sweetness in a marinade for steaks (before becoming a vegetarian), and still use them in ice cream and pies. Blueberries are linked to lowering cholesterol, reducing the risk of diabetes, slowing the aging process, helping with circulation, increasing brain activity and maintaining healthy vision. Anthocynanin gives blueberries their color and is a component of its antioxidant and anti-inflammatory properties.
• Acai: Pronounced "Ah-Sigh-EE," this berry-like fruit from South America has more antioxidant activity than red wine, strawberries and blueberries combined. It contains anthocyanins, the potent pigment that gives it its deep purple color and helps battle illnesses like cancer, heart disease, obesity and inflammation. When I want a change from blueberries, I normally throw some acai into my smoothies. When sweetened, they taste similar to blueberries, but with a hint of cocoa.
• Coffee: Studies show that up to five cups of coffee a day may reduce the risks of Alzheimer and Parkinson's diseases. Java is also known to reduce certain cancers like breast, liver and colon. Researchers at the University of Minnesota School of Public Health found that coffee drinkers are the least likely to develop type 2 diabetes. How's that for your morning pick-me-up?
• Ginger: Fresh ginger contains anti-inflammatories that reduce pain associated with headaches, cramps, arthritis, cold and flu symptoms without the side effects of an ibuprofen. This sweet hot spice also helps keep ovarian and gastrointestinal-tract cancer at bay. Ginger can also relieve nausea.
• Cayenne: Cayenne has the healing power to soothe a sore throat better than any lozenges on the market. A small drop of this fiery pepper can release fluid in the mouth, throat and nasal passages to thin mucus, break up congestion and flush out irritants. Cayenne can also be used to soothe muscle and joint pain when used topically in an ointment.
• Oats: Studies show that oatmeal isn't just a comfort food; it's a power food. Oatmeal improves brain function and stimulates serotonin in the brain to improve your mood. Oats are a good source of energy, vitamins B and E, iron and calcium.
• Papaya: Papayas are the only food source of papain, an anti-inflammatory that helps digestion, heals stings, burns and other wounds and improves blood circulation. This tropical fruit is also rich in folate and Vitamins A and E. They have 33 percent more vitamin C than oranges. Papayas also aid in fighting hypertension and obesity.
• Turmeric: Turmeric is an Indian spice that has powerful anti-inflammatory benefits. Researchers proved that turmeric is highly effective in curing dyspepsia and ulcerative colitis and helps age-related cognitive impairment, psoriasis and rheumatoid arthritis.
Blueberry Bread Pudding
4 cups bread cubes
1/4 cup butter or margarine, cut in pieces
2/3 cup granulated sugar
1/4 teaspoon salt
3 cups fresh or frozen blueberries, rinsed well and drained
1/4 cup water
2 tablespoons fresh lemon juice
In a mixing bowl, combine bread, butter, sugar, salt, blueberries, water and lemon juice. Pack mixture into a generously buttered 1-1/2-quart baking dish. Bake at 350 degrees for about 45 minutes or until set. Serve hot or cold with cream or a bourbon sauce.
Serves 8.
Island Summer Rice
1 clove or 1 teaspoon minced garlic
3-1/2 inch cinnamon stick
1 cup of light coconut milk
2 teaspoon unsalted butter
2 teaspoon minced ginger
1 teaspoon sugar
1/8 teaspoon white pepper
1/2 teaspoon lime zest
1/2 teaspoon kosher salt
1/2 cup unsweetened coconut, toasted and shredded
1-1/4 cup of jasmine rice, rinsed and drained
Melt butter in saucepan over medium heat. Add cinnamon stick, ginger and garlic. Cook for about a minute.
Stir in rice and sauté for two and a half minutes. Add coconut milk, sugar, salt, white pepper, lime zest, along with 3/4 cup of water. Bring to a simmer over medium-low heat.. Stir and cover. Reduce heat to low temperature and simmer for 15 minutes. Rice should be light and fluffy.
Cover and let sit for seven minutes. Garnish with toasted coconut.
(Serves 4)
More like this story
More stories by this author