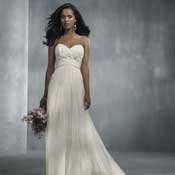 Congratulations. You are getting married!
With all the excitement of planning your wedding over the months to come, one of the most important and exciting purchases is your wedding gown.
Most women have their "dream dress" in mind. Of course, you should try on your dream dress, but also try on different silhouettes as well. Every bridal gown isn't for every bride.
The key is to find the gown that flatters your figure. Not only will you be more comfortable on your wedding day, you will also look and feel more beautiful than you would have ever expected.
Below are descriptions of different body shapes and a guide to selecting the best bridal-gown silhouette for your shape.
Hourglass
You are well proportioned from top to bottom, with all your curves in all the right places.
Best Gowns: An A-line wedding dress with a dropped waist will show off your figure. Pair it with a sweetheart neckline to show off your chest. A mermaid or trumpet style will also show off your curves, making you even more curvaceous.
Full Figure
You are more voluptuous than most. You've got full breasts, a bit of tummy and round hips and butt.
Best Gowns: A ball gown with a dropped waist will hide quite a bit and with a corset back, you can cinch in unwanted pudge, creating an hourglass figure. An A-line gown will balance your proportions, flattering your shape and making you more comfortable.
Pear-shaped
You are small on top and heavy on the bottom.
Best Gowns: A strapless ball gown with a dropped waist will cover your bottom half and put the focus on your top half. An empire waist dress will hug the tiniest part of your body and disguise your lower half.
Apple-shaped
Whether you're full-figured, average, short or tall, you tend to carry extra weight in your midsection.
Best Gowns: Wrap styles help create the illusion of a trimmer middle. A-line and empire styles smooth the middle. A bridal must: Ruching enhances all figures and gives a trimmer silhouette.
Athletic Figure
You are thinner than most, normally with broad shoulders. This is also for the tomboys who wouldn't be caught dead in a big poufy dress.
Best Gowns: A sheath or trumpet fit will add curves. Go for dresses with v-necks, halters, one-shoulder or cap sleeves. These soften the shoulders.
Short-waist
You have an evenly proportioned body but there is a small distance from your ribs to your hips.
Best Gowns: A-line silhouettes will elongate your figure.
Petite
Simply put, you are shorter than most.
Best Gowns: You can basically do all silhouettes. However, the best are sheaths and A-lines. It is best to stay far away from ball-gowns, as they will make you look shorter.
More like this story
More stories by this author