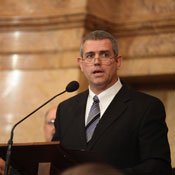 Philip Gunn didn't fully realize what was in store for him when colleagues elected him as speaker of the Mississippi House of Representatives. Gunn, a Clinton Republican, told attendees at a Capitol Press Club luncheon Monday that he's been surprised by how many groups want to him to speak or that international visitors to the Capitol would solicit his thoughts on nuclear-arms proliferation.
Gunn also seemed surprised how hard it would be to assemble his leadership team of chairmen and assign bills. The fact that the process took so long has drawn complaints from House Democrats, who say the body accomplished little other than crossing off items on conservative lawmakers' wish lists.
"Republicans, having been suppressed for a while with their agenda, are trying to get it all on the table at once," Gunn said, responding to question about the House's perceived hyper-partisanship.
With the March 28 deadline to consider revenue bills looming, the Legislature now enters Phase 2 of the legislative session of budget negotiations. Although, budget talks are likely to yield more partisan culture wars as lawmakers haggle over funding for education and social safety-net programs, hot-button topics like immigration, abortion, workers' rights and guns won't be going away.
The Mad Dash
Racing against the Friday, March 16, deadline to pass bills out of their originating chamber, the House and Senate burned through their respective calendars to clear as many items as possible last week. That included a pair of marathon sessions in the House that saw the passage of several controversial bills, including the anti-abortion "heartbeat beat," an anti-undocumented immigrant law and enabling legislation for the voter-identification amendment approved last fall.
Before Rep. Andy Gipson, R-Braxton, handled the immigration bill on the House floor, he introduced a number of amendments, including one to exempt services such as purchasing utilities from one provision that criminalized making business transactions with undocumented immigrants, and he changed the bill so that the law would apply only when police make arrests. Gipson, who did not return calls for this story, gloated that his bill is different from the Arizona and Alabama laws in that his tweaked law excludes nonprofits and religious organizations that provide for "basic needs."
Gipson added that he didn't "accept" the characterization of HB 488's supporters as racist, saying that he helped start a Hispanic ministry at his church. Democrats who opposed the bill said it would hurt agriculture in the state, conflict with federal enforcement of immigration laws and would further tarnish a state with a reputation for being hostile to non-whites.
Before taking the final vote, the minority party did achieve one victory in the immigration bill. Rep. Cecil Brown, D-Jackson, succeeded in stripping out the part of the bill that forces schools to collect immigration status of students. After the immigration bill passed just before midnight, 70 to 48, the House debated and passed the anti-abortion "heartbeat bill," which requires doctors to look for a fetal heartbeat before performing an abortion. The proposal is controversial because finding a heartbeat in the early stages of pregnancy requires an invasive transvaginal ultrasound probe; a traditional ultrasound cannot detect a heartbeat for up to 6 weeks. The measure passed by a vote of 77 to 37, with several Democratic men supporting it.
Workers Under Fire?
The House Democratic caucus remained unified and received support from several Republicans to kill the workers' compensation reform bill HB 555. It sought to remove the "found dead presumption" that says if a worker is found dead on company property, it's presumed they died from the work they were performing. HB 555 failed 52 to 62 with five Republicans joining Democrats to defeat the measure. However, the House will return to the issue once more when it considers the Senate's workers' comp bill.
Another workers' rights bill prompted Sen. David Blount, D-Jackson, to deliver an impassioned speech opposing SB 2380, legislation that would remove Mississippi State Personnel Board protections for two years. "I think it's a terrible idea," Blount told the Jackson Free Press, calling the bill a potential return to the spoils--or, political patronage--system.
Blount said approximately 25,000 state workers should be worried because removing these civil-service protections means they could be fired and not have any recourse.
Sen. Terry Brown, R-Columbus, said the step is needed because the state's budget situation has worsened in the past five years. He dismissed concerns of Blount and others, noting that employees would still retain federal workplace protections. In literature opposing SB 2380, the Mississippi Alliance of State Employees/Communications Workers of America say the goal of the Gov. Phil Bryant-backed bill is to create a work force that is "politically motivated to see everything his way." The measure passed and moved to the House for consideration.
Taking Aim at Gun Laws
In the coming weeks, the Senate will consider three gun bills that sailed through the House in early March with little vocal opposition. The three pieces of legislation, all backed by the Fairfax, Va.-based National Rifle Association, would either increase the number of firearms in the Magnolia State or make it more difficult to reduce the number of guns around the state.
Rep. Andy Gipson, R-Braxton, sponsored House Bill 455, which repeals a state recordkeeping requirement for licensed gun dealers. Supporters, Gipson included, argue that federal recordkeeping laws make Mississippi's laws redundant and, therefore, unnecessary. HB 455 passed 98 to 21, and the Senate's Republican leadership assigned it to the Judiciary B Committee, which Democratic Rep. Hob Bryan, of Amory, chairs.
House Bill 627, sponsored by Rep. Gary Chism, R-Columbus, prohibits state and local governments from participating in gun buy-back programs, designed to take guns that might be used in crimes off the streets. Chism's bill, which passed the House 92 to 28, is also assigned to Judiciary B.
HB 695, which would require Mississippi to recognize gun-carry permits from other states, also passed, 106 to 12, and the Senate leadership assigned it to the Judiciary A Committee, which Sen. W. Briggs Hopson III, R-Vicksburg, chairs.
A 2010 report, "Trace the Guns: The Link Between Gun Laws and Interstate Trafficking," determined that Mississippi leads the nation for the number of guns it sends to other states that are used to commit crimes.
In a statement criticizing the Delaware Senate's passage of a pilot gun buyback program, the NRA called the program a "drain on taxpayer money that could be better used by police to enforce current law."
Doug Bowser, president of the Mississippi chapter of the NRA, echoed the national organization's viewpoint, saying the programs do little to deter violent crime. 
"I think the worst part is that people bring in unserviceable guns, and they get money for them," he said.
Comment at http://www.jfp.ms.
More like this story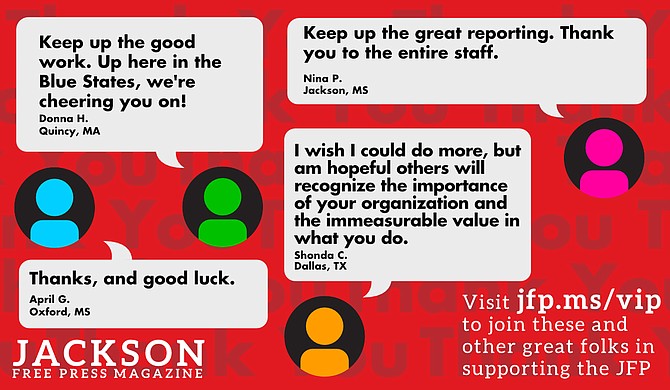 Thanks to all our new JFP VIPs!
COVID-19 has closed down the main sources of the JFP's revenue -- concerts, festivals, fundraisers, restaurants and bars. If everyone reading this article gives $5 or more, we should be able to continue publishing through the crisis. Please pay what you can to keep us reporting and publishing.