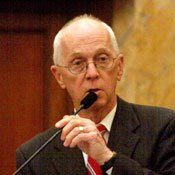 Lawmakers, reporters, young pages and even a delegation of Jackson County Republican Women burned the midnight oil for a second consecutive night at the Mississippi House yesterday.
After wrangling with legislation on voter identification, workers' compensation, telecommunications regulations and Medicaid earlier in the day, the House took up HB 488, which would make it harder for undocumented immigrants to live and work in the state, at almost 10 p.m.
Before discussion began, Rep. Andy Gipson, R-Braxton, announced several changes he'd made to the bill since it passed out of committee several weeks ago that he said fixed constitutional concerns of opponents.
First, he exempted certain services like purchasing utilities from one provision that criminalized making business transactions with undocumented immigrants and took out burdensome reporting requirements for schools.
Gipson also changed the bill so that the law would apply when police make arrests. He gloated that his bill is different from the Arizona and Alabama laws in that his excludes nonprofits and religious organizations that provide for "basic needs."
Gipson added that he didn't accept the characterization of HB 488's supporters as racist, saying that he helped start a Hispanic ministry at his church.
Democrats who opposed the bill said it would hurt agriculture in the state, conflict with federal enforcement of immigration laws and would further tarnish the state that already has a reputation for being hostile to nonwhites.
The minority party did achieve one victory in the immigration bill. Rep. Cecil Brown, D-Jackson, succeeded in stripping out the part of the bill that forces schools to collect immigration status of students.
Sometime after the immigration bill passed, 70 to 47, the House debated and passed the anti-abortion "heartbeat bill," which requires doctors to look for a fetal heartbeat before performing an abortion. The proposal is controversial because finding a heartbeat in the early stages of pregnancy requires an invasive transvaginal ultrasound; a traditional ultrasound cannot detect a heartbeat for up to 6 weeks. HB 1196 passed by a vote of 78 to 36.
The Legislature wasn't so unanimous early on when both houses considered bills that would change the state's workers' compensation laws.
The bills seek to remove the "found dead presumption" that says if a worker is found dead on company property, it's presumed they died from the work they were performing. The bill also forces injured workers to prove they were not under the influence of drugs or alcohol when they were hurt and would let employers consider preexisting conditions when making hiring decisions.
Dan Gibson, executive director of the Mississippi Association of Self-Insurers, said the reforms are needed to bring costs in line, increase safety and stop abuses of the workers comp system.
Sarah White, who worked at a catfish processing plant in the Delta until she received second-degree burns on her foot, said the worker protections are needed.
"In a minute, you can lose a finger," White said of working at a fish plant.
The Senate passed its version of the workers' comp bill, but the House companion bill failed. In other legislative action yesterday, the House passed the legislation needed to implement the voter-identification law voters passed in the fall, and the Senate passed a bill that lets state agency directors hire their own lawyers instead of using the state attorney general's office.
More like this story
Like independent media outlets around the world, the Jackson Free Press works hard to produce important content on a limited budget. We'd love your help! Become a JFP VIP member today and/or donate to our journalism fund. Thanks for considering a JFP VIP membership or one-time support.