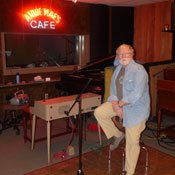 You might remember a piece I wrote for Boom Jackson magazine a couple years ago about Jackson's Malaco Records, the world-famous and highly revered label known as a soul, blues and gospel powerhouse. My piece focused on the label's ability to adapt to the ever-changing circumstances in the music industry over the years. Transitioning from full-service record label to gospel compilation seller to distribution channel for independent artists, Malaco has never backed down from a challenge.
"What we did right was grit our teeth and stick with it," label co-owner and co-founder Gerald "Wolf" Stephenson told me at the time.
The next great challenge for Malaco would not come from developing audience tastes or some new online music streaming service, but from Mother Nature. "Tax day," says producer and sound engineer Kent Bruce, shaking his head as he thinks about the tornado that tore through north Jackson April 15, 2011. The tornado and storm that spawned it essentially flattened Malaco's home base on Northside Drive in northwest Jackson.
The twister destroyed most of the label's studio and business offices, but Malaco's distribution business was back at 100 percent within two weeks due to the fact that, luckily, the label's collection of original master recordings survived the storm unscathed. New business offices were built on the old site and should be fully operational within a few weeks.
I went to Malaco a few weeks ago to take a look at how they are constructing a new studio on the old site. Kent Bruce is leading and directing the work, along with Jackson drummer Murph Caicedo, who seems to have the ability to be everywhere at once. Murph recorded several times at the old studio and has been "part of the family" at Malaco for the past 10 years or so. "I do a little bit of everything," he says. "I'm the mule."
From what I picked up on, Murph is selling himself a little short. While Kent is ultimately responsible for managing the layout, design and construction of the new studio, Murph is right there with him at 7 a.m. every morning doing anything he can to get the new studio open. "What me and Murph are doing is making sure everything that needs to be done, gets done," Kent says.
Notwithstanding the long days and steadily rising temperatures, both men are excited about the work they are doing. Kent is thrilled about the chance to build a studio from the ground up. "After 20 years in the business, there's stuff I like, and it's good to say 'this is how I want things to be,'" he says.
A lot of times, recording studios are built into an existing structure, and elements like soundproofing, recording booths and sound-mixing rooms are retrofitted into spaces that might not be overly hospitable to the task at hand. But Kent and Murph are getting to supervise the building of a brand-new, state-of-the-art studio, slated to open this fall, into a building that is designed specifically for this application. As Murph puts it: "People go to school to learn how to build something like this. I get to see what really goes into making music sound the way it does."
That's a really good point. Great labels like Stax and Motown each had a unique sound that was due in large part to the room where the music was recorded. Malaco was no different—until the tornado forced the label to start over with not just its physical anatomy but also with its sound. But that's what Malaco does: adapt to what the universe throws at them and start back over. By this fall, Malaco will completely have its groove back.
More stories by this author
Support our reporting -- Follow the MFP.