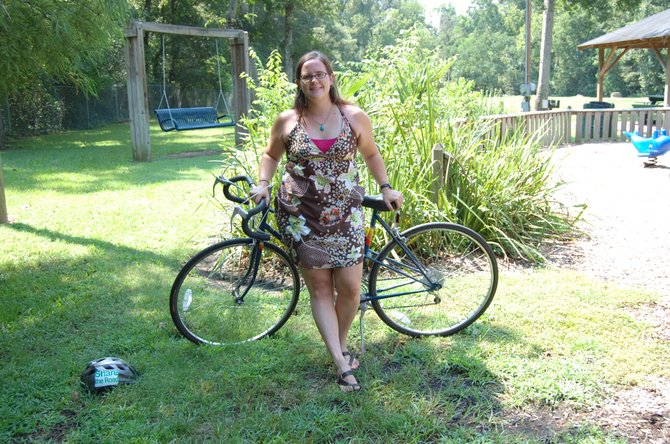 Congressional House Republicans are trying to put the brakes on a provision in the federal transportation bill that could promote more biking and walking in America's cities and towns. But biking and walking advocates are looking to an unlikely ally for support: Mississippi's senior conservative Republican Sen. Thad Cochran.
Cochran, along with Democratic Sen. Ben Cardin of Maryland, included an amendment in this year's $109 billion transportation bill that consolidates two federal transportation programs into a new program called "additional activities."
Under the Cochran-Cardin compromise, one half of a state's allocation would go to cities, while small local governments, school districts and other land agencies could bid for grants from the other 50 percent of the state's "additional activities" pot. If no communities apply, states could use the money for other transportation-related purposes.
David Goldberg, of the Washington, D.C.-based biking group Transportation for America, said the Cochran-Cardin amendment responds to an outcry for more local say-so over the funds.
"If you just send money to the states and say 'Give it to the locals if you want to, but you don't have to,' they'll never do it. Communities across America are crying out for this money," Goldberg said.
Republicans, who hold the majority in the U.S. House, declined to include the Cochran-Cardin amendment in the version of its transportation budget bill that it passed, preferring to continue letting states opt out of spending the funds. A conference committee is hammering out the differences between the House and Senate versions ahead of a June 30 deadline.
Goldberg said some members of Congress don't believe the federal government should fund local construction projects. However, he argues that many thoroughfares dangerous to pedestrians and cyclists are built with federal money and under federal guidelines.
Now, with the help of federal transportation money, communities are rethinking roadways that were originally planned with cars, not people, in mind.
"People are having second thoughts about those designs, that pushing cars through as fast as you can when they're actually going through peoples' neighborhoods is not the best thing," Goldberg said.
If Congress passes a transportation bill with the Cochran-Cardin amendment intact, several Mississippi projects could benefit, said Melody Moody, executive director of Bike Walk Mississippi. Some of those include ongoing improvements to the Tanglefoot Trail in the northern part of the state, Hattiesburg's Longwood Trace, Fondren's bike-path improvement and the Museum to Market Trail.
To rally as much support as possible, Bike Walk Mississippi has collected letters of support from mayors around the state, including from Ridgeland, Flowood and Tupelo. Moody said some elected officials consider biking and walking projects as frivolous expenses.
"The return on investment in Mississippi--whether that's health or economic development--can't be ignored," Moody said.
Comment at http://www.jfp.ms. Email R.L. Nave at [email protected]
Previous Comments
ID

167945

Comment

Please support more biking and walking trails. The other day I saw a couple with 2 small children and a baby stroller try to negotiate the corner of Frontage Road and Canton Mart where there are no sidewalks or bike lanes as rush hour traffic zoomed less than 2 feet away. Many people can't afford cars, and even people who can drive shouldn't have to risk their lives to walk or bike to work, school and the store. It is not a frivolous expense to accommodate pedestrians and bikes. It is as basic as traffic lights and paved highways.

Author

gwilly

Date

2012-06-20T11:41:22-06:00
Support our reporting -- Follow the MFP.