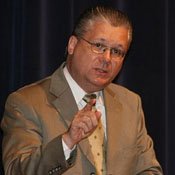 In announcing his long-awaited committee appointments, House Speak Philip Gunn, R-Clinton, likened himself to a high-school football coach.
Unlike college coaches who can go out and recruit players, Gunn said, he had to field the team he was given.
But then critics quickly accused Gunn of benching some of the team's star players. Nearly three weeks into the session, Gunn finally picked the people who will choose the bills that members will consider.
Not surprisingly, most of the 41 available chairmanships went to Republicans. Gunn also picked 10 Democrats—about a quarter of the picks—including eight African Americans.
Statewide, Mississippi Democrats immediately called foul on Gunn's selections, saying that a closer look at Gunn's chairmen and chairwomen reveals that experienced Democrats were excluded from major committees.
"What we have here is the illusion of inclusion," said Rickey Cole, the executive director of the Mississippi Democratic Party.
He cited former chairmen Johnny Stringer (appropriations), Percy Watson (ways and means), Steve Holland (public health), Cecil Brown (education), Bobby Moak (gaming), and Tommy Reynolds (elections and reapportionment) as examples of lawmakers with intimate knowledge of the legislative processes whose experience is being thrown away.
"For Steve Holland to not be weighing in on public health is a disservice to the people of Mississippi," Cole said.
Gunn told reporters after the announcement last week that he considered regionalism, tenure and party affiliation to assemble the "most capable team that will help the state move forward."
In the capital city area, Democratic Reps. Earle S. Banks of Jackson and Edward Blackmon of Canton received chair appointments to the enrolled bills and municipalities committees, respectively. In addition, Rep. Rita Martinson, R-Madison, and John L. Moore, R-Brandon, will head tourism and education, respectively.
Meanwhile, bills continued to roll out of the Senate, many aimed at individuals on public assistance.
Hattiesburg Republican John A. Polk submitted a bill to require applicants for public-assistance benefits to submit to random drug testing to qualify.
Republican Chris McDaniel of Ellisville introduced a bill to require agencies administering public benefits to verify whether applicants legally reside in the U.S. Nancy Collins, R-Tupelo, wants people applying for public assistance to participate in mandatory community-service programs.
The controversial pardons former Gov. Haley Barbour made before leaving office also remained on the minds of lawmakers.
State Sen. Michael Watson, R-Pascagoula, who chairs the Constitution Committee and introduced legislation barring convicted murderers from working in the governor's mansion, said he is preparing a memo for Gov. Phil Bryant about how to deal with future pardons.
An audience member at a forum organized by the John C. Stennis Institute on Government also got in a question about the possibility that some form of Personhood legislation emerging in his committee. Watson demurred.
"In time that may happen," the Senator said of a Personhood bill.
"We're not sure how quickly."
Bills of Note This Week
SB 2178: Requires compulsory school attendance for all kindergarten-age children
SB 2183: No promotion or graduation if student has accumulated 21 or more absences in preceding school year
SB 2192: Enact the Mississippi Anti-Discrimination in Employment Act
SB 2198: Increase per diem of election commissioners on election days
SB 2211: Require probable cause hearing before issuance of an arrest warrant
SB 2219: Provide for immediate restoration of suffrage rights upon completion of sentence and other conditions
SB 2226: Prohibit state agencies from using public funds for procedures that result in destruction or injury of human embryos
SB 2234: Enact the Mississippi Student Religious Liberties Act of 2012
SB 2242: Authorize open-enrollment and conversion public charter schools in the state
Legacy Comments
"What we have here is the illusion of inclusion," said Rickey Cole, the executive director of the Mississippi Democratic Party. At least Republicans are giving the illusion to "Cool Hand Cole". How many Republicans held committee chairs during the last four years of Democrat control? Zero. It's surprising to me that they have any at all. Sounds like whining to me.
2012-01-31T11:45:05-06:00
Support our reporting -- Become a JFP VIP.
The news business has changed dramatically in the past year, and we need your help more than ever to keep bringing you important stories about Jackson and the Metro. Become a JFP VIP with an annual membership or you can Sign up as a monthly supporter. Thanks for anything you can do to empower our journalism!