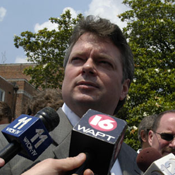 Much like the Haley Barbour pardons that caused a firestorm in Mississippi and around the country, lawyers for many of those who received clemency deluged the Mississippi attorney general and a judge with last-minute motions days and hours before a Jan. 23 hearing on the constitutionality of the reprieves.
"We have been served this morning with a lot of these motions, a lot of them here at the table that we haven't had a chance to digest," Special Assistant Attorney General Bridgette Wiggins said in a crowded Hinds County courtroom Monday.
Hinds County Circuit Court Judge Tomie Green's visible agitation that attorneys did not file the motions properly--one lawyer emailed documents to Green's court administrator--prompted her to repeatedly admonish both the plaintiffs and defendants.
"I'm beginning to wonder if you all practiced in court before," Green said. Nevertheless, Green postponed the hearing until Feb. 3 to give the attorney general's office an opportunity to respond to the slew of motions.
Attorney General Jim Hood is seeking to invalidate at least 182 pardons Barbour issued in his final days as governor, arguing that the former prisoners did not publish notices of their release that the state Constitution requires. Hood's office found that 116 people failed to publish for the required 30 days and that another 40 perpetrators, including at least four trustys who worked at the governors mansion, did not publish at all.
Tom Fortner, a former Hinds County public defender representing former governor's mansion workers (called trustys) Nathan Kern, Anthony McCray, David Gatlin, and Charles Hooker, repeatedly tried to have the case thrown out. He argued that the executive orders Barbour signed to grant clemency was tantamount to hearsay if the documents were not adequately authenticated.
Fortner also said Hood should be disqualified from the suit because an attorney from Hood's office assigned to the Mississippi Department of Corrections advised Barbour's office on how the pardons should be carried out.
Green ruled that Fortner's motion to disqualify Hood was without merit, saying the attorney general has the "authority, responsibility, and obligation" to the people of Mississippi to make sure the state Constitution is followed.
A fifth former mansion inmate, Joseph Ozment, convicted of murder, conspiracy, and armed robbery in DeSoto County, did not appear at the hearing.
Wiggins said investigators haven't been able to find him and Hood told reporters afterwards that his office couldn't issue a criminal warrant to arrest Ozment.
The hearing will continue Friday, Feb. 3 at 1 p.m. in the Hinds County Courthouse.
Read full pardon coverage at barbourwatch.com. Comment at http://www.jfp.ms.
Previous Comments
ID

165842

Comment

I was at this hearing. I think your reporter may have been confused by the exchange between the bench and the lawyers. I will say that Mr. Fortner has an excellent reputation.

Author

Benjamin Zachary Wise

Date

2012-01-25T14:27:55-06:00
ID

165848

Comment

Be confused by a conversation between the bench and lawyers?!? Never! ;-) What do you think he was confused about? He's reporting on Judge Green's actions and response to the lawyers above, among other things. What did he get wrong? We're happy to clarify or correct if proved wrong, so by all means. And I agree that Fortner has a fine reputation; I was saying that at our news meeting earlier today. That doesn't mean that the judge didn't get testy with him and other attorneys, right?

Author

DonnaLadd

Date

2012-01-25T18:26:09-06:00
ID

165849

Comment

The NMissCommentator blog raised some questions about my story above that I'll attempt to answer. First, the article does not say that attorneys filed their motions improperly, as stated on NMC. The article points out that Judge Green was agitated that the motions were not filed properly. The judge made several statements to that effect, to Tom Fortner and others. When Fortner states that he filed several motions with the Hinds County Circuit Clerk's office and emailed copies to Green's administrator, she said: "That is not the way you serve the court is by email. Not to a court administrator. First of all, she's not here. That's the first problem, so may I have a copy of what you allegedly filed?" Later she tells other attorneys present: "You are in court under the assumption that you are properly before court." Later, after a succession of attorneys raised concerns, Green said: "The attorneys are standing in court with the assumption that they are properly before the court. Now all of you know how to practice law, and I would expect that if you expect this court to listen to what you have to say, you talk through motions, and those motions have to be properly before the court." "This hearing was conducted was on the 9th of the month. We are now here on the 23rd with everyone having an opportunity that if everyone wanted the court to consider their motions, they could have properly done so." Second, NMC writes that the statement about Ozment not appearing at the hearing is "particularly misleading" because the assistant AG admitted Ozment "had not been served with process and therefore had no notice of the hearing." Again, Judge Green said he was supposed to be there, telling Wiggins: "There was an order that that person was to be here." As of this evening, Hood's office is also offering a reward for information on Ozment's whereabouts. Third, I don't cover sports, and I'm not an legal expert. I invite anyone with more intimate knowledge of the nuances of jurisprudence to explain anything that is inaccurate (not that which is statutorily vague and thus open to interpretation) or comment on the story themselves. As for the smarmy headline, I throw myself on the mercy of the court.

Author

rlnave

Date

2012-01-25T19:48:42-06:00
ID

165874

Comment

Yep, they all gang up on you over there when that mob mentality starts in. whew! I have been on the brunt end of that. But they are being terribly unjust as it seems. Courts of law are an avenue to work out differences without having to name call and denigrade. You would think that the so-called lawyers over there think differently about that since they have not argued "on the merits" as they like to say. I looked up Judge Green's guidelines for her court and she makes no mistake about how it is run. It is her court but to make her the problem is a mistake. I am no fan of hers, myself, but I know better than to bash a judge on opinions rather than law. I also looked up TRO's here in the good state of MS and I found that everything that NMC complained about was wrong (besides your reporting that Ozment wasn't there when he wasn't), too. He complained that they hadn't been served or noticed. Hellooooo! From the Rules of Procedure: "A temporary restraining order may be granted, without notice to the adverse party or his attorney . . ." Jane says that Judge Green hurried the procedure. But from the RCP: "shall expire by its terms within such time after entry, not to exceed ten days." Actually, when you think about it, Judge Green was perfectly correct. Those lawyers were throwing things at her left and right. They filed on Friday and didn't try to contact the court before 3pm on Monday for the hearing. Were they setting up a sabotage? Haley Barbour with his amicus brief, trying to disqualify the Attorney General of the STATE OF MISSISSIPPI? What was so hard about figuring out how to do pardons was waiting too long. And why is this group of people trying to subvert the system of allowing the constituents and victims have a say? Yeah, a lot of them were already out, so I wonder why not, but the victims might like to know. Ergo, the provision that these be noticed in the paper of the jurisdiction of that criminal's act(s). Oops, these are all lawyer type questions, but alas, those lawyers over there have humongous egos and lots of envy for those who actually practice better workings of lawyership ($$) rather than boasting about other's failures on a blog.(broke and bitchy) They are into the smarmy sliming ways, I tell you!! Y'all don't let those snipers and hypers get to you!

Author

Alma Carpenter

Date

2012-01-26T19:46:00-06:00
ID

165914

Comment

Alma, this link just turned up in a Google alert about the lawyers getting bent out of shape about this story. Is this yours? If so, you make similar points to your post above but in more detail. Interesting to us non-lawyers: They came with motions to dismiss, to disqualify the Attorney General, motions to enter an amicus brief on behalf of Haley Barbour, to accusing Judge Green of stealing the case from another judge, to motions to usurp jurisdiction — all filed on the Friday before Monday when the hearing was held. And then they could not even try to contact the Judge about how she'd like to handle things before 3 o'clock in the afternoon?! Talk about ARROGANCE! ... Um, if you read her Rules for Motions, Pretrial, Trial Settings and Mediation Referrals In Civil Cases on her web page, as any lawyer who is going before her should, you would learn something. It is right there "1. Motions must be filed with the Hinds County circuit clerk, with a copy to the court. Hearings are not automatically granted." [emphasis mine] Got that!? No! The Court's copy is NOT a courtesy copy!!! Got that! Good Next!! Those lawyers sabotaged her! I'm curious: Do the folks over there go after (and disrespect) every judge like they do Green? I used to read that blog some back during Scruggs-gate, and it seemed pretty good. These days, I don't go to many blogs without a specific reason; social media that link to primary sources are rendering most of them obsolete. But I agree with what you said about them ganging up, especially a couple of them who troll around to different blogs picking the same tired fights over and over again. It's one of the reasons (other than limited time) that I have a rule about only posting on my own sites, and not the whine-blogs around the state. I broke my rule this time because Tom Freeland was being so vicious about one of my reporters in a clearly unfair and inaccurate way (esp on that Ozment point, which he admitted after I challenged him). If I show up to try to discuss someone's comments about one of our stories, somebody like that Jane with dumb old grudges swoops in and hijacks what could be an intelligent conversation. If you respond to her taunts, she attacks, hurls the b-word (nicely played) and then makes the whole thing about her, playing the witta victim routine. Meantime, we could have just discussed the story, which I think Tom was willing to do before the thing was dragged into the mud. That is textbook trolling. What's sad is that Tom can't or won't control his own site better. There are some interesting, smart folks over there, but it turns into a cesspool quickly. And why in the world that one woman still can't understand why I won't post specific personal insults/allegations that were either irrelevant and/or would take me valuable time to prove (when I had much more pressing issues to worry about) is beyond me—as is why I wouldn't have considered Kim Wade the best source in the world, bless his hear. It's just a different and irresponsible kind of world view that you can go around saying anything you want about someone and posting it anywhere without anyone needing to check it out.

Author

DonnaLadd

Date

2012-01-31T11:26:08-06:00
ID

165915

Comment

Anyway, I appreciate your blog post providing another perspective; I had a feeling we weren't getting the final word from the NMC blog. Neither R.L. or I are experts on courtroom procedures, but it doesn't take a legal genius to see what was going on here, whether or not it violated any rules (other than the judge's, as you show). And it's not like it doesn't happen every day in courtrooms, so for the life of me I can't see what those lawyers are so wigged out about (I suspect subterfuge to try to pull attention away from Barbour's idiocy, but that's just an obvious theory). As I've pointed out continually, I really hope that Hood's efforts (which I consider almost four years late, by the way) to make more of these criminals serve their full time (or at least go before parole boards in the normal way) do not get reversed based on technicalities unleashed by clever lawyering. Of course, as we saw in the Melton cases, the Mississippi Supreme Court is a different animal, and has shown itself pretty closely allied with Barbour's desires in the past. So we'll see how well this whole thing goes. Of course, this could be one time when the fact that they are elected helps a good cause: Are the justices going to want to explain during re-election how they helped let criminals out too soon? And Lord help 'em if one of the pardonees goes and re-offends.

Author

DonnaLadd

Date

2012-01-31T11:27:31-06:00
ID

165917

Comment

I've noticed the Tomie Green obsession, and I think a lot of it dates back to her time in the state legislature—where she sponsored the law banning marital rape, among other things. One of the more effective advocates for women that we've had in elected office, and folks who have been following her career as judge are going to remember that. I shouldn't be surprised that misogynists zero in on her to the degree that they do, but I am surprised sometimes at how many allegedly progressive white males there are who are willing to go along with it just to score points with their buddies.

Author

Tom Head

Date

2012-01-31T11:55:16-06:00
ID

165918

Comment

I'm starting to think we should profile her, Tom. At least it would be good for page views. ;-)

Author

DonnaLadd

Date

2012-01-31T12:06:57-06:00
ID

165923

Comment

Donna, please do! Please do!

Author

Queen601

Date

2012-01-31T13:16:10-06:00
ID

165924

Comment

It'll help if she agrees. ;-) Although we could do it anyway.

Author

DonnaLadd

Date

2012-01-31T13:18:23-06:00
ID

165925

Comment

Also, one apparent lawyer (who is one of the loudest and angriest about Green's comments, it seems) told me in Twitter that saying I overdid it by saying that Freeland's comments about R.L. are "vicious." As someone who was truly viciously attacked last week (with the c-word), I can see that point. I would amend that characterization to these descriptors: silly, petty, inaccurate (which I said, I think) and perhaps goofy.

Author

DonnaLadd

Date

2012-01-31T13:22:52-06:00
ID

165926

Comment

She was Karen Irby's judge, too. I couldn't believe she made up her own victim's statement on behalf of the doctors that were killed. Really unprecedented.

Author

Alma Carpenter

Date

2012-01-31T13:35:51-06:00
ID

165927

Comment

I am surprised sometimes at how many allegedly progressive white males there are who are willing to go along with it just to score points with their buddies. Oh, and at least one white female, Tom—and someone who still obsesses about Faye Peterson, long after she's out of office. The weird part is all one has to do is to report something not overtly negative about either woman, and these folks just go off the chain, frothing at the mouth and hurling personal insults. (I have that effect on them, too, it seems, so it's not just black women.) Surely, by now there is something new to fixate on. As for Green, she's a mixed bag to me. I think it's great that she's outspoken, and she did try to help Melton (and I mean that literally; he needed to be protected from himself), and I love the part of Brian Johnson's story about Cedric when she finally let him out of prison and what she said. On the other hand, I've seen stuff that made me wish she'd pay closer attention (like when writing orders and such). We've had no reason to closely examine her record—something we're due to do with the current D.A. as well now that he's in his second term. She would be a fascinating profile if for no reason other than certain folks make her the devil incarnate. That, of course, would be part of the story as well. I'm a pack rat when it comes to communication and documents, so I'm sure I could find lots of historic stuff up in the cloud to get in there. The irony, of course, is how many truly stupendously awful judges and prosecutors we've had in the last couple of decades that the same folks never mention. I mean heinous. So the fixation on her definitely seems out of proportion.

Author

DonnaLadd

Date

2012-01-31T14:14:53-06:00
ID

165930

Comment

It is impossible to please all the people all the time. The greatest part of Judge Green is that she knows this and it doesn't affect her sliding into that robe and doing her job. I know many who are serving in public offices who struggle with this daily. And it makes us look bad to the rest of the world.

Author

Queen601

Date

2012-01-31T15:21:40-06:00
More like this story
Like independent media outlets around the world, the Jackson Free Press works hard to produce important content on a limited budget. We'd love your help! Become a JFP VIP member today and/or donate to our journalism fund. Thanks for considering a JFP VIP membership or one-time support.