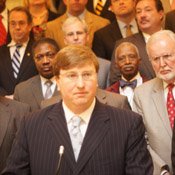 Calling it a leadership team that represents both the Mississippi Senate and the state, Lt. Gov. Tate Reeves unveiled his appointments of committee chairs, vice-chairs and members at the Capitol this morning.
Several Democrats, including John Horhn and Hillman Frazier from the Jackson area, received chairmanships. Hohrn will lead the Economic Development Committee with fellow Democrat Steve Hale of Senatobia as his vice chairman. Frazier will head up the Housing Committee; Republican Chris Massey will vice-chair the committee.
Even up against the possibility of deep budget cuts, Frazier said that he would focus on making sure housing is affordable throughout the state. He said lawmakers would also determine how to assist cities with attracting private housing investment and keeping financing incentives for developers intact.
Reeves also made some changes to the committees themselves. He added an Accountability, Efficiency and Transparency Commitee and appointed Republican Nancy Collins as its chair. He also merged the committee that handled oil and gas issues and the Public Utilities Committee into a new Energy Committee.
"We have an opportunity to be a leader in the energy sphere," Reeves said.
Here's the complete list as provided:
Accountability, Efficiency and Transparency
Nancy Collins, Chairman
J.P. Wilemon, Vice Chairman
David Blount
Terry Brown
Buck Clarke
Joey Fillingane
Briggs Hopson
Steve Hale
John Polk
Agriculture
Billy Hudson, Chairman
Russell Jolly, Vice Chairman
Lydia Chassanoil
Buck Clarke
Nancy Collins
Philip Gandy
Angela Hill
Robert Jackson
David Jordan
Haskins Montgomery
Melanie Sojourner
Willie Simmons
Giles Ward
Appropriations
Buck Clarke, Chairman
Terry Burton, Vice Chairman
David Blount
Terry Brown
Albert Butler
Nancy Collins
Videt Carmichael
Hillman Frazier
Philip Gandy
Tommy Gollott
Alice Harden
Angela Hill
Briggs Hopson
John Horhn
Perry Lee
Chris McDaniel
Gary Jackson
Robert Jackson
Sampson Jackson
Russell Jolly
Willie Simmons
Melanie Sojourner
Sean Tindell
Bennie Turner
Brice Wiggins
J.P. Wilemon
Business and Financial Institutions
Gary Jackson, Chairman
J.P. Wilemon, Vice Chairman
Kelvin Butler
Nickey Browning
Videt Carmichael
Sally Doty
Josh Harkins
Robert Jackson
Will Longwitz
Haskins Montgomery
Rita Parks
Bill Stone
Giles Ward
Compilation, Revision and Publication
Derrick Simmons, Chairman
Dean Kirby, Vice Chairman
Hob Bryan
Chris McDaniel
Gray Tollison
Bennie Turner
Michael Watson
Congressional Redistricting
Sampson Jackson, Chairman
Lydia Chassanoil, Vice Chairman
Willie Simmons
Russell Jolly
Alice Harden
Derrick Simmons
Brice Wiggins
Videt Carmichael
Dean Kirby
Sean Tindell
Angela Hill
County Affairs
Nickey Browning, Chairman
Billy Hudson, Vice Chairman
Philip Gandy
Russell Jolly
David Jordan
Will Longwitz
Philip Moran
Melanie Sojourner
Bill Stone
Drug Policy
David Jordan, Chairman
Michael Watson, Vice Chairman
Nickey Browning
Albert Butler
Lydia Chassanoil
Deborah Dawkins
Sally Doty
Philip Gandy
Tommy Gollott
Chris McDaniel
J.P. Wilemon
Economic Development
John Horhn. Chairman
Steve Hale, Vice Chairman
Terry Brown
Buck Clarke
Sally Doty
Merle Flowers
Joey Fillingane
Tommy Gollott
Haskins Montgomery
Rita Parks
Bennie Turner
Education
Gray Tollison, Chairman
Nancy Collins, Vice Chairman
David Blount
Terry Burton
Videt Carmichael
Steve Hale
Alice Harden
Angela Hill
Briggs Hopson
Russell Jolly
David Jordan
Chris Massey
John Polk
Brice Wiggins
J.P. Wilemon
Elections
Chris McDaniel, Chairman
David Blount,Vice Chairman
Hob Bryan
Lydia Chassanoil
Joey Fillingane
Hillman Frazier
Merle Flowers
Tommy Gollott
John Polk
Energy
Merle Flowers, Chairman
Giles Ward, Vice Chairman
Nickey Browning
Terry Burton
Videt Carmichael
Philip Gandy
Gary Jackson
Robert Jackson
Sampson Jackson
Haskins Montgomery
John Polk
Enrolled Bills
Alice Harden, Chairman
Kelvin Butler, Vice Chairman
Perry Lee
Philip Moran
J.P. Wilemon
Environmental Protection Conservation and Water Resources
Tommy Gollott, Chairman
Deborah Dawkins, Vice Chairman
Albert Butler
Angela Hill
Briggs Hopson
John Horhn
Billy Hudson
Russell Jolly
Kenny Wayne Jones
David Jordan
Perry Lee
Melanie Sojourner
Brice Wiggins
Giles Ward
Sean Tindell
Ethics
Bennie Turner, Chairman
Gary Jackson, Vice Chairman
Philip Gandy
Will Longwitz
Perry Lee
Lydia Chassanoil
David Blount
Albert Butler
Russell Jolly
Executive Contingent Fund
Robert Jackson, Chairman
Gray Tollison, Vice Chairman
Kenny Wayne Jones
Bill Stone
Giles Ward
Finance
Joey Fillingane, Chairman
Merle Flowers, Vice Chairman
Hob Bryan
Nickey Browning
Kelvin Butler
Lydia Chassanoil
Deborah Dawkins
Sally Doty
Steve Hale
Josh Harkins
Billy Hudson
Kenny Wayne Jones
David Jordan
Dean Kirby
Will Longwitz
Chris Massey
Haskins Montgomery
Philip Moran
Rita Parks
John Polk
Derrick Simmons
Tony Smith
Bill Stone
Gray Tollison
Giles Ward
Michael Watson
Forestry
Melanie Sojourner Chairman
Giles Ward, Vice Chairman
Albert Butler
Nancy Collins
Deborah Dawkins
Philip Gandy
David Jordan
Bill Stone
Michael Watson
Highways and Transportation
Willie Simmons, Chairman
Perry Lee, Vice Chairman
Dean Kirby
Philip Moran
Billy Hudson
Tony Smith
Tommy Gollott
Giles Ward
Josh Harkins
Merle Flowers
Rita Parks
Terry Brown
Albert Butler
Russell Jolly
John Horhn
Kelvin Butler
Nickey Browning
Deborah Dawkins
Hob Bryan
Housing
Hillman Frazier, Chairman
Chris Massey, Vice Chairman
Terry Brown
Buck Clarke
John Polk
Dean Kirby
Merle Flowers
Alice Harden
David Jordan
Insurance
Videt Carmichael, Chairman
Rita Parks, Vice Chairman
Dean Kirby
Buck Clarke
Will Longwitz
Tony Smith
Angela Hill
Terry Brown
Nickey Browning
John Horhn
Kenny Wayne Jones
Derrick Simmons
Deborah Dawkins
Interstate and Federal Co-op
Kenny Wayne Jones, Chairman
Sampson Jackson, Vice Chairman
Dean Kirby
Alice Harden
Hillman Frazier
Investigate State Offices
Albert Butler, Chairman
Videt Carmichael, Vice Chairman
J.P. Wilemon
Hillman Frazier
Deborah Dawkins
Steve Hale
Lydia Chassanoil
Michael Watson
Judiciary A
Briggs Hopson, Chairman
Bennie Turner, Vice Chairman
Derrick Simmons
Kelvin Butler
Hillman Frazier
Steve Hale
Haskins Montgomery
Terry Burton
Joey Fillingane
Sally Doty
Sean Tindell
Dean Kirby
Will Longwitz
Merle Flowers
Buck Clarke
Judiciary B
Hob Bryan, Chairman
Chris McDaniel, Vice Chairman
Brice Wiggins
Gray Tollison
Sean Tindell
Sally Doty
Perry Lee
Briggs Hopson
Michael Watson
Giles Ward
Derrick Simmons
Bennie Turner
David Blount
J.P. Wilemon
Sampson Jackson
Labor
Kelvin Butler, Chairman
Robert Jackson, Vice Chairman
John Horhn
Albert Butler
Derrick Simmons
Billy Hudson
Terry Brown
Chris Massey
Philip Moran
Legislative Reapportionment and Congressional Redistricting
Merle Flowers, Chairman
Chris McDaniel
Hob Bryan
Hillman Frazier
Willie Simmons
Terry Brown
Joey Fillingane
Buck Clarke
Nancy Collins
Local and Private
Perry Lee, Chairman
Tony Smith, Vice Chairman
Tommy Gollott
Kelvin Butler
Hob Bryan
Municipalities
J.P. Wilemon, Chairman
Bill Stone, Vice Chairman
Terry Burton
Chris McDaniel
Lydia Chassanoil
Perry Lee
Chris Massey
Melanie Sojourner
Kenny Wayne Jones
David Jordan
Kelvin Butler
Ports and Marine Resources
Brice Wiggins, Chairman
Josh Harkins, Vice Chairman
Deborah Dawkins
Sean Tindell
Michael Watson
Buck Clarke
Willie Simmons
Robert Jackson
John Polk
Videt Carmichael
Gary Jackson
Public Health and Welfare
Dean Kirby, Chairman
Hob Bryan, Vice Chairman
Kenny Wayne Jones
Willie Simmons
Hillman Frazier
David Blount
Bennie Turner
Alice Harden
Rita Parks
Nancy Collins
Gary Jackson
Merle Flowers
Terry Burton
Briggs Hopson
Brice Wiggins
Tony Smith
Melanie Sojourner
Josh Harkins
Gray Tollison
Public Property
David Blount, Chairman
Sally Doty, Vice Chairman
Robert Jackson
Albert Butler
Terry Burton
Josh Harkins
Tony Smith
State Library
Deborah Dawkins, Chairman
Albert Butler, Vice Chairman
Kelvin Butler
John Horhn
Willie Simmons
Tourism
Lydia Chassanoil, Chairman
Sean Tindal, Vice Chairman
Albert Butler
John Horhn
David Jordan
Kelvin Butler
Tommy Gollott
Briggs Hopson
Melanie Sojourner
Chris Massey
Josh Harkins
Universities and Colleges
Terry Burton, Chairman
John Polk, Vice Chairman
Steve Hale
Alice Harden
Hillman Frazier
Haskins Montgomery
J.P. Wilemon
Gary Jackson
Briggs Hopson
Perry Lee
Josh Harkins
Gary Jackson
Billy Hudson
Veterans and Military Affairs
Haskins Montgomery Chairman
Philip Moran Vice Chairman
Philip Gandy
Nancy Collins
Rita Parks
Bennie Turner
Sampson Jackson
Wildlife Fisheries and Parks
Giles Ward Chairman
Angela Hill Vice Chairman
Chris McDaniel
Gray Tollison
Philip Moran
Gary Jackson
Chris Massey
Michael Watson
Bill Stone
Sampson Jackson
Derrick Simmons
Support our reporting -- Become a JFP VIP.
The news business has changed dramatically in the past two years, and we need your help more than ever to keep bringing you important stories about Jackson and the Metro. Become a JFP VIP with an annual membership or you can Sign up as a monthly supporter. Thanks for anything you can do to empower our journalism!