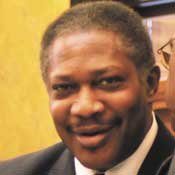 A member of the Screen Actors' Guild, state Sen. John Horhn has some ideas on keeping the state's economy from sagging. Tapped by Republican Lt. Gov. Tate Reeves to chair the Senate's Economic Development Committee, the Jackson Democrat says state officials should broaden their thinking about business development beyond building manufacturing facilities.
"We talk about how proud we are of the blues and our touristic offerings in the state but compared to what we do for manufacturing, we do a paltry amount when it comes to promoting our history and culture as an economic development tool," he said.
Aside from cashing in on recreation dollars and the state's creative economy, Horhn argues that small and minority businesses in Jackson, the Delta, and other parts of the state that need a leg up.
"As far as Jackson is concerned, if you look at certain census tracts, we have a problem that's very similar to what's going on in the Delta," Horhn said.
"If you look at southwest Mississippi, there's a lot of poverty and joblessness and lack of industry. There are a lot of natural resources but they're not being marshaled to their highest and best use. Of course the same is true in the Delta. We've got all these natural resources and yet industry isn't coming there."
Were you surprised that you got a chairmanship, or that the lieutenant governor was so even-handed in appointing committee chairs?
I'm pleased and encouraged by the lieutenant governor's appointment process. Eighteen Democrats received chairmanships. Of that, 12 were African Americans. I think he meant what he said when he made the appointments, that he wanted his chairmanships and the leadership of the Senate to reflect the Senate and the state of Mississippi.
Was I surprised? I felt that he would reach across the aisle for some appointments but I did not think that they would be as significant as some of them were.
Have you heard from local officials—mayors and county supervisors—in terms of what they need for that kind of development?
Not just yet. But I think it would be very wise on our part if we were to set up some hearings so we could get some input from folks. One of the first things I'm going to do is meet with the interim director of the Mississippi Development Authority, Jim Barksdale, to see what his perspectives are and where he wants to take things. He could have a tremendous influence on where the state needs to go and start to change the infrastructure for what we consider economic development.
Mississippi is broke like every state. People are fighting over a smaller pie. How do manage all those competing interests throughout the state?
Very delicately (laughs). One of the areas I'm really excited about is ramping up our location film production. I'm a past director of the (Mississippi Film Commission). I know the impact, short term, that filming can have on a community. Our challenge is how do we create a long-term impact, where we turn it into a legitimate industry that has some staying power. Worker training has to figure into that prominently. I believe that there will be some backswing for manufacturing in America. The cost of labor is starting to rise in places like China and other parts of the Far East. We will begin benefiting from those increased costs in the United States. The question is: Is Mississippi going to be ready? And that has everything to do with whether we have a trainable workforce, a workforce that has marketable skills, and it will be determined by how well our students are doing in STEM (Science, Technology, Engineering and Mathematics) programs.
Gov. Bryant has talked about taking a hard look at some of state regulations that might hurt business development. Do you think that we have too much regulation in some industries?
No, that's not the problem when it comes to what I'm talking about. What I'm talking about is that we have to put special attention on these areas to make it attractive to locate a business in Jackson or in Claiborne County. Maybe what we're talking about is tax breaks and tax credits, financial incentives based on job creation. We have done some things that have been industry-specific: Toyota, Nissan, KiOR, Scion and Ingalls Shipbuilding. We also need to create incentives for regions of the state that are under-represented when it comes to those large industries.
Talk about the effect the passage of Initiative 31 might have on local economic development efforts.
In the city of Jackson for example, let's say the city cannot work out a deal with TCI on this convention-center hotel. You've got this key piece of property that is right across from the convention center and everyone has agreed that this is where a hotel ought to go but because the guys who were sold the land are at odds with the city, they're able to tie that land up for the foreseeable future if no deal is cut. It portends a future problem for a place like the city of Jackson.
There are all kinds of property that is in need of restoration, and the city has every right to go after property owners who maintain blighted property. If it were to file eminent domain, the only thing it could use that property for was for public purposes or it would have to hold on to that land for 10 years before it can be conveyed to a private developer. With the new law, we took something that wasn't broken and tried to fix it.
How do you make that call to determine what's good legislation?
There are going to be three tests: Is this going to help create jobs; is it going to spur the economy; and does it make good business sense. I'm interested in doing more with regard to our creative economy, small business development and minority business development and thinking outside the box with regard to non-traditional economic development. We tend to be focused on manufacturing, which is good, but there's a whole other economy out there as it relates to tourism, particularly taking advantage of our musical legacy within the state. We need to focus on how we develop and support minority owned businesses. Forty percent of our population is African American, yet we are woefully underrepresented when it comes to the business class. If we're going to get Mississippi off the bottom we need to change how we look at minority-owned businesses. Likewise, small businesses catch a lot of grief when it comes to doing business with the state of Mississippi. Some of the large companies tend to out-compete those small businesses, and I think it creates an unhealthy imbalance in our economy.
More like this story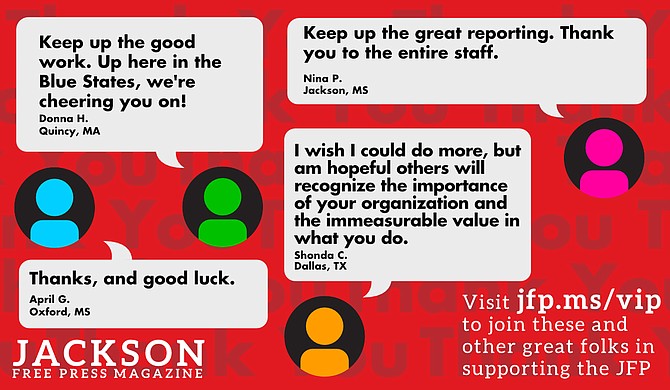 Thanks to all our new JFP VIPs!
COVID-19 has closed down the main sources of the JFP's revenue -- concerts, festivals, fundraisers, restaurants and bars. If everyone reading this article gives $5 or more, we should be able to continue publishing through the crisis. Please pay what you can to keep us reporting and publishing.