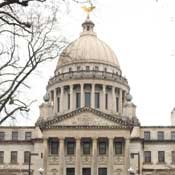 Legislative Republicans are setting 'em and knockin' 'em down. After a clumsy first month when the House didn't even have committee assignments, bills are starting to soar through the committee process and going to the floor.
Case in point: the thunderstorm caused by the Sunshine Act proposal. The bill, which ultimately failed on a technicality but was resurrected later, would let state agency directors hire outside legal help if they think a conflict of interest exists with the state attorney general, who normally represents the state.
Speaker Philip Gunn introduced the bill late on Monday, Feb. 6. It was taken up in the Judiciary A Committee the following morning and on the floor by Thursday when Attorney General Jim Hood was arguing his case in the ongoing Pardongate matter.
Democrats have framed the issue as a Republican attempt to slap back at Hood, for repeatedly getting under the skin of the GOP power establishment. Marty Wiseman, director of the John C. Stennis Institute on Government, said it's deeper than that.
Wiseman explained that the 1890 Mississippi Constitution created a weak executive because whites feared that with their numbers, blacks might have been able to elect the state's governor. As a result, Hood, the only statewide Democratic officeholder, "is the statutorily most powerful person in the state."
Even though Hood has been largely nonpartisan in the way his office pursues cases, Wiseman said, Republicans want to "neuter" Hood, nonetheless.
In its reincarnated form the act went a step further to scale back the powers of the attorney general by incorporating a process whereby the state Personal Service Contract Review Board must approve certain contracts. The previous bill called for the board to serve as a clearinghouse for contracts over $100,000.
At Monday's 45-minute-long hearing, members gave Hood the chance to argue against the bill. He estimates an additional cost of $11 million to the state based on the $65 per hour rate his office bills state agencies compared to the $130 per hour that private firms charge.
Republicans dismissed Hood's argument that the state would incur higher costs because agency directors would still have to work within their budgets. "It's about giving agencies greater flexibility and independence," said state Auditor Stacey Pickering, a Republican, who also attended the meeting.
State Rep. Bob Evans, D-Monticello, produced a letter that Democrats say demonstrates how the bill's passage could lead to conflicts of interest. In the letter, from Russell Latino of Wells, Marble and Hurst to former Gov. Ronnie Musgrove, Latino wants to represent the state Division of Medicaid in a fraud suit. Speaker Phillip Gunn also works for Wells, Marble and Hurst.
"This letter corroborates our concern that this bill is and always has been about members of the Legislature profiting off of the state," Evans said of the letter.
Hood has claimed all along that his office already posts contracts with outside firms online. Roughly 5 percent of the some 3,000 cases the AG's office deals with are contracted out and, an even smaller number of outside law firms are hired on a contingency fee basis. His office's webpage lists 33 active contingency fee contracts, including a fraud suit against WorldCom and accounting firm KPMG. View a full list of contingency fee cases on the attorney general's website (http://ago.state.ms.us).
Active hourly fee cases being handled by outside firms include a $1.2 million contract to Baker, Donelson, Bearman, Caldwell & Berkowitz, PC for the Olivia Y v. Haley Barbour case, filed in 2004 on behalf of six children whom the suit alleges suffered physical and psychological harm while in the state's custody.
Meanwhile, the Senate is clicking on all cylinders, too. Lt. Gov. Tate Reeves made it plain when he announced his legislative agenda Feb. 1 that he wanted to consolidate the Drew and Indianola county school districts into a new Sunflower County School District. Sen. Gray Tollison, R-Oxford, introduced a bill on Monday, Feb. 6 and two days later, the Senate passed the measure 43 to 4 and sent it to the House.
Bills of Note
SB 2266: Include proof of purchase of a car tag in the proper county as a requirement for enrollment of children in public schools.
SB 2293: Direct the state Department of Human Services to limit S.N.A.P. (food stamp) purchases to healthy food and beverages.
SB 2355: Counties and cities may not advertise in publications sponsored by political parties, political committees, etc.
SB 2328: Require the Department of Environmental Quality to identify all coal ash dam sites.
SC 555: Create section of the Constitution to protect life of unborn child from conception to birth and prohibit use of public funds for abortions.
HB 398: Prohibit conjugal visits for state inmates.
HB 437: Garnish salaries of public officials and employees for failure to pay taxes.
HB 500: Create a Health Disparities Council.
HB 521: Require schools to collect body mass index for certain students and provide to parents with an explanation.
HB 529: Establish open preferential primaries.
Visit the state Legislature website (http://billstatus.ls.state.ms.us) to follow bills and watch live feeds from the floor.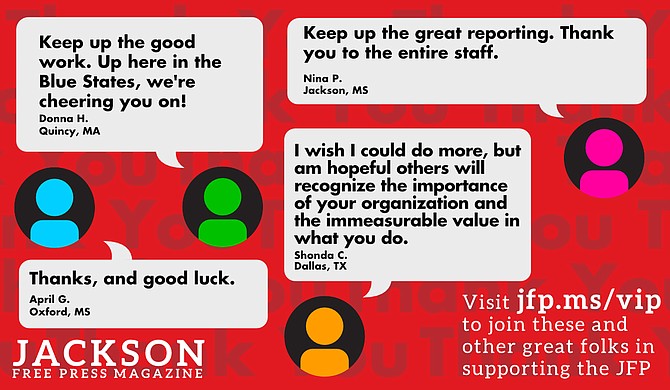 Thanks to all our new JFP VIPs!
COVID-19 has closed down the main sources of the JFP's revenue -- concerts, festivals, fundraisers, restaurants and bars. If everyone reading this article gives $5 or more, we should be able to continue publishing through the crisis. Please pay what you can to keep us reporting and publishing.