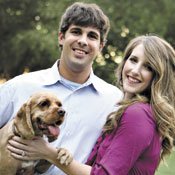 Almost immediately after meeting Cari Taylor and Nickolas Fowler, I could feel the love between the two of them. The two complement each other naturally. Their laughter and witty banter would eventually have anyone who spoke with them for more than a moment finding him or herself joining right in.
The pair first met in 2005 during Hurricane Katrina. Taylor, a Long Beach native, was running through the pouring rain to her dorm from a hurricane party on the Millsaps College campus when she saw a friend from the Coast.
"It was pouring out, but I stopped to see how his family was doing. He introduced me to Nick, but we really didn't have a conversation." Taylor said. Nickolas Fowler, a Jackson native, also attended Millsaps.
The two didn't speak again until the next semester when they found themselves in the same genetics class. Because they were both in relationships, they kept their conversations short and polite, but friendly. After college graduation, they remained in contact. After both became single, they had a group date with several friends.
"(It) was us, a couple, and another guy and girl. The couple left early, and since the other guy and girl knew they wouldn't be starting a relationship, they focused on trying to hook us up," Taylor said.
A few weeks later, Taylor and Fowler got together with a group of his friends for more than eight hours of March Madness basketball, which became their first "real" date. Both love sports, particularly the New Orleans Saints.
"That's when I knew she was special," Fowler said. "She fit in so well with my friends; plus, I couldn't see myself with anyone who didn't love sports." It was after that date that the two became inseparable.
Fowler decided to take a creative approach to proposing, and it happened when Taylor least expected it. "I was scheduled to attend a former boss' going-away party that afternoon, and Nick couldn't go because he had to get a haircut and help his aunt move furniture," Taylor said. Since she had a long day and didn't have Nick by her side, Taylor decided to stay a little longer with a friend at the restaurant where the party was held. She texted Fowler to let him know.
Panicked that his plans were going south, Fowler immediately texted back to tell her that he was really in the mood for sushi and asked if she would rather eat with him at home. When Taylor seemed reluctant, he name-dropped Pan-Asia, one of her favorite restaurants, and she agreed.
During dinner, Taylor was in a state over her bad day. She was oblivious to what was going on around her. In the middle of her cry-fest, Fowler pointed out that there were fortune cookies inside the takeout bag.
"I thought that was strange, considering Pan-Asia doesn't serve them," Taylor said. However, she loves fortune cookies, and, looking for any ray of sunshine she could find, she grabbed a cookie. She chose a fortune that read, "Will you marry me?" Taylor threw it down, exclaiming "Well, that's a sucky fortune!" To her, the universe was being extra mean on an already bad day by taunting her with a marriage proposal. When she finally looked up, she found Fowler beside her on one knee, declaring his love for her and urging her to open the second fortune cookie—his backup—that also read, "Will you marry me?"
Taylor just repeated "Are you kidding?" And "Are you for real?" Several times.
Finally, Fowler presented his future bride with a beautiful ring. As champagne flowed, they made phone calls and, of course, changed their Facebook statuses.
So what makes this couple special? What makes them believe their marriage will last? "We're friends first," Taylor said. "We have fun together, and we complement each other nicely." For example, she loves to cook but hates washing dishes, and Nick is, by his own admission, obsessive about cleanliness.
She currently works for the Mississippi Center for Nonprofits as the assistant director of community relations, handling things such as fundraising and communications. He is employed with the Veterans Business Administration as a service representative where he helps determine what supporter veterans will get.
The pair will wed April 28, 2012, at the Holy Trinity St. John Greek Orthodox Church (5725 Pear Orchard Road, 601-355-6325) in a traditional Greek Orthodox marriage ceremony. The highlights of the ceremony are the Service of Betrothal, which is the blessing and exchanging of rings, and the Service of Crowning that includes prayers and the crowning—a ritual where the priest crowns the couple while offering a blessing. It also include scripture readings, offering of the common cup and the dance of Isaiah, where the priest leads the bride and groom around the altar three times to symbolize their first steps together as man and wife following in the path of the gospel.
At the conclusion of the prayers, the priest joins the hands of the bride and groom. The couple holds hands until the end of the service to symbolize the union and the oneness of the couple. The '50s and '60s-inspired reception takes place at The Cedars (4145 Old Canton Road, 601-366-5552) in a beautiful outdoor setting.
More stories by this author
Support our reporting -- Follow the MFP.