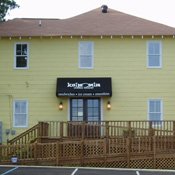 Have you ever been convicted of a felony? The question, which is standard on most job applications, often spells heartbreak for many people who know that checking yes means their resume will likely end up in the garbage can.
In fact, many of the hundreds of pleas for clemency from Gov. Haley Barbour reflect a desire to wipe the slate of their conviction to secure a job, or promotion in some cases.
But what they and employers should know is that denying someone a job because of their felony conviction might be against the law.
Wilma Scott, director of the U.S. Equal Employment Opportunity Commission's Jackson division, explained at Koinonia Coffee House's Friday Forum that if an employer's criminal conviction policy has a disparate impact on a particular group, the policy might violate federal anti-discrimination protections.
The EEOC investigates and in some cases sues employers who treat workers differently based on race, religion, sex, age, disability, and genetic information. The EEOC does not, however, protect against discrimination based on sexual orientation or political affiliation.
People who feel they've been discriminated against have to file a complaint within 180 days; other states allow victims up to a year. Scott also pointed out that Mississippi is one of three states, in addition to Alabama and Arkansas, lacking state anti-discrimination laws.
"I think that's rather appalling," she said.
Scott said that of the 2,000 charges her office handles per year, race discrimination represents the majority of complaints followed by sex discrimination, sexual harassment, pregnancy-related discrimination and retaliation.
An Alabama native and the child of civil-rights activist parents, Scott chose to settle in Jackson after working in Houston, Baltimore and Washington, D.C., because she felt like too little of the agency's attention focused on Mississippi.
"If it weren't for the courageous people of this state, this agency wouldn't exist," Scott said.
More like this story