Gene Marks is not a poor black kid, but he played one in Forbes magazine.
Marks, who describes himself as a middle-aged white guy from a middle-class background who's led a comparatively easy life, wrote a column in December titled "If I Was a Poor Black Kid."
In the article, Marks argues that technology is a great equalizer between middle-income white kids who have it easy and inner-city black kids who have it rough. The piece, ironically enough, went viral and sparked heated discussion on blogs and social-media sites.
"If I was a poor black kid," Marks writes, "I'd use the free technology available to help me study. I'd become expert at Google Scholar. I'd visit study sites like SparkNotes and CliffsNotes to help me understand books. I'd watch relevant teachings on Academic Earth, TED and the Khan Academy. I would also, when possible, get my books for free at Project Gutenberg and learn how to do research at the CIA World Factbook and Wikipedia to help me with my studies."
Easier said than done, especially if you're a middle-aged white man who gets to have his brain leakings published by one of the most widely circulated magazines around--and especially in light of the libraries of scholarship on the barriers to technological access facing poor black kids.
The New York City-based Center for Social Inclusion and Mississippi State Conference of the National Association for the Advancement of Colored People recently published such a study.
Published in late January, the report, "Broadband in Mississippi: Toward Policies for Access Equity," shows, overall, Mississippi ranks 41st among the states for broadband Internet availability. Furthermore, race is a primary determinant for the cost and affordability of broadband service throughout the state.
"In Mississippi, the most rural state in the nation and the state with the highest percentage of African Americans, we must implement aggressive and fair broadband infrastructure policies in order to bring Mississippi into the 21st century economy," Derrick Johnson, Mississippi NAACP president, said in a press release.
Researchers point to Mississippi State University Extension Service research that found that 46 percent of Mississippians who do not have home Internet service cite cost as the main reason.
Strikingly, the CSI/Mississippi NAACP report found: "Residential broadband costs in that state range from 1 percent to 6 percent of the median household income of African-American families, compared to 0.5 percent to 3 percent of median household income of whites in the state."
Recommendations to Mississippi policy-makers include investing in projects that make broadband more widely available in the state, holding broadband carriers accountable for beefing up their infrastructure where it's most needed, and establishing task forces in under-served areas to help shape innovation in the expansion of broadband.
Read and download the report here: http://www.centerforsocialinclusion.org/
Previous Comments
ID

165954

Comment

That essay by Marks is a text-book case of clueless, white privilege. If you were a poor black kid, you wouldn't have the slightest clue what TED is, even if you did somehow have broadband.

Author

Brian C Johnson

Date

2012-02-02T13:37:59-06:00
ID

165955

Comment

I cannot tell yall here within the confines of user agreement what reading this does to a black person. HOW DARE a magazine publish this? Even the title is offensive. Before even reading a word, I know that the contents are not going to (even minimally) touch on what ACTUALLY happens in the lives of black kids. I'm SOOOOOOOOOOOOOOO thoroughly disgusted with white folks who claim they know so much about how black folks can fix our situation. ABSOLUTELY SICK TO DEATH OF HEARING IT. It's so easy being white (NOT black and especially NOT POOR) to say what black/poor people NEED to do. I don't care where you work, where you live, how many times you send in checks, how many times you wrap gifts and take up canned food items - you have no authority or right to say what we should do or what you would do if it were you. IT AINT U (yes, AIN'T). So stop! Not only do we have to take it from the white adults........now we gotta hear it from the children too. SMH Oh and one more thing....since when did poor equal black. Rich white folk do know that some of their kind is poor right? Or do they just write off the poor white people and place them in the category with ALL blacks (poor, middle class, rich - black is black, huh?). RIDICULOUS!!!!!!!!!!!!

Author

Queen601

Date

2012-02-02T14:45:44-06:00
ID

165956

Comment

I agree with you Queen, but the point that really caught my attentioln was this "Residential broadband costs in that state range from 1 percent to 6 percent of the median household income of African-American families, compared to 0.5 percent to 3 percent of median household income of whites in the state." Thats a crazy disparity right there, that means either someone is making more money or they're just getting bigger/better discounts on services. Which in turn leads me to this other point, the cost of telecommunication services (cable, internet, cellular usage) are not benificial to the average working middle class family. Most homes have multiple cell phones, satellite or cable service and then when you add in internet cost - you are looking at, I know in my home alone for our satellite service, cell phone bill and internet service all together is $400 a month. My sister pays out at least $500 for her home. Me and the mrs do o.k. in salary, but believe you me - $400 bucks a month is a good chunk of change just to stay connected to the rest of the world. This is interesting topic because, people are afraid to attack the telecommunications industry and their rates.

Author

Duan C.

Date

2012-02-02T16:18:00-06:00
ID

165960

Comment

Actually Duan C, I saw the quote as indicative of the wealth gap between Black families and white families, not necessarily the companies charging black families more for access. It could very well cost a white family the same to be "connected to the world" as you so astutely put it. But, the average white family commands more wealth than the average black family, so the actual cost of being connected for a black family is more prohibitive. That reality speaks to how structured inequality and institutional racism works in this country. When people benefit from the status quo, they have more access to opportuntiy and thus when they take advantage of an opportuntiy, it is rarely seen as an unjust circumstance. While people who are adversely affected by the status quo have a harder time trying to take advantage of any opportunities that maybe available (education, heath care, business, etc.) and thus seen as simply ill-equipped to be self sufficient in society. People who are not connected with broadband access in the 21st century are at a huge disadvantage and are losing more ground every day.

Author

Renaldo Bryant

Date

2012-02-03T09:50:24-06:00
ID

165961

Comment

@ Renaldo - I was just trying to be under the radar with it - but you hit it on the head! lol!!! But you are right though

Author

Duan C.

Date

2012-02-03T10:27:53-06:00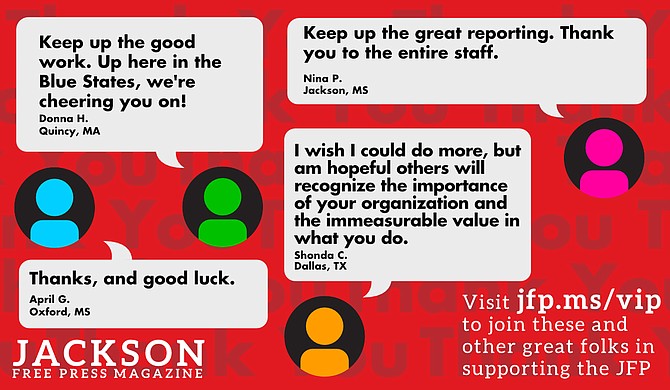 Thanks to all our new JFP VIPs!
COVID-19 has closed down the main sources of the JFP's revenue -- concerts, festivals, fundraisers, restaurants and bars. If everyone reading this article gives $5 or more, we should be able to continue publishing through the crisis. Please pay what you can to keep us reporting and publishing.