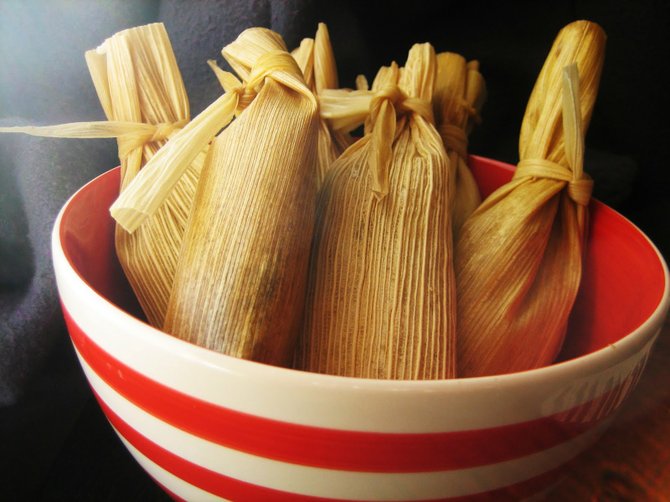 "Two for a nickel, four for a dime, thirty cents a dozen, and you'll sure eat fine ..."
—Moses Mason
Anytime food inspires music such as Moses Mason's "Molly Man" or Robert Johnson's "They're Red Hot," you can guarantee you're in for a treat. That's exactly what visitors to the first Southern Crossroads Music and Tamale Festival are going to get.  
Tamales have been around since about 5,000 B.C. and have been a part of Mississippi, particularly The Delta, since the 20th century. Its seems only right then that someone would birth the idea of a festival in their honor.
Traditionally, a tamale consists of a dough, usually corn based, called masa, filled with meat, vegetables, chilies or other ingredients. The tamale is enclosed in a leaf wrapper and boiled or steamed.
Over the years, different regions, restaurants and chefs have put their individual stamp on the tamale, resulting in a wide variety of styles.
At first a dish most people associate with Mexico or Latin America might seem out of place in Mississippi, but a marker on the Blues Trail in Rosedale states, "Hot tamales may seem an odd food to encounter in the Mississippi Delta, but their presence reflects the region's cultural diversity. Hundreds of years ago local Native Americans prepared a tamale-like dish of maize cooked in cornhusks, and in the late eighteenth and early nineteenth centuries, culinary traditions of Anglo- and African-Americans in the Delta were complemented by the foodways of new immigrants of Lebanese, Chinese and Italian origin. By the 1920s many African-American agricultural workers had left the Delta for points north, and planters responded by recruiting Mexican laborers, who generally stayed only through the harvesting season." That marker and others can be read at msbluestrail.org.
The festival is Aug. 10 and 11 inside the Coliseum the Mississippi State Fairgrounds. The brainchild of Pat LeBlanc, host of the syndicated radio show Southern Crossroads on WYAB 103.9, the festival will be the first of its kind in Jackson.
"This is going to be a great opportunity for people to have access to great music, southern food and amazing artists all in one place for a really affordable price," says Marika Cackett, manager of communications and public relations for the Jackson Convention and Visitors Bureau, who also is a freelance writer for the Jackson Free Press. "Besides, you can't beat being indoors in August."
Musical acts will include War, Steve Azar, Hope Waits, Marc Broussard and Eric Lindell.
Ellen Langford, Price Davis, Vintage Jen and other painters, sculptors, wood carvers and photographers will perform and create in real time. Spectators will have the opportunity to not only observe, but to participate in the exhibits.
Visitors will have to experience and celebrate Mississippi's amazing culinary history at the festival as well. Vendors from all over Mississippi and surrounding areas will serve their best tamale recipes—from the original leaf-wrapped masa version, to the dessert-style sweet potato tamale. A catfish tamale will even be available.
"I want people to come and experience great music, food, and drink, indoors and at an affordable price ... to experience the many flavors of Mississippi," LeBlanc says. "I grew up in the Delta around many different ethnic groups, from Chinese to Mexican, to African American, and I'm white, so I know the fusion that takes place not only in our cultures, but in our music, and in our foods. Even though the festival will be indoors, it will have an outdoors feel that I hope the people will enjoy."
General admission for the festival is $18 per day in advance, or $20 at the gate. Tickets are available on ticketmaster.com and at the Mississippi Coliseum Box Office. For more information about the festival, visit tamalefest.com, or to read more about the history of the tamale in Mississippi and its ties to the culture and music, visit tamaletrail.com.
UPDATE: At the time of interview, the cost of the festival was $25 per day or $48 for a weekend pass. Before publication, organizers lowered the price. We have updated the article above to reflect those changes. Similarly, the festival was moved from the Fairgrounds to be held inside the Mississippi Coliseum.
More stories by this author
Support our reporting -- Follow the MFP.