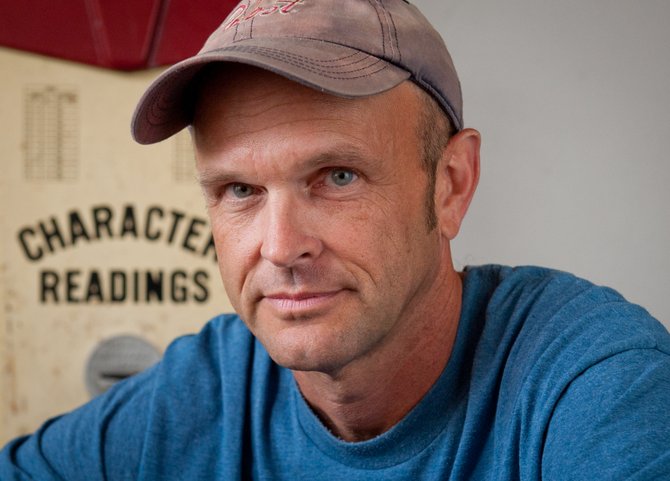 I'll never forget hearing Bob Hudson read poetry at the first Nameless Poets Open Mic poetry night at Suite 106 last summer. Host Herbert Brown, also known as The Ugly Poet, introduced Bob (first name only, like Prince) as "my favorite poet of all time." Intriguing, I thought. I was even more intrigued when a lanky white dude walked onto the stage. His poetry summarily blew me away.
Bob, 50, delivers his readings in a kind of Steven Wright-deadpan style, but always with a sly grin on his face that allows the audience to be in on the joke. The deep textures and complex issues and perceptions his poems touch on through wordplay compliment his dry wit.
He is a fixture in the Jackson poetry scene, especially at Suite 106 where he reads every other Saturday at open mic. "My motivation for writing is preparing for the next reading," Bob says. "I always want to have new material for a gig."
Beyond doing readings, Bob, a Jackson native, also self-releases collections of his poems. He used to sell five- and 10-poem collections for a couple bucks. He also periodically puts out small runs of books that contain dozens of poems. All of his releases carry a DIY ethic that would make any '80s punk rocker blush: He cuts all the newsprint for the pages by hand and prints the pages at home, then glues and binds each book by hand. If you want one of these books, you have to buy a hardcopy.
"I have no interest in propagating myself on the Internet," he says.
Bob's newest book, "It's Gotten So Bad," is a collection of love poems. Well, kind of. Why, I asked, would Bob put out a book full of love poems? "One night at Suite 106, Herb (Brown) said 'There's nothing worse and nothing I hate more than a love poem,'" Bob told me. That's all the ammunition he needed.
"It's Gotten So Bad," however, is not a collection of standard love poems. While the book is "a little more lovey, lovey" than his past releases, it deals with love in a sometimes darker way that is more in tune with the overall style of his past work. Sure, there are poems about loving food, his wife (and editor) Marnie Herrington and their cats. But there are also poems about tornados, which don't discriminate. They love everyone equally, if you think about it.
A lot of the poems come from things that happened in real life, but there is "plenty of made-up crap" for entertainment purposes. My favorite poem, "love poem for a waitress in Chicago from a dude from far away," tells one of the true stories:
be lonely
for years
before you let a man
treat you less
than the goddess you are.
Bob actually wrote this poem on a napkin and passed it off to a waitress he "fell in love with" at a Chicago bar while having a couple drinks and waiting on a train. I can relate. I, much to my wife's chagrin, sometimes fall instantaneously in love with any number of hostesses, waitresses and retailers. It's not conventional love, but it is love nonetheless.
"It's Gotten So Bad" continually toes the line between convention and the darker side of love and thus reads a lot like Bob's poetry sounds: dry and witty with a touch of sly elusiveness. "To be able to stomach a love poem, you have to throw in a bunch of death and comedy," he says. Sounds a lot like life to me.
Bob will be set up in front of the Fondren Corner building with copies of "It's Gotten So Bad" for sale at Fondren After 5 on Aug. 2. Lemuria Bookstore (4465 Interstate N., Suite 202, 601-366-7619) and Sneaky Beans (2914 N. State St., 601-487-6349) also sell the books for $7.
More like this story
More stories by this author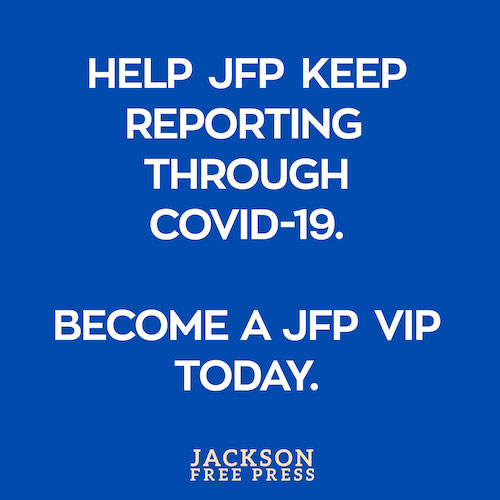 COVID-19 has closed down the main sources of the JFP's revenue -- concerts, festivals, fundraisers, restaurants and bars. If everyone reading this article gives $5 or more, we should be able to continue publishing through the crisis. Please pay what you can to keep us reporting and publishing.