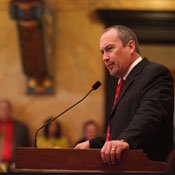 Imagine you're a Sumerian servant in 2050 B.C., carving tiny jewels for King Ur-Nammu's scepter and--oops--you accidentally slice off your finger. Under the king's law, written on stone tablets, you would receive a monetary award depending on which body part you hurt. Ur's payment schedule for worker injuries is the earliest known workers' compensation system, which pays employees who get hurt while doing their jobs.
Other ancient civilizations, such as China, Greece and Rome, also had systems in place. Orthopedic surgeon Gregory P. Guyton's "A Brief History of Workers' Compensation," published in a 1999 University of Iowa medical journal, shows that ancient Arab law, for example, dictated that a the loss of a penis was compensated according to the length lost, while an ear's value depended on the appendage's surface area.
Sometime between ancient Sumeria and the early 20th century, the system was turned on its ear, making it nearly impossible for workers to be made whole after getting hurt on the job.
In modern times, Wisconsin became the first state to establish a state workers' compensation commission in 1911. Mississippi was the last state to enact workers' comp, in 1948.
Here, as in other states, worker's comp, which has remained largely unchanged in the past 60 years, is the exclusive remedy when construction workers injure themselves. 
Taking into account our state's legacy of hostility to labor unions and the tort-reform movement of recent years, many people believe that Mississippi's labor laws make it among the least worker-friendly states in the union.
Biggest Vote Since Tort Reform
Efforts currently underway in the Legislature seek to give companies even more power over their work forces. SB 2576, which recently skated through the House by a scant one vote, makes injured workers prove they were not under the influence of drugs or alcohol when they were hurt and would let employers consider pre-existing conditions when making hiring decisions.
Speaking in support for SB 2576, Rep. Gary Chism, R-Columbus, suggested the system is out of whack, unfairly tipped in favor of workers. "This is the biggest vote for business since tort reform," Chism said in urging his colleagues to support the bill.
National and state data seem to refute arguments that out-of-control costs for employers necessitate an overhaul of the system. Nationwide, information from the National Academy of Social Insurance show that costs to employers fell by 7.6 percent in 2009 to $73.9 billion, the largest decline in employer costs since 1987.
"Measured as a percentage of the wages of covered workers, benefits paid to workers increased whereas employer costs fell in 2009. As a share of covered wages, employers' costs in 2009 were lower than in any year since 1980," NASI's 2009 annual report states.
The downward trend is mirrored in the Magnolia State, where workers' compensation covered 1 million workers in 2009, a decrease of 4.7 percent from 2008. The wages of Mississippi workers covered by workers' comp totaled 33.3 million, a 3.9-percent drop from the year before.
Detractors say the bill will burden employees who are injured on the job to prove that they weren't drunk, on drugs or suffering from a pre-existing condition, characterizing it as a dismantling of worker protections.
Rep. Trey Lamar, R-Senatobia, said the "bad" in the legislation outweighed its good provisions, and he urged his colleagues to vote the measure down and craft a better bill at a later time.
During the floor debate, Rep. Willie Bailey, D-Greenville, described our workers' comp laws as the worst in the nation and characterized the bill as an attempt to "punish poor people because they can't do any better."
"What they're asking you to do is take the little rights the workers have away from them," Bailey said.
Workers Relieved
Public employees, threatened with losing their due-process rights under a legislative initiative the Senate passed, might be able to breathe a temporary sigh of relief thanks to a House amendment.
Under SB 2380, which the Senate passed in mid-March, state agencies would have been exempt from complying with state Personnel Board rules for two years. The bill's backers, including Gov. Phil Bryant, argued that the change was necessary to streamline state government.
Worker advocates and lawmakers who opposed the Senate version maintained that removing the protections of the Personnel Board would open the door to politically motivated firings and intimidation.
When the bill arrived in the House Appropriations Committee, Chairman Herb Frierson, R-Poplarville, amended it to restore due-process rights and direct the Personnel Board to give job performance ratings more weight than tenure in reviewing its work-force reduction policy.
Brenda Scott, president of the Mississippi Alliance of State Employees/Communications Workers of America, called Frierson's version of the bill a "heck of an improvement" over what the Senate passed--even though she would like to see the entire measure defeated.
"If workers have been on the job for some amount of time, I would assume that their job performance would be up to par. Otherwise, they would have been dismissed some while ago," Scott said in a phone interview.
Floyd Doolittle, a Jackson attorney, believes the workers' comp proposal penalizes higher-wage workers. As of January 2012, an injured worker would receive two-thirds of the state's average weekly wage or the statutory maximum benefit for disability or death of $435.68 per week, or $196,506 for a lifetime.
"If you're working for minimum wage and you get injured, you're in pretty good shape. But if you're making a good wage, not so much," Doolittle said.
If Gov. Bryant signs the workers' comp bill, Doolittle believes that could open employers up to lawsuits that may be more costly than what would have been paid out in workers' compensation.
SB 2576 says "no compensation shall be payable if the use of drugs illegally, the use of prescription drugs improperly or intoxication due to the use of alcohol of the employee was the proximate cause of the injury."
Doolittle paints a scenario under which an employee smokes a small marijuana joint over the weekend, comes in to work on Monday and is mowed down by a negligent forklift operator. The Workers' Compensation Commission could determine the drugs slowed the worker's reaction time causing his failure to avoid the accident.
If workers' compensation does not pay the worker, Doolittle believes they could sue in court under the principle of general torts, or civil wrongs. If that happens, a jury award could be significantly higher than what would have been paid under the state's workers' 
comp code.
"I might be wrong, but it's going to take some lawsuits to find out," he said.
Support our reporting -- Become a JFP VIP.
The news business has changed dramatically in the past year, and we need your help more than ever to keep bringing you important stories about Jackson and the Metro. Become a JFP VIP with an annual membership or you can Sign up as a monthly supporter. Thanks for anything you can do to empower our journalism!