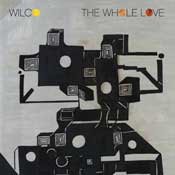 It should be evident to those of you who read my column that I am not a rock 'n' roll aficionado. I do not dislike the genre; I just need very little to sustain myself. I get all the rock I need from about a dozen bands taken in small doses.
Of those few bands, Chicago's Wilco is one of my favorites. I cannot explain it. I typically hate dudes like front man, Jeff Tweedy. You know, the flannel-shirted slacker with perfectly downplayed good looks that writes the kind of sad songs that make you think: "Jesus, man, get over it. She wants to sleep with someone else." I know a whole bunch of guys cut from this mold, and none of them are musical geniuses. Jeff Tweedy is.
A new Wilco record excites me and worries me at the same time. I get worried because I know that the cries of "It's not as good as 'Yankee Hotel Foxtrot'" are soon coming. And you know what? They haven't made an album as good as that since then, and why would we expect that?. 2002's "Foxtrot" was a once-in-a-lifetime achievement, like "The Lamb Lies Down on Broadway" or "Goodbye Yellow Brick Road." It isn't happening again, but that doesn't mean everything after it isn't good on its own merits.
Wilco's eighth studio effort, "The Whole Love," is four albums removed from "Foxtrot," and in many ways the separation is perfect. The band seems more at ease with this release, with fewer instances of trying to push the issue of experimentation. Case in point: Producer Tom Schick found a way to corral the energy and avant-garde madness of lead guitarist Nels Cline, whose guitar work previously had a tendency to sound jarring on occasion. Schick navigates new spaces within the landscape of songs like "Dawned on Me" and "Born Alone" for Cline's play. Experimentation is a way of life for Wilco, and not an afterthought.
"The Whole Love" opens with "Art of Almost," a song with occasional stabs of dub-reggae guitar. It sounds like the love child of a Lee Scratch Perry track and 1960s John Cage electronics if that child grew up listening to '90s guitar-drenched indie rock like Superchunk. Tweedy's vocals hold the cacophonous mix of loops and effects together into a cohesive pop song that glides into an ocean of strings, negative space and Sonic Youth-like noisy guitar rock.
"Art of Almost" opens a record that, like the band's previous releases, must be taken in as a whole; Wilco is one of the ever-decreasing number of bands that still understands the art of producing an entire album as a singular piece of art. The acoustic guitar-driven psych pop of "I Might" tempers the wildness of the opening track, while the steel-guitar and atmospheric vocals of "Black Moon" remind you why you started listening to this band in the first place, way back when they were alt-country pacesetters.
The kitschy pop of "Capitol City" will keep the song in your head for days if you let it, a risk you run with any Wilco record.
In its entirety, "The Whole Love" finds Wilco moving even further away from the alt-country label and into its own as a legitimate forward-thinking American rock band that is producing music as important as anything done by other left-field acts such as Radiohead, despite disparities in sales. "The Whole Love" probably isn't going to make Wilco a household name, but it should satisfy fans of the band who love to see progression as a form of creativity.
More like this story
More stories by this author
Support our reporting -- Become a JFP VIP.
The news business has changed dramatically in the past year, and we need your help more than ever to keep bringing you important stories about Jackson and the Metro. Become a JFP VIP with an annual membership or you can Sign up as a monthly supporter. Thanks for anything you can do to empower our journalism!