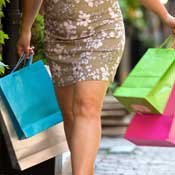 The programs are called all sorts of things these days--Think Local First, Small Business Saturday, Shift Your Shopping, Keep Austin Weird, Keep Fondren Funky--but they all point to one thing: the need to shop local* during the holidays. (Not to mention all other times of the year.)
The reason is simple--when you buy local, more of that local business' revenues remain in the locality where the business is. Unlike chain stores, whose local outlays are generally limited to hourly wages and (sometimes) property and sales taxes, the local business pays local professionals--tax pros, accountants, lawyers, caterers, artisans. They pay local service companies--laundry services, security services, supply companies--much more frequently than do those chains.
The profits enjoyed by successful local entrepreneurs and managers circulate locally as products bought in other local businesses, along with local taxes paid, tithes made, charitable giving and so on. By contrast, money spent in Walmart goes directly to Bentonville, Ark., then into the pockets of the Walton family and Walmart shareholders (except for the chunk they send to China).
The truth is that every dollar matters. A 2002 study by Civic Economies in Austin, Texas, found that $45 out of every $100 spent at a local independent store re-circulated in Austin as "secondary spending," meaning the direct (lawyers, employers) and indirect (profits spent) benefits of that transaction; an estimated, piddly, $13 out of every $100 spent at a chain re-circulates.
A profitable local business generates wealth, and wealth, re-invested, is what makes a community strong. Businesses that re-invest in communities--by buying and renovating buildings, lending to or investing in other businesses, sponsoring events and charities, or being part of an ecosystem that encourages more commerce--are the engines by which an economy like Jackson's can thrive.
Plus, there's the "we live here" factor--during recessionary times such as now, notice which stores are the quickest to leave and which parts of the metro are starting to show blight as chain stores pack up shop to retain "shareholder value," or leave a store shell behind to chase a more affluent audience. Local businesses simply are not as likely (or able) to quickly pick up and leave the communities where we live, educate our kids, play and worship.
So, as a consumer and a "giver" this holiday season, pick your "local" phrase or ideology--and then do it. Spend every dollar you can with local, independent retailers. They will thank you, the recipients of your clever and unique "local" gifts will thank you--and you will thank yourself when you realize what you're doing in your own, your family's and your neighborhood's best interest.
*By using the phrase "shop local" we don't mean to infringe upon the trademark of the Gannett Corp. Clarion-Ledger's website ShopLocal.com(TM), a site devoted almost exclusively to the promotion of big-box retailers. We regret the similarity of the actual English words to the URL used cynically for that purpose.
More like this story