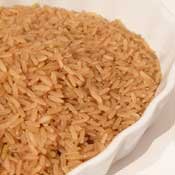 Healthier alternatives to tasty but fattening ingredients in foods we eat every day are plentiful. You can make some substitutes to reduce risks for diseases and obesity. Below are some of the tips the U.S. Department of Health and Human Services suggested in "A Healthier You" (Office of Disease Prevention and Health, 2005, $15), a book based on the Dietary Guidelines for Americans. "A Healthier You" promotes a healthy lifestyle and highly recommends reading labels on foods.
• Skim, low-fat or reduced-fat milk instead of whole milk
• Low-fat, reduced-fat milk or non-fat milk powder instead of half-and-half or non-dairy creamer
• Broth-based soups instead of cream soups
• Salsa instead of refried beanswith lard
• Bagels and English muffins instead of donuts, sweet rolls or other pastries
• Light mayonnaise or mustard instead of regular mayonnaise
• Sorbets, ices, sherbet or low-fat frozen yogurt instead of ice cream
• Brown rice instead of white rice
• Extra-lean ground beef or ground turkey instead of regular ground beef
• Egg whites or egg substitutes instead of whole eggs
• Applesauce or prune puree in baked goods instead of oil or butter
For more healthy substitutions, visit Tips For Healthy Substitutes.
More like this story
More stories by this author