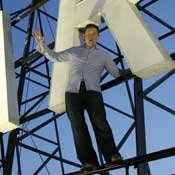 "You can dream a little dream, or you can live a little dream, I'd rather live it, cause dreamers always chase, but never get it."
—Aesop Rock, "No Regrets"
There isn't really much I can say about Craig Noone that hasn't already been said. The Parlor Market chef's life was cut short Oct. 14 by a tragic car wreck. Craig was a leader and a visionary who turned a simple dream into a reality that galvanized the hopes of so many Jacksonians who knew that downtown could be the center of something, even if we didn't know exactly what that something was.
Craig knew and let the rest of us join him on the ride.
Depending on what circles you run with in Jackson, visionaries and dreamers probably constantly surround you. Almost everyone I know had visions of a vibrant nightlife on Capitol Street anchored by maybe a restaurant or a music venue or another gathering spot for young professionals who shared the same aspirations for our fair city. Craig wasn't special for sharing this vision. Craig was special for acting on that vision. He took an idea that many people have had for more than a decade, and instead of waiting for someone else to do it, he did it. It was just that simple. Or at least Craig made it seem simple.
Parlor Market became exactly what so many of us had dreamed about: an actual Jackson fine-dining restaurant that, along with a redeveloped King Edward Hotel, anchored Capitol Street development. Parlor Market quickly became much bigger than the sum of its parts, as Craig made his dream restaurant more about everyone else than himself. He could have easily opened up Parlor Market in one of the suburban enclaves surrounding Jackson. That would have been the smart move. But his lack of ego would not allow him to do that. People who need to have their egos fed by almost guaranteed success open businesses in places where others have already been successful. Craig, more concerned with his community, shared his ego with all of us and redefined what it meant to succeed in Jackson.
Craig was far more than just a chef opening a restaurant where so many fear mongers said he couldn't. He also made it cool to hang out downtown again. His PM parties attracted hundreds to Capitol Street every few months to eat great food, listen to great music, and most importantly, put a face on the re-emergent downtown scene. Walking up to a PM party was like seeing your wildest dreams about downtown Jackson come true.
Again, Craig was aware of this, and that is why music was so important to what he was doing. He knew that the young professionals would give him a customer base and a group of vocal supporters. He knew even better that the artists, musicians, and music fans who held down the PM parties gave Parlor Market its soul and a creative underbelly that so many other places lack.
It is difficult to find a silver lining in this heartbreaking event, but if there is one, it is this: Craig's passing revealed a unity in this city that we knew existed, but don't get the opportunity to see that often. The day-after memorial get-together at Hal and Mal's was a diverse gathering of the people who make Jackson great, as service industry folks mingled with artists, band members, activists and others. And that will be Craig's legacy. It is all of us who make Jackson great, but Craig made it greater by simply realizing and acting on that fact.
That spirit should not pass with Craig. It is up to all of us to see that it doesn't.
More like this story
More stories by this author