On May 27, 2011, the planet lost one of its sacred sons with the death of poet, author and soul musician Gil Scott-Heron, who passed away in New York City at age 62.
Scott-Heron was an artist who transcended genre, and more fascinatingly, time and space. He was the literal embodiment of the line that connects African American music traditions today from their roots in Africa. A self-proclaimed "bluesologist," Scott-Heron dedicated his life to being "a scientist who is concerned with the origin of the blues."
Although best known as a spoken-word artist, Scott-Heron's music encompassed everything from jazz and blues to funk and performance poetry. His poetry was rooted in West African griots, the holders of oral tradition who traveled from place to place to deliver songs and poems that spread news, satirized it and offered political commentary. As Amiri Baraka argues in "Blues People: Negro Music in White America" (Harper Perennial, 1999, $13.99), the genesis of jazz and the blues can be traced back to African cultural aspects like the griots, but also to instrumentation, musical phrasing and viewpoint.
Scott-Heron's songs and compositions always maintained and linked these traditions, and as such, he embodied and embraced his role as a cultural and musical bridge. His most famous work, "The Revolution Will Not Be Televised," has features of the griots' poetic political commentary, the instrumentation of jazz, and the phrasing and pace of the blues.
What made Scott-Heron a bridge was the fact that his music provided the groundwork and inspiration for other forms of music that would follow him, most notably hip-hop.
Along with Harlem's Last Poets, Scott-Heron was a harbinger of not only hip-hop's spoken-word style, but also its roots as a purveyor of political and social commentary for the African American community. Rightly so, hip-hop and rap historians know Scott-Heron and the Last Poets as the genre's godfathers. As many hip-hop academics have argued in the face of critical takes on the culture, hip-hop has a firm connection to all African American music forms, going back to the pre-American, African traditions. Indeed, Scott-Heron provided the vocal styling for rap, but more importantly, he helped to legitimize hip-hop through the connections his music made through time.
Hip-hop artists are well aware of this legacy. Boogie Down Productions, Common, Black Star, The Coup, Little Brother and far too many more to name have carried Scott-Heron's tradition forward by sampling his songs and solidifying his legacy. And bringing it full circle, Scott-Heron sampled Kanye West's "Flashing Lights" in "On Coming From a Broken Home (Parts 1 and 2)" on his final album, 2010's "I'm New Here."
In 2009, after years of musical and academic admiration, I finally got to see a Gil Scott-Heron show in Boulder, Colo. It will always rank as one of those defining moments in my music career, right up there with seeing Scarface come out on stage with De La Soul in Atlanta, Ga., in 2000, finally seeing Stevie Wonder, celebrating life at a Femi Kuti show, and the first time I saw Phish play "Wilson" live.
I was nervous going into the show, based on reviews of his inconsistent live performances that were commonplace in the latter part of his career. When the lights went down, though, Scott-Heron's unmistakable deep, smoky voice and tight piano playing guided the band through a whirlwind of classics, washing all my worries away.
That would prove to be my only shot at seeing Scott-Heron live, but it was never about that. Scott-Heron's records provide a soundtrack to my earthly journey, while making me smarter and more spiritual at the same time. "Whitey on the Moon" helped me understand the hypocrisies of structural racism at a young age. "Lady Day and John Coltrane" is my favorite Sunday afternoon song. And if rap is the CNN of the streets, as Chuck D says, then "The Ghetto Code (Dot Dot Dit Dit Dot Dot Dash)" was an early report from the front lines: Damn if I know.
While Scott-Heron's death saddened me, I used it as a time for reflection and joy in the things he gave the world and me. Now, it is our turn as hip-hop heads, and music fans in general, to make sure his legacy is passed on to the next generation by continuing the work he started. Gil Scott-Heron built the bridge and led us over it; now it is our time to lead others across, with his music and vision as the guide.
Garrad Lee has a master's degree in history from Jackson State University, and will be teaching history at Hinds Community College. He grew up in south Jackson, but now lives in Belhaven with his wife, dog and cat. His regular JFP music column is "The Key of G."
More like this story
More stories by this author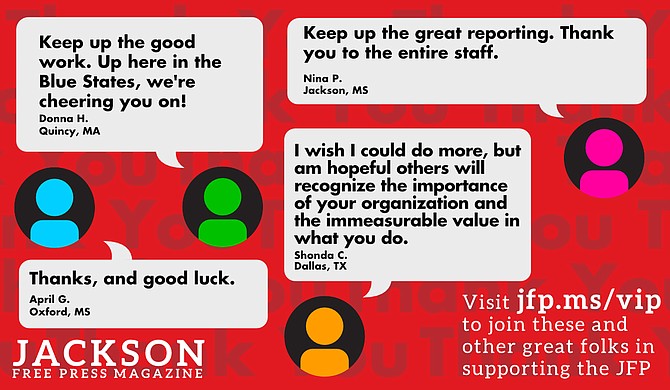 Thanks to all our new JFP VIPs!
COVID-19 has closed down the main sources of the JFP's revenue -- concerts, festivals, fundraisers, restaurants and bars. If everyone reading this article gives $5 or more, we should be able to continue publishing through the crisis. Please pay what you can to keep us reporting and publishing.